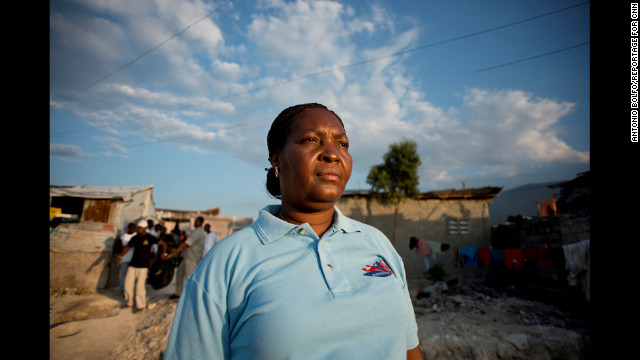 Malya Villard-Appolon is a rape survivor dedicated to
supporting victims of sexual violence in Haiti
. In 2004, she co-founded KOFAVIV, an organization that has helped more than 4,000 rape survivors find safety, psychological support and legal aid.
Reports of rape and sexual violence have been all too common in Haiti after the January 2010 earthquake that killed more than 220,000 people and displaced almost 25% of the population. "We tell people to come out of silence," Villard-Appolon said. "Do not be afraid to say that you have been victimized."
Villard-Appolon knows what it's like to be a victim of sexual violence. She has been raped twice, and her husband died as a result of beatings he endured trying to save her from being raped.
"I could see how much Malya cares for each of these women who came to her," photographer Antonio Bolfo said. "She has used her own experiences as a foundation for healing. And the love she has for her friends is apparent in everything she does."
A woman and her baby attend a group meeting at the KOFAVIV center while a employee of the nonprofit looks on.
Villard-Appolon walks through the tent camp where she used to live in Port-au-Prince. After the earthquake, camps were set up to provide shelter for more than a million displaced Haitians. But because of a lack of security in these tent cities, many women have been victims of assault, Villard-Appolon said.
In one Haiti study published in January by the Center for Human Rights and Global Justice, 14% of households reported that at least one member of the household had been a victim of sexual violence since the earthquake.
Villard-Appolon talks with two women at the KOFAVIV center. Internationally, she has testified before the U.N. Human Rights Council, calling for increased security within the displacement camps and asking that women's groups be included in decision-making processes.
Taking photos of the women at KOFAVIV, Bolfo says he was surprised to see "an overwhelming sense of optimism and confidence" from those who have endured violence.
"Women who say they were once broken now believe they have the right to life and believe they can be happy," Bolfo said. "The smiles and laughter were proof enough."
Workers carry out administrative duties at the KOFAVIV center. All of KOFAVIV's employees have been affected by gender-based violence, whether personally or through a family member or loved one, Villard-Appolon said.
"Malya has empowered these women in such a way that every one of them was a leader, a spokeswoman and a critic of the status quo," Bolfo said.
Villard-Appolon overlooks Port-au-Prince from the hills of Fort Nacional.
"My dream is that we will get to a place where we stop talking about the number of rape cases," Villard-Appolon said. "We will stop talking about Haiti as a country where people are committing violence against others. One day, we have to be able to say that we have a country with people who respect each other."
Portrait of a Hero: Malya Villard-Appolon
Portrait of a Hero: Malya Villard-Appolon
Portrait of a Hero: Malya Villard-Appolon
Portrait of a Hero: Malya Villard-Appolon
Portrait of a Hero: Malya Villard-Appolon
Portrait of a Hero: Malya Villard-Appolon
Portrait of a Hero: Malya Villard-Appolon
Portrait of a Hero: Malya Villard-Appolon
Portrait of a Hero: Malya Villard-Appolon
Portrait of a Hero: Malya Villard-Appolon
Portrait of a Hero: Malya Villard-Appolon
Portrait of a Hero: Malya Villard-Appolon
Portrait of a Hero: Malya Villard-Appolon
Portrait of a Hero: Malya Villard-Appolon