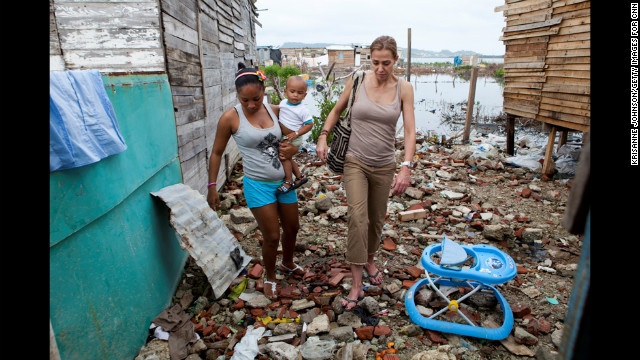 Catalina Escobar, right, is helping young moms in Colombia, where one in five girls age 15-19 is or has been pregnant. Since 2002, her foundation has provided
counseling, education and job training
to more than 2,000 teenage mothers.
Escobar follows a teen mother and her child to their home in the La Popa slum in Cartagena, Colombia. The mother is enrolled in Escobar's foundation, which also provides health care for the children.
From the start, Escobar noticed that 70% of the mothers she was working with were between the ages of 14 and 16. "You see these girls, (with) their tiny faces ... they're babies holding babies," she said.
A teenage mother cries while discussing her living conditions. The Colombian government reports that nearly 20% of girls between 15 and 19 years old are or have been pregnant -- nearly triple the U.S. rate. In Cartagena, where one-third of residents live at or below the poverty line, young mothers have very little chance of improving their lives.
"(Escobar) took us to the poor communities where she does outreach to young mothers," photographer Krisanne Johnson said. "I immediately noticed her passion, her dedication and empathy toward the plight of these teen mothers, who struggle in very harsh conditions to makes ends meet and to keep their children healthy."
Escobar comforts a woman in labor at a maternity clinic she established in Cartagena. Escobar said she started her foundation after seeing too many babies die from preventable causes.
At the hospital where she once volunteered, Escobar built a state-of-the-art neonatal unit, brought in experts to train the clinic's staff and established a program to cover the medical costs for babies born to impoverished mothers. Five years later, the rate of infant deaths at the hospital had dropped 67%.
Escobar holds a baby at the maternity clinic in Cartagena. She named her foundation for her 16-month-old son, Juan Felipe, who died in 2000 when he accidentally fell from the balcony of her home.
Escobar visits children at her foundation's day care facility. The day care is just part of the foundation's new center in Cartagena, which also houses a medical center, a cafeteria and classrooms for the teen mothers program.
Babies rest peacefully at the center, an elegant structure built in one of the city's many slums. "This is a piece of heaven (on) Earth," Escobar said. "(The mothers) deserve the very best."
"Catalina has created a beautiful, modern space to help these young mothers," photographer Johnson said. "Even in my short stay, I felt the positive energy at the center."
At the center, the mothers receive counseling and learn about reproductive health. They also have a chance to finish high school and receive job training so they can improve their lives and find long-term success.
Escobar said the only way to ensure the long-term health of the children is to empower the teen mothers so they can break the cycle of poverty.
"These teen mothers are my own daughters," Escobar said. "When they get here and they make it through, I feel so proud of them."
Portrait of a Hero: Catalina Escobar
Portrait of a Hero: Catalina Escobar
Portrait of a Hero: Catalina Escobar
Portrait of a Hero: Catalina Escobar
Portrait of a Hero: Catalina Escobar
Portrait of a Hero: Catalina Escobar
Portrait of a Hero: Catalina Escobar
Portrait of a Hero: Catalina Escobar
Portrait of a Hero: Catalina Escobar
Portrait of a Hero: Catalina Escobar
Portrait of a Hero: Catalina Escobar
Portrait of a Hero: Catalina Escobar
Portrait of a Hero: Catalina Escobar
Portrait of a Hero: Catalina Escobar