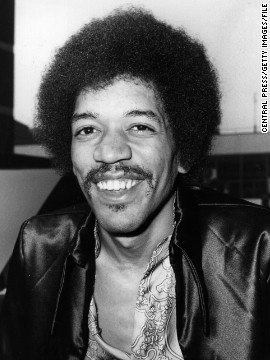 Jimi Hendrix wasn't with us for long, but his influence both in life and in death is staggeringly broad. As
Time magazine
points out, you can hear him in everyone from Metallica to Prince to ZZ Top to the Red Hot Chili Peppers. The music and style legend would have turned 70 on Tuesday, November 27, and we're celebrating by looking back at Hendrix in his heyday.
Born in Seattle in 1942, Hendrix taught himself to play guitar as a teenager and played in high school bands before enlisting in the Army, according to
Rolling Stone
. By the early '60s, Hendrix had been discharged and was playing backup for acts including Sam Cooke, B.B. King, Little Richard and the Isley Brothers.
By 1967, Hendrix had gone to London and had formed The Jimi Hendrix Experience. Here, Hendrix is seen with bassist Noel Redding and drummer Mitch Mitchell, far right.
Seen here in October 1967, Hendrix receives an award from Radio One DJ Jimmy Savile. The Experience's first single, "Hey Joe," was released that year and was a phenomenal hit in the U.K. Another smash, "Purple Haze," and the group's double-platinum first album "Are You Experienced?" soon followed.
While he was surging in popularity across the pond, Jimi Hendrix and his captivating way of playing guitar soon became known to U.S. audiences. The Jimi Hendrix Experience, seen here at the London Airport in August 1967, performed at the Monterey Pop Festival.
With the release of albums "Axis: Bold as Love" and "Electric Ladyland" in 1968, Hendrix, as seen here performing in the late '60s, was turning into a larger-than-life rock musician.
Here, Jimi Hendrix and drummer Mitch Mitchell board a plane in London in 1968, along with various members of the Byrds, the Soft Machine and the Alan Price Set. The Experience disbanded in 1969, but that same year Hendrix gave a memorable performance at Woodstock.
Between the end of The Experience and his death in 1970, Hendrix went on to form the Band of Gypsys with an Army friend, Billy Cox, which yielded a self-titled album. Hendrix and Cox also collaborated with Mitch Mitchell from The Experience, which brought about the 1971 album "The Cry of Love."
Here, Hendrix performs at the Isle of Wight Festival in August 1970, which according to Rolling Stone was the rock guitarist's last concert before his death.
Here, Hendrix walks through the London Airport with Eric Barrett on September 2, 1970, 16 days before he died at the age of 27. His talent and contributions to both music and style have lived on, however, and musician Andre 3000 is lined up to portray Hendrix in a 2013 biopic,
"All Is By My Side."
Celebrating Jimi Hendrix's 70th birthday
Celebrating Jimi Hendrix's 70th birthday
Celebrating Jimi Hendrix's 70th birthday
Celebrating Jimi Hendrix's 70th birthday
Celebrating Jimi Hendrix's 70th birthday
Celebrating Jimi Hendrix's 70th birthday
Celebrating Jimi Hendrix's 70th birthday
Celebrating Jimi Hendrix's 70th birthday
Celebrating Jimi Hendrix's 70th birthday
Celebrating Jimi Hendrix's 70th birthday