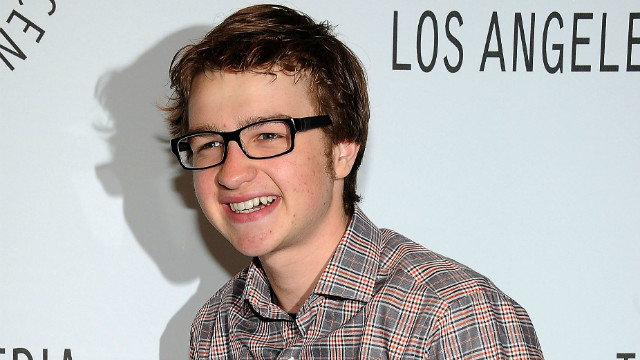 Angus T. Jones stirred the pot a bit when he
described his series "Two and a Half Men" as "filth"
and advised fans to stop watching. But he's not the first star to slam his employer ...
complained that he was dealing
"with fools and trolls" and people with "loser lives." Sheen was eventually fired.
Perhaps Angus T. Jones took a page from his former co-star Charlie Sheen, who back in 2011 took swipes at the show's producers and CBS for not allowing him to return to work while he rehabbed. He
apologized for leaking a voice mail
he said was the actor ranting his displeasure, that didn't keep Chevy Chase around. "You can't give us a script to begin with so nobody knew what the (expletive) was going on,"
a voice can be heard
saying on the tape. Chase recently chose to leave.
While the creator of his show
she said
. "It's discrimination, and it was badly handled. It's time to move on."
It was a mother's love that caused Sharon Osbourne to lash out at NBC, home of "America's Got Talent," where she served as a judge. After claiming the network unjustly fired her son, Jack, from the reality show "Stars Earn Stripes," she left her gig. "I just can't be fake,"
Director Michael Bay did not take it kindly when star Megan Fox dissed "Transformers: Revenge of the Fallen." After she said "people are well aware that this is not a movie about acting," Bay countered that "nobody in the world knew about Megan Fox until I found her and put her in 'Transformers.' " Fox did not return for the third installment.
In 2008, Katherine Heigl declined to put her name forward for Emmy consideration, complaining that "Grey's Anatomy" had not given her award worthy material. The year before, she complained that her film "Knocked Up" was "a little sexist. It paints the women as shrews, as humorless and uptight, and it paints the men as lovable, goofy, fun-loving guys."
was quoted as saying
, "Like some things about Edward are so specific, I was just convinced, like, 'This woman is mad. She's completely mad, and she's in love with her own fictional creation.' And sometimes you would feel uncomfortable reading this thing."
Author Stephenie Meyer can thank Robert Pattinson for bringing her character to life, but perhaps not for what he said in 2008. During an interview, the actor
later clarified
that his ire was more directed at a particular producer.
David Cross did not bite his tongue when he told Conan O'Brien that his time spent working on "Alvin and the Chipmunks: Chipwrecked" as the "most miserable experience I ever had in my professional life." He
she thanked
"Warner Bros. for putting me in a godawful piece of (expletive) movie."
Halle Berry was not immune to the bomb that was "Catwoman." When she accepted a Razzie in 2005,
quoted as saying
the director "deserved to die."
Bill Murray categorically denied head butting Joseph "McG" McGinty Nichol, the director of the 2000 film "Charlie's Angels." But the actor was
he said
of the 1997 film.
The fourth "Batman" film, "Batman and Robin," does not rank high up there for its star, George Clooney. "I think we might have killed the franchise,"
Back in 1986, David Letterman made his gripes with NBC parent company General Electric a shctick on his late night talk show, "The Late Show With David Letterman."
Biting the hand that fed you
Charlie Sheen: 'Two and a Half Men'
Chevy Chase: 'Community'
Sharon Osbourne: 'America's Got Talent'
Megan Fox: 'Transformers'
Katherine Heigl: 'Grey's Anatomy'
Robert Pattinson: 'Twilight'
David Cross: 'Alvin and the Chipmunks'
Halle Berry: 'Catwoman'
Bill Murray: 'Charlie's Angels'
George Clooney: 'Batman and Robin'
David Letterman: 'The Late Show'