'Hit Man' Hatton quits boxing
updated 11:49 AM EST, Sun November 25, 2012
STORY HIGHLIGHTS
Ricky Hatton has retired from boxing for a second time
The 'Hit Man' was defeated by Vyacheslav Senchenko
Hatton had hoped to relaunch his career after three-year absence
Boxer admits: "It's the end of Ricky Hatton."
(CNN) -- Ricky Hatton has hung up his gloves after suffering a ninth-round knockout in his comeback fight against Vyacheslav Senchenko.
The 34-year-old, who was fighting for the first time since suffering a second-round defeat by Manny Pacquiao in 2009, had hoped to relaunch his career after deciding to return to the ring.
'The Hit Man' as he is affectionately known, had endured a troubled time since quitting the sport following the loss to Pacquiao
Hatton had faced a battle with drink, drugs and depression before deciding to give boxing one last shot.
But the former two-weight world champion was shown no mercy by his opponent and was left to rue a career-ending defeat.
End game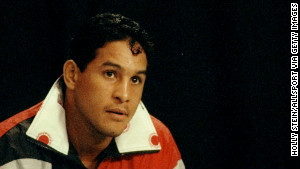 Boxer Hector 'Macho' Camacho dies at 50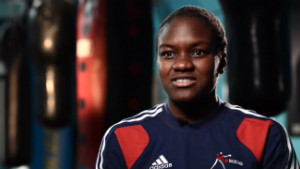 How Nicola Adams punched her way to gold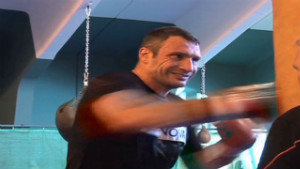 Boxing champ enters political ring
A badly bruised Hatton told reporters: "I found out tonight it isn't there no more. I'm a straight-shooter and I tell the truth. I can look at myself in the mirror and tell myself I did my best, but there is always an excuse to find.
"I got in the best shape I possibly could, but if I hadn't been hit with that body shot I would have just scraped over the line with a points win and I honestly think I would still be telling you all the same thing.
"A fighter knows and I know it isn't there any more. It's too many hard fights, I've burned the candle at both ends, I've put my body through the mire in and out of the ring but it doesn't matter how hard I train, I couldn't have done any better.
"I'm a happy man tonight. I don't feel like putting a knife to my wrists. I have got the answers I needed.
"I got the opportunity and I got the answers and no matter how upsetting it is, I have got to be a man and say it is the end of Ricky Hatton."
Career
Hatton became the British light-welterweight champion in 2000 after going 21 fights unbeaten.
He followed that up the following year by winning the WBU light-welterweight title.
It was in 2005 that he secured his legacy, defeating the then IBF light-welterweight champion Kostya Tszyu.
He claimed a points victory over Luis Collazo in 2006 to seal the WBA welterweight title.
Defeat to Floyd Mayweather Jr in December 2007 hit him hard, but Hatton returned to the ring with victories over Juan Lazcano and Paulie Malignaggi in 2008.
It was his brutal beating by Pacquiao in May 2009 which looked to have ended his career before he announced his shock return to the sport last September.

Part of complete coverage on
U.S. Sport

Lakers baffled their fans when they looked past former coach Phil Jackson and appointed Mike D'Antoni as coach.
updated 1:13 PM EDT, Sat October 27, 2012

CNN's Alex Thomas examines the NFL going international, as the Patriots and Rams prepare for their London face-off.
updated 11:26 AM EDT, Sat October 27, 2012

It has become a permanent fixture on the football calendar, and as the NFL descends on London once again, it seems a permanent touchdown is imminent.
updated 5:19 AM EDT, Fri October 26, 2012

Three San Francisco pitchers combine to throw a two-hit shutout as the Giants take a two-game World Series lead over Detroit by beating the Tigers 2-0.
updated 6:19 AM EDT, Thu October 25, 2012

Pablo Sandoval of the San Francisco Giants tied a World Series record when he hit three home runs in Game 1 against the Detroit Tigers.
updated 4:45 PM EDT, Thu September 13, 2012

Global basketball icon Dwayne Wade is making a concerted effort to get his head around an altogether different ball game.
updated 6:29 PM EDT, Thu July 19, 2012

The Houston Rockets sign basketball sensation Jeremy Lin after the New York Knicks fail to match their NBA rivals' three-year, $25 million offer.
updated 10:44 AM EDT, Tue July 3, 2012

CNN's Kyra Phillips chats with Bernard James, a military veteran who was drafted by the NBA's Dallas Mavericks.
updated 10:41 AM EDT, Mon July 16, 2012

What must it be like to step to the plate for your first appearance as a major-league baseball player and knock a grand-slam home run?
updated 5:46 PM EDT, Thu June 21, 2012

NFL commissioner Roger Goodell announces steps being taken to prevent the paying of bounties to players to intentionally injure opponents.
updated 2:58 PM EDT, Tue June 12, 2012

The Los Angeles Kings' Stanley Cup triumph has lifted a weight from the shoulders of diehard fans who have been waiting for 45 long years.
updated 6:35 PM EDT, Thu June 21, 2012

It's dark. Sunrise is still more than an hour away as Janet Evans tucks a last strand of dark hair beneath her latex swim cap.

CNN's Sam Krumov argues that LeBron James silenced the critics after claiming his first NBA title with the Miami Heat.
updated 9:48 AM EDT, Fri May 11, 2012

For Martin Brodeur, being 40 means doing what he's done his entire adult life: winning hockey games at the highest level in the sport.