STORY HIGHLIGHTS
Lewis Hamilton wins his seventh pole position of 2012 season at last race in Brazil
His McLaren team locks out the front row for for a record 67th time in Formula One
Championship leader Sebastian Vettel qualifies fourth behind teammate Mark Webber
Second-placed Fernando Alonso is back in seventh for Ferrari, with Felipe Massa fifth
(CNN) -- The scene is set for a thrilling climax to the 2012 Formula One season after Lewis Hamilton upstaged title contenders Sebastian Vettel and Fernando Alonso by claiming pole position for Sunday's Brazilian Grand Prix.
Hamilton, who beat the duo to win the penultimate race in the U.S. last weekend, headed off McLaren teammate Jenson Button in Saturday's qualifying at Interlagos.
Championship leader Vettel had to settle for fourth on the grid behind Red Bull teammate Mark Webber, while second-placed Alonso was back in eighth -- later bumped up to seventh -- as he was again out-qualified by Ferrari colleague Felipe Massa.
Alonso was handed a small boost when Williams' Pastor Maldonado was relegated from sixth to 16th after receiving a reprimand for failing to take his car to the weighbridge when requested to do so by stewards.
Vettel will clinch his third successive title if Alonso -- also seeking to become the sport's youngest triple champion -- finishes outside the top three.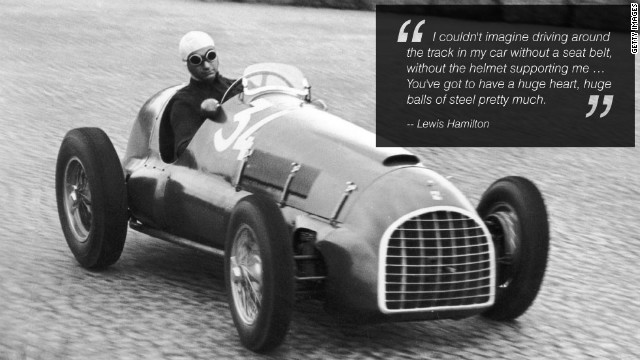 Click here to return to the story.
Click here to return to the story.
Click here to return to the story.
Click here to return to the story.
Click here to return to the story.
Click here to return to the story.
Click here to return to the story.
Click here to return to the story.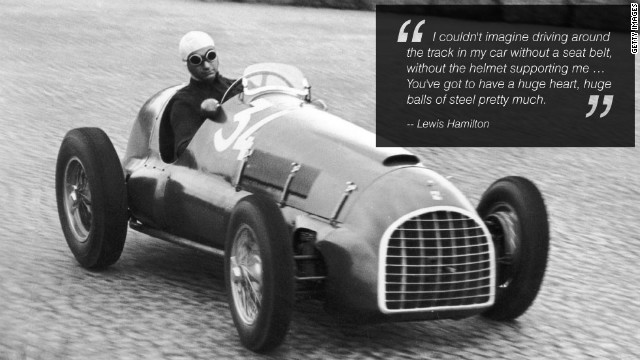 Senna vs. Fangio: Who is the greatest?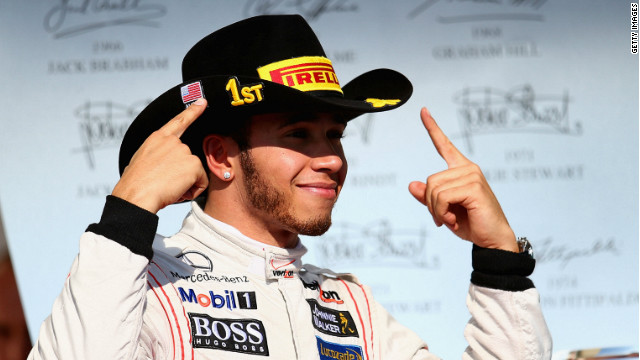 McLaren's Lewis Hamilton revels in winning the inaugural grand prix at the Circuit of the Americas in Austin, Texas, on Sunday.
Hamilton's victory means Fernando Alonso (right) can still pip reigning world champion Sebastian Vettel (left) for the title in the final race in Brazil, with one of America's former F1 champs, Mario Andretti, also soaking up the adulation on Sunday.
At the end of 2011, the scant progress at the Austin circuit was further slowed when construction was temporarily shut down.
The prospect of F1 cars flying along at hundreds of miles an hour was hard to imagine during a troubled construction phase.
But after fittingly fast work, the Austin circuit was given its official seal of approval in September.
The world's top drivers go into the first turn of the Austin circuit, as a tortuous journey to get F1 back to the United States officially ends.
F1's hopes of winning over a horde of IndyCar and Nascar fans took a severe dent when just six cars lined up for the start of the 2005 Grand Prix after a row over tire safety.
Supporters were incensed as teams wearing Michelin tires, which had been deemed unsafe after an accident in practice, boycotted the race because of safety concerns.
Between 1976 and 1983, California staged the Long Beach Grand Prix - before the U.S. race lived something of a nomadic existence.
Despite the disappointment of the 2005 race, American F1 fans were out in force for Sunday's race -- with a near-capacity crowd of 117,429 in attendance.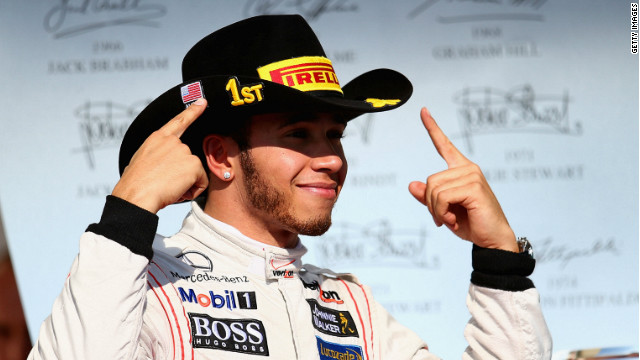 Reborn in the USA
The German, who holds a 13-point lead after finishing second in Austin, will be champion whatever his rival's result if he places in the top four.
However, with rain expected on Sunday the title race is far from over -- especially as Alonso has overcome poor qualifying form many times this season to consistently finish on the podium.
"Ninth in the USA and eighth here so more or less as I expected," he said. "I will try to achieve the podiums which we achieved in Abu Dhabi and Austin from those positions.
"No big changes in our race. F1 is dominated by aerodynamics. We ran with maximum downforce in dry and same in the wet so no big changes today, no gamble. It is minimum changes."
The Spaniard, who won his two titles with Renault in 2005 and 2006, triumphed in the season's only rain-affected race in Malaysia in March.
He was helped in Texas when Ferrari gave Massa an automatic five-place grid penalty by changing his gearbox, but this time the Brazilian will be looking to impress on his home track -- where he was denied the 2008 world title by Hamilton on the last lap despite winning the race.
"I will try everything I can," said Massa, who qualified fifth ahead of Venezuelan driver Maldonado.
"I don't know what the weather will be but everyone says it is wet. We know Interlagos and that anything can happen. The only thing I need to do is concentrate on my own race in front of my own people."
Vettel has recovered from a difficult start to the season, making the most of improvements provided by Red Bull designer Adrian Newey to win four races in a row before finishing third from a pit-lane start in Abu Dhabi and then second last weekend.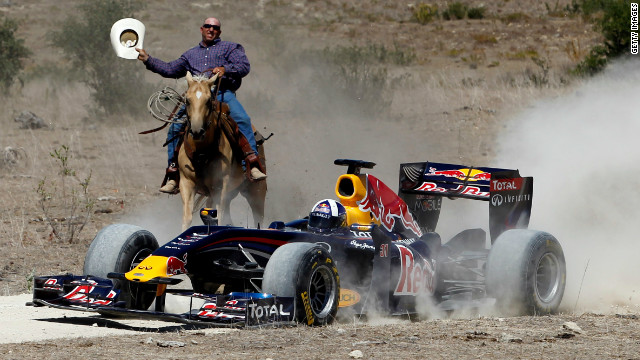 The Formula One roadshow rolls into Austin, Texas this weekend for the first race of 10 over the coming decade. The sport is hoping to attract legions of new fans in the USA.
Austin's purpose-built Circuit of the Americas is hoping to reignite the United States' passion for Formula One after a history of failed attempts in recent years.
President Obama was swept back into the White House on the back of huge Latino support, and with Austin just 200 miles from the Mexican border, F1 is hoping to ignite new support for the sport in Central America.
Mario Andretti (R) is one of only two American drivers to have won the Formula One title. Here he is seen talking to Stirling Moss, during his championship-winning season in 1978. He says stability is key to F1 success in the States.
The Long Beach Grand Prix was held in California between 1976 and 1983 after F1's long association with the Watkins Glen circuit in upstate New York. The U.S staged an unprecedented three F1 races in 1982 but it soon became a nomadic event.
A dispute over tire safety saw the 2005 U.S. GP at Indianapolis descend into farce. Only six cars contested the race as the rest of the field peeled off into the pits before it began.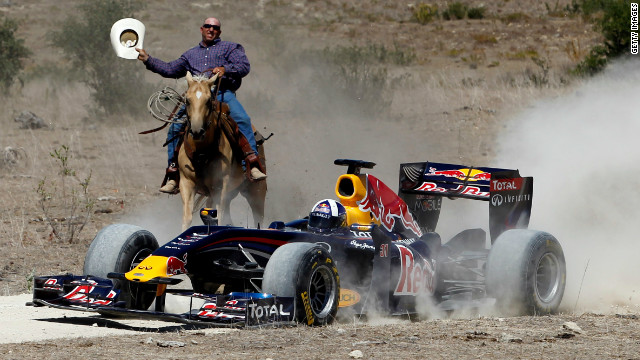 Rekindling F1's American dream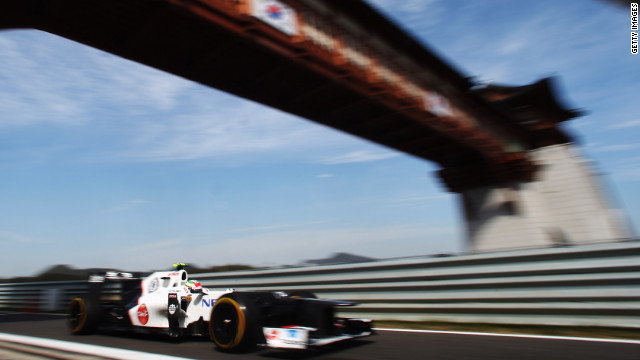 Sergio "Checo" Perez has been the surprise package of the 2012 Formula One season -- just his second year in the elite division of motorsport.
Perez's second place at the Malaysian GP in March was the Mexican's first podium finish in F1. He followed that up with third in Canada and another runner-up position in Italy.
After Lewis Hamilton (left) opted to join Mercedes for the 2013 season, McLaren signed Perez to partner Jenson Button (right) next year.
"Bear in mind that when we took on Lewis he was the same age as Sergio is today and he was incredibly young, incredibly raw and incredibly talented," said McLaren Team Principal Martin Whitmarsh. "Now when Sergio gets to Australia in 2013 he will arrive with the kind of pressure that he can't imagine right now."
Seen here driving in an exhibition through the streets of his home city Guadalajara, Perez was already winning kart races by the age of six.
Manchester United forward Javier Hernandez was also born in Guadalajara -- and Perez is close friends with the footballer, whose nickname is "Chicharito."
Mexico is embroiled in a battle against drugs, which in the last six years has accounted for 60,000 deaths, with 16,000 bodies remaining unidentified and 24,000 people missing. "My country is really only in the media for drugs and violence, which is sad," said Perez.
Perez's father, center, leaves the paddock after the F1 driver's crash during qualifying for the Monaco GP in 2011. Perez's younger brother Antonio is also involved in motorsport and drives in the NASCAR-sponsored race league in Mexico.
When Perez joined Sauber he was sponsored by telecommunications giant Telmex, which is owned by world's richest man and fellow Mexican Carlos Slim.
Ahead of this weekend's U.S. Grand Prix, the penultimate race of 2012, Perez was 10th in the drivers' standings with 66 points.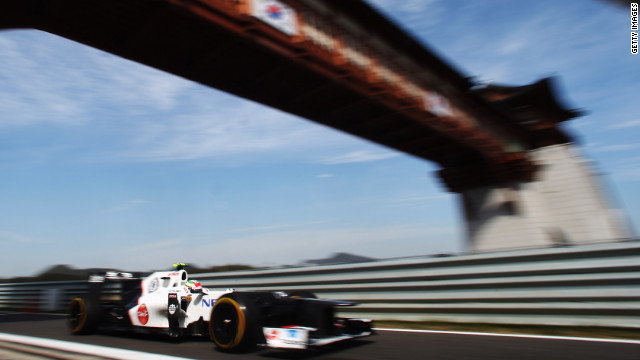 The rise and rise of Sergio Perez
"It was not quick enough and I know I could have done a little better," the 25-year-old said. "But let's wait and see what happens tomorrow."
Hamilton claimed his seventh pole this season and is seeking to end his career-long spell at McLaren with a second successive victory.
"I am grateful to be able to put the car on the front row and to have had my last qualifying with McLaren as a one-two, it is a fantastic job by the team," said the Englishman after the team locked out the front row for a record 67th time.
"I think the weather will be tricky tomorrow, it will make it more of a lottery."
Next season Hamilton will move to Mercedes to replace Michael Schumacher, who will start the final race of his career 13th out of 24 drivers.
The seven-time world champion, who was fourth at Interlagos before his first retirement in 2006, missed out on the third and final qualifying session.
The 43-year-old was almost two seconds slower than Hamilton's leading time of 1:12.458, finishing behind the Englishman's replacement at McLaren next year -- Sergio Perez of Sauber.
"I am not particularly happy about the qualifying session," Schumacher said.
"We might have compromised the car too much for the rain which is expected for tomorrow and was also forecast for qualifying.
"My starting position is now quite tricky, and I will have to see what we can make out of it.
Sauber's new signing Nico Hulkenberg will start sixth in his final race for Force India at a track where the German claimed a surprise pole position in 2010.
Former world champion Kimi Raikkonen, seeking to hold off Hamilton for third place in the drivers' standings, will be eighth on the grid ahead of Mercedes' Nico Rosberg and Force India's Paul di Resta.
Bruno Senna will start 11th as he seeks to earn a new deal with Williams at the circuit where his three-time world champion uncle Ayrton made his name as a Brazilian folk hero.