Inter star Sneijder dropped in pay dispute
updated 5:01 PM EST, Sat November 24, 2012
STORY HIGHLIGHTS
Dutch midfielder Wes Sneijder in contract dispute with Inter Milan
Cash-strapped Italian club asking the 28-year-old to take a pay cut
He has not played since September 26 and will not be considered for selection
Sneijder has been one of Inter's key players since moving to the San Siro in 2009
(CNN) -- Wesley Sneijder's future at Inter Milan is in doubt after the Italian club confirmed on Saturday that the Dutch playmaker will not be considered for selection until he agrees to take a pay cut.
The 28-year-old is one of football's highest-paid players, but he has struggled to regain the heights of 2010 when he helped the Netherlands reach the World Cup final after a treble-winning season with Inter.
He has not played for the cash-strapped Serie A side since September 26, at least partially due to injuries, but now Inter technical director Marco Branca says he will stay on the sidelines until he accepts a "contract adjustment."
"The situation with Wes, who is part of the history of this club and a player we all care about, is that we've been discussing a possible -- and for us necessary -- adjustment to his contract for a while," Branca said in quotes reported by Inter's website.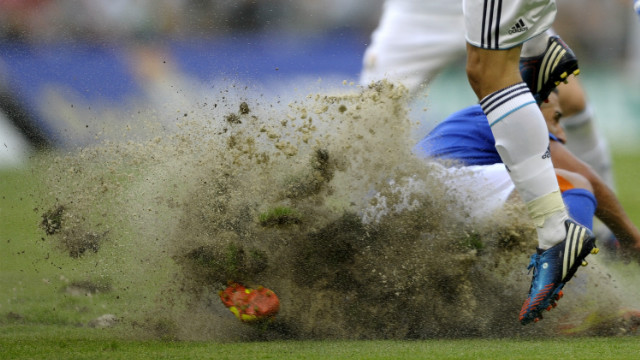 Over the weekend third-tier Spanish club Real Oviedo were saved from extinction after receiving a huge injection of cash from the world's richest man Carlos Slim.
Oviedo fans show their support for the club in the Estadio Carlos Tartiere with a banner reading "For the future of Real Oviedo". The Spanish club had needed to raise €1.9 million ($2.4 million) by November 17 or go bust.
Earlier in November Oviedo's board announced a share issue to attract investment and save the club. Remarkably the scheme took off as fans from all over the world bought the €11 ($13) shares after Oviedo's precarious position was highlighted on the social media website Twitter.
Slim was so impressed by the interest of fans in Oviedo from across the world -- he described their support as "extraordinary" -- that the Mexican tycoon pumped in a further $2.5 million to become Oviedo's majority shareholder. According to Forbes magazine, Slim has a net worth of $69 billion, having made his fortune in the telecommunications industry.
The Oviedo players huddle on the pitch before the match. Just over a decade ago Oviedo were playing in La Liga alongside Real Madrid and Barcelona, but mismanagement from the club's directors took the Asturian team to the brink of bankruptcy in recent years.
In September, Slim bought 30% stakes in two Mexican football teams, Pachuca and Leon, and he plans to use Oviedo "to create synergies and exchanges between Spanish, Mexican and Latin American football.''
Oviedo fans display a banner in the Estadio Carlos Tartiere reading: "Happen what may, Oviedistas until death." Of Slim's intervention, an Oviedo statement said: "This challenge and ambition is strictly a sports investment and one that looks to benefit the club and its fans. The investment will try to support Oviedo's players so they can reach their goals and the club can reach the division that corresponds to its history and values.''
Spanish football expert and long-time Oviedo supporter Sid Lowe has been a key figure in publicizing the club's plight. "Naturally, I have reservations, doubts & concerns," tweeted Lowe last weekend. "But with c. €2m of shares bought by 13,000+ ppl round world & Slim buying €2m Oviedo safe."
World Cup winner Juan Mata is one of the stars produced by Oviedo's youth system. He now plays for England's European champions Chelsea.
Michu was a Real Oviedo player for four years and has been campaigning on Twitter to save the club. He now plays in the English Premier League with Welsh club Swansea.
Arsenal's midfield maestro Santi Cazorla is another big-name player from Oviedo's academy who helped save his former club.
Mexican tycoon Slim is pictured at the 2012 Homeless World Cup in October. His widespread interests include providing financial backing for Mexican Formula One driver Sergio Perez.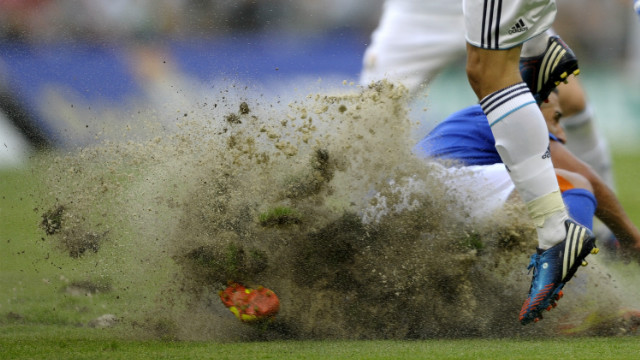 Real Oviedo - A fan's view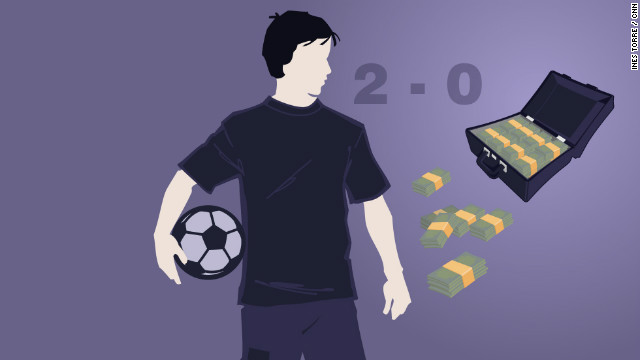 The Secret Footballer says in the early days of in-play betting players used to make money by manipulating elements of the match such as who would win the first throw in.
Former Southampton man Claus Lundekvam has insisted that whilst he and the other players knew what they were doing at the time was illegal, it was never considered more than a bit of fun. Players, he claims, would bet on anything from who would get carded to the recipient of the first throw-in. En route to away matches everything was fair game for a flutter, he says, except for the score.
Lars Bohinen enjoyed eight successful years in the Premier League, and played alongside Lundekvam at international level for Norway. He explains that whilst he heard talk of spot-fixing, he never fully bought into the idea. It is only now, years after his retirement, that he considers that gambling talk between the players was more than a harmless joke. He also believes that there is far more addiction amongst top-flight players than people see. "You could sense it from the way they gambled", he says.
For former Arsenal and England captain Tony Adams holds the matter of addiction amongst professioanl footballers much more seriously. After overcoming drug and alcohol problems he fouded the Sporting Chance Clinic, dedicated to help other sportsmen and women do the same. The Professional Footballers' Association and ex-Gunner Paul Merson are also patrons.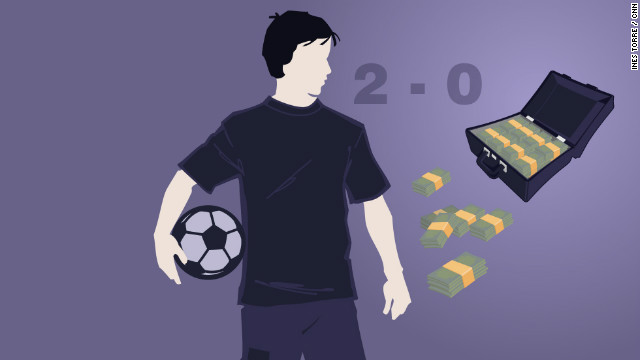 Match-fixing in football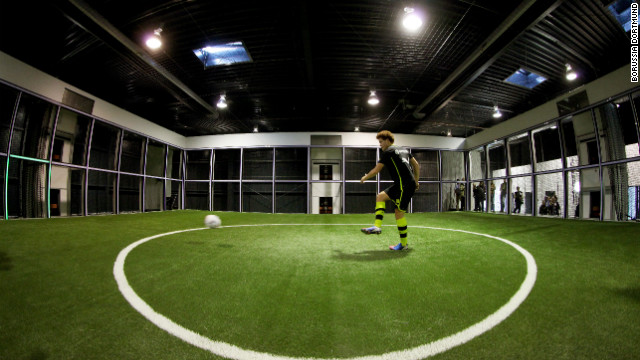 The "Footbonaut" -- is a robotic cage which footballers can use to improve passing, spatial awareness and control. The machine is being used by German champions Borussia Dortmund.
Once inside the "Footbonaut", a player is fed balls by eight different machines and then has deliver the ball to one of the 72 panels - - which is indciated by a flashing green light -- that make up the space-age contraption before they receive another ball. This picture shows Dortmund's German star Mario Gotze testing himself against the machine.
German coach Jurgen Klopp has overseen Dortmund's recent domination of German football. Dortmund have won the Bundesliga in each of the last two seasons, winning plaudits for the adventurous style of play. Klopp's team also currently sit top of a European Champions League group containing Real Madrid, Manchester City and Ajax.
Dortmund's rise to prominence has forced their attractive young squad into the limelight. None more so than Polish striker Robert Lewandowski, who was strongly linked with a move to Manchester United earlier this year.
One player who did swap Dortmund for Manchester was Shinji Kagawa. The Japanese playmaker had made a promising start to his Old Trafford career before being sidelined with a knee injury last month. Another player developed by Dortmund was Nuri Sahin, the Turkish midfielder who signed for Real Madrid in 2011 before joining Liverpool on a season-long loan deal in August.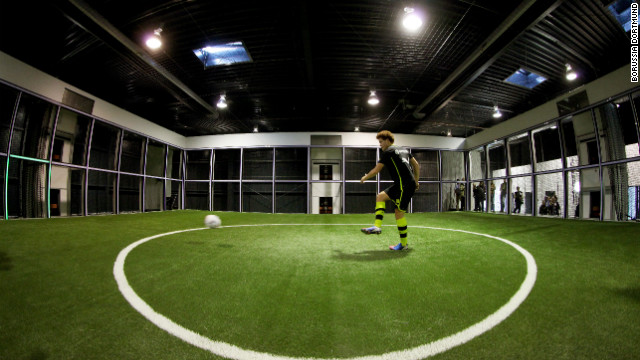 Dortmund's training pays dividends
"We want to give the player and his entourage all the time they need to consider the terms of our proposal carefully, so the coach and the club have decided not to use the player in this period until things are clearer. This also allows our coach to give more playing time to the other players."
In the same interview, Branca revealed that Inter coach Andrea Stramaccioni will not have any funds to bolster his second-placed team's title charge during the January transfer window.
"As things stand, the current economic situation -- both generally speaking and in our specific case -- doesn't allow us to budget for any sort of outlay," Branca said.
When asked if Inter could afford to sign highly-rated Brazil midfielder Paulinho, Branca replied: "If there's a 'costs' we can't do it at the moment."
The announcement is likely to spark a January bidding war for former Real Madrid star Sneijder, who has been linked with a move to the English Premier League for the past two years.
Inter's financial problems mirror those of city rivals AC Milan, who have sold several top names since winning the Italian title in 2011.
Branca said Inter would not be rushing Sneijder, who moved to the San Siro in 2009 and has more than two and a half years left on his contract.
"It's a very serious matter. We're patient precisely because we have a certain sort of relationship with Wes, and I'm sure it's the same for him. We're patient and calm as we wait for the situation to evolve."
Stramaccioni's team travel to Parma on Monday, facing the possibility that champions Juventus' four-point lead will be even greater following Sunday's trip to struggling Milan.
In Saturday's only Serie A game, seventh-placed Catania lost 3-1 at Palermo.
Slovenia midfielder Josep Ilicic scored twice in the second half to lift the Sicilian team up to 14th place.