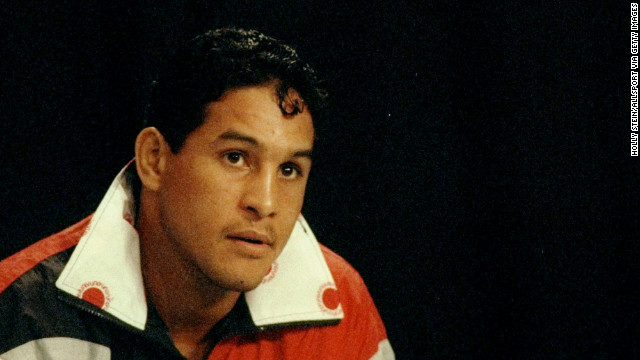 Famed Puerto Rican boxer Hector "Macho" Camacho, seen here in 1993, died Saturday, November 24. A gunman shot him in the face two days earlier in front of a bar in his hometown of Bayamon, Puerto Rico.
Camacho gives the peace sign while watching a 1991 bout between Julio Cesar Chavez and Lonnie Smith in Las Vegas. Camacho was considered a promoter's dream because he was a showman in the ring against some of the greatest fighters of his era.
In 1992, Camacho sits in his corner between rounds of his fight against Eddie Van Kirk.
Before his 1992 fight against Eddie Van Kirk, Camacho stands in the ring wearing a firefighter hat and an outfit adorned with flames.
Camacho lands a punch to his opponent, Roberto Duran, during their IBC middleweight fight in Atlantic City, New Jersey, in 1996. Camacho won in a 12-round decision.
Boxers Sugar Ray Leonard, sitting second from left, and Hector Camacho, right, pose with kids from a New Jersey school during a benefit luncheon at Planet Hollywood in Atlantic City on February 28, 1997.
Camacho pins Sugar Ray Leonard to the ropes as referee Joe Cotez looks on during a bout in Atlantic City on March 1, 1997. Camacho won with a knockout in the fifth round, ending Leonard's comeback effort.
Before the 1997 fight with Leonard, Camacho heads toward the ring dressed as a Roman soldier.
Oscar De La Hoya battles Camacho during a match in Las Vegas on September 13, 1997.
Camacho gets water in his corner during his 1997 fight against Oscar De La Hoya.
Camacho and his son, undefeated super lightweight champion Hector "Macho" Camacho Jr., celebrate their wins in Miami on February 3, 2001. They were the first father and son tandem to share the same boxing card since 1975.
Camacho dances during the grand finale of Univision's "Mira Quien Baila" in Miami on November 21, 2010.
'Macho' Camacho through the years
'Macho' Camacho through the years
'Macho' Camacho through the years
'Macho' Camacho through the years
'Macho' Camacho through the years
'Macho' Camacho through the years
'Macho' Camacho through the years
'Macho' Camacho through the years
'Macho' Camacho through the years
'Macho' Camacho through the years
'Macho' Camacho through the years
'Macho' Camacho through the years