STORY HIGHLIGHTS
Apply to join the 2013 CNN Fit Nation Triathlon Challenge on iReport.com
The 2012 team crossed finish line with courage, strength, Ironman World champ says
The only limits are those that exist in the mind, she says
Editor's note: Chrissie Wellington is a four-time Ironman World champion and a guest coach for CNN's Fit Nation Tri Challenge. Her autobiography, "A Life Without Limits," is available on Amazon.
(CNN) -- A little more than two months ago, I stood on a California beach, tears streaming down my cheeks as I watched members of the 2012 CNN Fit Nation team cross the finish line of the Nautica Malibu Triathlon.
A year before they had never worn a pair of running shoes, let alone a triathlon suit. For many of them completing a triathlon was utterly inconceivable, akin to asking them to walk on the moon. But what a difference a year made.
At the Nautica Malibu Triathlon, I saw the Lucky Seven athletes conquer their fears and achieve more than they could have ever imagined. Their courage, strength, happiness, elation and pride were a beacon that shone for all to see, and that light continues to inspire everyone who shared in their amazing journey.
It was an absolute privilege to join Dr. Sanjay Gupta and Coach April as a guest coach for the 2012 CNN Fit Nation team. The finish line was not the end for the Lucky Seven; it was just the beginning.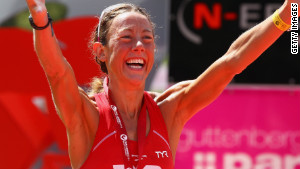 Chrissie Wellington celebrates winning the Challenge Roth Triathlon in 2011 with a new long-distance world record.
Their journey did not simply bring newfound physical fitness and vigor. The experience gave the team members altered perspective, a sense of purpose, healthy eating habits, a wealth of new skills, mental fortitude and a string of wonderful memories.
It gave them a new life as triathletes, filled with belief in themselves and lifelong friendships.
Of course, challenges are never easy. It takes a huge amount of courage to try a new sport and set a new goal.
The Lucky Seven all had personal barriers. They were all nervous about testing themselves, taking risks and biting off more than they could chew. They all worried about the what ifs. What if I can't do the training? What if I can't learn to swim? What if I crash on the bike? What if I can't finish? What if I let myself down?
While watching them conquer their fears, I realized once again that the only limits are those that exist in the mind. The key is to overcome and move beyond them -- to a space where our real power dwells.
Ironman champ: Train your brain, then your body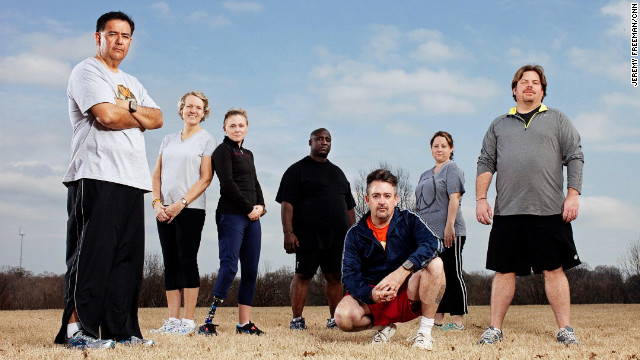 The CNN Fit Nation Triathlon Challenge 'Lucky 7'
Participant Denise Castelli switches from her normal prosthetic to her running leg.
The team and coaches April Burkey and Laura Cozik get a 'teamwork' before a run work out in Atlanta's Centennial Olympic Park
The first run workout of the weekend with coaches April Burkey, Laura Cozik, and Dr. Sanjay Gupta in Atlanta's Centennial Park
Participant Glenn Keller does his best 'Rocky Balboa' after summiting Stone Mountain with Dr. Sanjay Gupta and his teammates
Learning how to use a road bike with coach Laura Cozik at Atlanta Cycling in Midtown Atlanta
The Fit Nation team stops to strike a 'Tebow' in between workouts
The 'Lucky 7' and Dr. Sanjay Gupta do a 'hard work' shoutout with Atlanta Hawks' Jerry Stackhouse before a practice workout on the teams' court
Dr. Sanjay Gupta and the 'Lucky 7' do a basketball workout with the Atlanta Hawks trainers
Team members Jeff Dauler and Nancy Klinger do a swim workout with coach April Burkey
Coach Laura Cozik leads a killer strength workout to close out kick-off weekend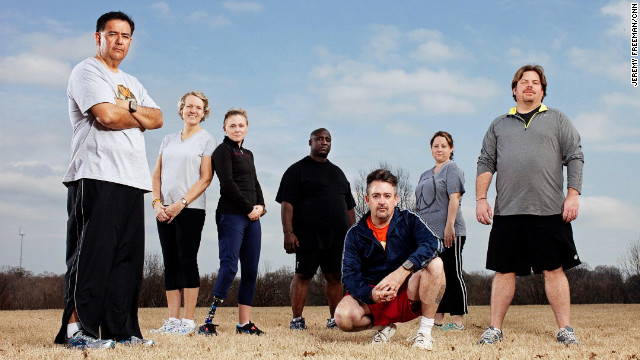 Fit Nation Kick-off Weekend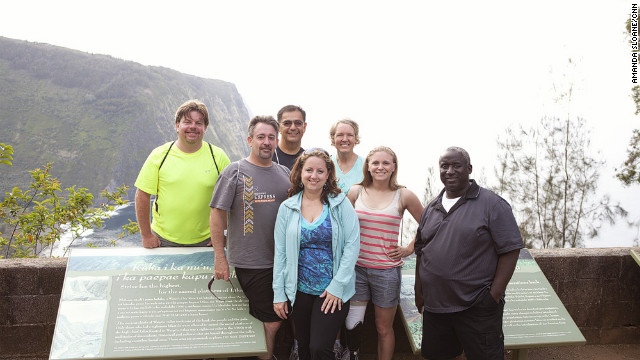 The Fit Nation "Lucky 7" arrives in Kailua-Kona, Hawaii, on Sunday, May 13, for a week of training. The group will be participating in the Nautica Malibu Triathlon with CNN's Dr. Sanjay Gupta in September. Here they take a group picture before hiking down the Waipio Valley Trail.
Fit Nation athletic director April Burkey rocks a pink hat while waiting for the "Lucky 7" to get fitted for rental bikes in Hawaii.
Glenn Keller Sr., a truck driver and pastor from Burleson, Texas, leads the pack of 2012 Fit Nation Triathlon Challenge participants near Mauna Lani Bay.
Fit Nation Challenge participants Nancy Klinger, left, and Adrienne LaGier bike through the lava fields on the Big Island of Hawaii.
Jeff Dauler, an Atlanta radio personality, and other bikers take a training ride through the lava fields.
The "Lucky 7" strike a pose after a training ride. From left: Glenn Keller, Rick Morris, Adrienne LaGier, Nancy Klinger, Denise Castelli, Jeff Dauler and Carlos Solis.
The team learns about "transition spaces," where athletes place their biking or running gear in certain positions to make it easy to go from swimming to biking or biking to running. Here sneakers are lined up with a triathlete's race number.
Castelli, an athlete from Netcong, New Jersey, gets ready to run after biking. Castelli's right leg was amputated below the knee following several surgeries to combat an infection.
Rick Morris, a Web developer and volunteer firefighter from Canton, North Carolina, goes for a run with his teammates.
Carlos Solis, an elementary school teacher from Ontario, California, tries to stay hydrated as he runs through the lava fields.
Athletic director Burkey leads the "Lucky 7" team in a stretch after a long run.
Klinger, a mother from Afton, Minnesota, shares a laugh with her teammates during a stretch.
Castelli gets into the downward dog position as the team does yoga after a run.
Keller joins his teammates in stretching exercises.
Klinger wins the race for getting into a wetsuit the fastest during the team's first swim workout.
Burkey gives swimming instructions to the "Lucky 7" before the team enters the waters in Mauna Lani Bay.
The Fit Nation team receives more instructions before their first open-water swim.
Roni Selig, Fit Nation coach and director of the CNN Medical Unit, helps Castelli out of the water.
Morris attempts to take off his wetsuit while practicing the transition to biking.
Castelli takes in the scenic beauty of the black sand beach in Waipio Valley.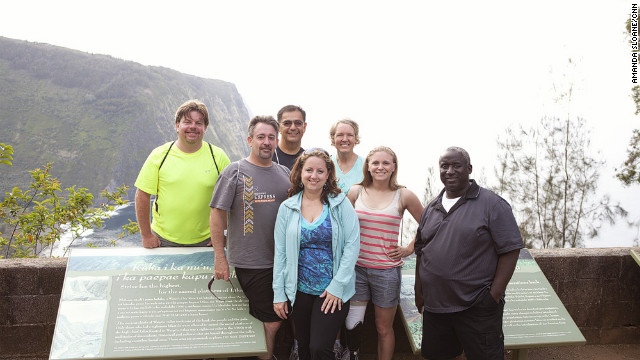 Fit Nation: Training in Hawaii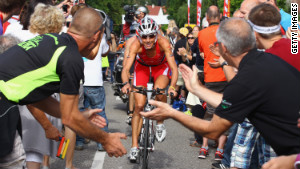 Ironman champ: 'Your mind matters more'
Four years ago I was asked whether I would ever do an Ironman. My response? "No way, you must be completely mad to do something like that!"
But once I had done the shorter distance races, I realized that maybe the Ironman mountain wasn't so big after all. I gained confidence in myself, and with the support of my coach and training partners, I seized this new, exciting challenge with both hands.
Imagine if I had never gone back on my word, if I hadn't changed "I can't" to "I can." Imagine if I hadn't dared to push myself harder, and most importantly, if I hadn't had people to support, encourage, mentor and make me believe in me? I would never be sitting here as four-time Ironman World champion.
Getting to the starting line of your first triathlon
The same goes for the 2012 CNN Fit Nation Team. If the team members hadn't had the courage to overcome their fears and doubts, they may never have been able to call themselves triathletes. And they, and their families and loved ones, may not be looking to the future filled with optimism, positivity and unbridled confidence.
I await the news of the selection of the 2013 CNN Fit Nation team, knowing it marks the start of a journey that will change lives, empowering a new group to defy what they may have deemed impossible and inspire everyone else out there to do the same.
This is the start of a new beginning, for them and for you.
To apply to be a 2013 CNN Fit Nation team member, go to iReport.com and share your story. If you are selected, you'll receive a bike, uniform, wet suit, personal training and nutrition coaching, two all-expenses-paid training trips and a chance to train and compete alongside Gupta at the 2013 Nautica Malibu Triathlon.