By the numbers: Thanksgiving and the Presidents
updated 1:36 PM EST, Thu November 22, 2012
STORY HIGHLIGHTS
Presidents have played a role in the annual Thanksgiving celebration since 1789
President Obama continued the tradition by pardoning a turkey at The White House this week
One president opted for possum instead of turkey for his Thanksgiving meal
(CNN) -- Throughout American history, the annual celebration of family and gratitude known as Thanksgiving has been a central part of The White House and the U.S. presidency.
This week, President Barack Obama kept the tradition alive by pardoning Cobbler, the National Thanksgiving Turkey, in a Rose Garden ceremony. His feathered understudy, Gobbler, was also allowed to live, and both birds will live out the rest of their days on display at George Washington's Mount Vernon Estate and Gardens in Virginia.
Here is a look, by the numbers, at Thanksgiving and the role American presidents have played in the holiday over the years:
1 - The first one was in 1789, when President George Washington issued a proclamation naming November 26 as a day of national thanksgiving.
1 - Number of weeks ahead the usual annual date of Thanksgiving was moved by President Franklin D. Roosevelt, in order to boost the Christmas shopping season.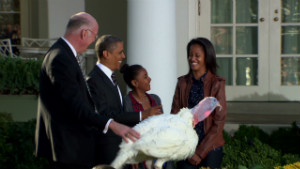 What happens to pardoned turkeys?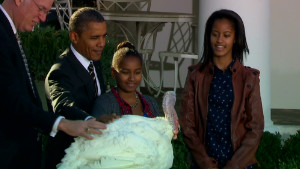 Obama gives turkeys second chance
4th - The Thursday in November set aside by Congress in 1941 to be observed as Thanksgiving Day and a federal legal holiday.
65 - Years since the first turkey presentation at the White House.
2 - Turkeys pardoned by President Obama each year since he has been in office.
1 - Turkey pardoned by Obama in 2011 that, after a sudden and mysterious illness, was euthanized this week at the Mount Vernon Estate in Alexandria, Virginia, former home of George Washington and retirement resort for presidentially-pardoned avians.
26 lbs. - Weight of the Georgia possum served for Thanksgiving dinner in 1909 to President William Howard Taft and his family in the White House.
600 - Members of the 1st Armored Division and the 82nd Airborne Division serving in Iraq who were joined by President George W. Bush for their Thanksgiving dinner in 2003.
4 - Total number of visits Bush made to Iraq as president since the war began in 2003.
1 bite - Amount of turkey eaten by former President Bill Clinton on Thanksgiving Day in 2011, who told CNN's Dr. Sanjay Gupta he lives a [mostly] vegan lifestyle these days.

Part of complete coverage on
Thanksgiving

Share a photo of your family with your Thanksgiving spread. Tell us what you're thankful for.

What's your must-have Thanksgiving staple? Share your video, pictures and recipes with Eatocracy.

We're sharing our time-tested Thanksgiving hosting tips and recipes, as well as plenty from chefs, hospitality experts, celebrities, hosts and home cooks we love.
updated 11:53 AM EST, Wed November 21, 2012

Find out what celebrities are doing this Thanksgiving.
updated 12:05 PM EST, Wed November 21, 2012

Real Simple asked three creative geniuses to come up with beautiful, unusual displays that anyone can successfully replicate.
updated 8:45 AM EST, Fri November 23, 2012

Hotels and resorts are getting in on the Black Friday and Cyber Monday action with sales on upcoming stays, all bookable from the comfort of your own home.
updated 7:13 AM EST, Wed November 21, 2012

On a clear dry day, driving 55 mph, it takes long-haul trucker Camille Pask the length of three football fields to stop her fully loaded rig.
updated 9:28 AM EST, Thu November 22, 2012

Judy Warzenski didn't realize how bad her father, Donald's, memory had gotten until he turned to her sister Joyce and asked, "Where's the girl who was sitting next to you?"
updated 6:10 AM EST, Mon November 19, 2012

These clever strategies will help you handle Thanksgiving with less stress and more sanity.
updated 11:21 AM EST, Mon November 19, 2012

What topics do you avoid over dinner? How do you coordinate visiting all of your relatives? Real Simple breaks it down.
updated 2:19 PM EST, Thu November 15, 2012

Ideally, Casey St. Clair would be spending Thanksgiving relaxing and eating dinner with her boyfriend and his family, not working.

Gratitude is the watchword, and it's incredibly easy to lose sight of that while you're bogged down in the details of serving a dinner that packs a certain amount of expectation. So how about giving yourself a break?

Even the most adventurous eaters often give their inner food warrior the day off on Thanksgiving.
updated 7:39 AM EST, Thu December 1, 2011

Thanksgiving is over and you've finally had that last leftover turkey sandwich. Here are some clever ways to get more than just one dinner's worth out of those handy items.