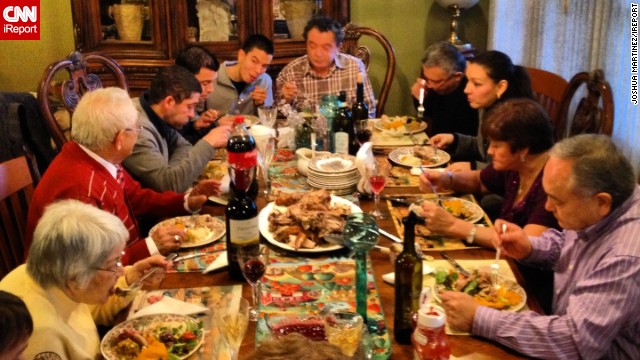 Share a photo of your Thanksgiving spread on CNN iReport
.
iReporter Joshua Martinez of Milton, Massachusetts, is thankful to be able
to spend Thanksgiving with his extended family
. "There are a lot of people out there, especially my friends, who aren't able to celebrate with their family, so that's something I'm very appreciative of."
iReporter Demitri Awwad
celebrated Thanksgiving in the West Bank city of Bethlehem, where everyone is thankful that a cease-fire between Israel and Hamas seems to be in place. "Hopefully both sides will enjoy a lovely dinner with their families tonight and all we can hope for is a better tomorrow." The expat crowd enjoyed a taste of home right down to "mashed sweet potatoes" courtesy of Bethlehem University's culinary students.
Palestinian-American
Christine Au-Yeung, right, of San Francisco always meets her family for coffee on Thanksgiving morning and Thursday was no exception. "This year, I'm especially thankful for how close my family and I have grown, and the fact that they're always there for me."
Anna Chacona is thankful she doesn't have to choose whether to spend Thanksgiving with her family or her husband's family. "We always have both sides together for one dinner."
Josue Pinto of Washington is grateful to have been able to spend time on Thanksgiving with "two lovely and hilarious ladies."
Meghan Poole-Van Swol is grateful for the love and support of her family. "This has been the hardest year of my life and our family! I am so very thankful for the gift of seeing my family rise to the occasion and show a beautiful amount of resilience."
What are you thankful for?
What are you thankful for?
What are you thankful for?
What are you thankful for?
What are you thankful for?
What are you thankful for?