Foam turkey craft kit recalled
updated 9:06 AM EST, Thu November 22, 2012
STORY HIGHLIGHTS
The Consumer Product Safety Commission says magnets could be a hazard for young kids
When assembled, the product resembles a turkey with a pumpkin-shaped body
The kits were sold exclusively by Ohio-based Jo-Ann Fabric and Craft Stores
Washington (CNN) -- The Consumer Product Safety Commission has issued a voluntary recall of a craft kit to create a foam pumpkin turkey following concerns the magnets included with the seasonal adult product could pose a hazard if ingested by small children.
No injuries have been reported.
About 1,800 kits, manufactured in China, were sold exclusively by Jo-Ann Fabric and Craft Stores, based in Hudson, Ohio, between August and October of this year. They sell for about $8.
Consumers can return the item for a full refund.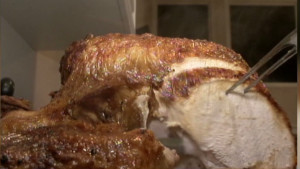 Food myths at Thanksgiving
The product safety commission said in a release, "Magnets holding the pumpkin shell pieces together can become loose, posing an ingestion hazard to young children." The magnets can link together inside a child's intestines, "causing intestinal obstructions, perforations, sepsis and death."
When assembled, the product resembles a turkey with a pumpkin-shaped body. The kit comes with various foam pieces to decorate the outer pumpkin shell and six small magnets that hold it together.
Shoppers warned to avoid dangerous toys
Children's tents recalled over suffocation risk
What's on your Thanksgiving table?

Part of complete coverage on
Thanksgiving

Share a photo of your family with your Thanksgiving spread. Tell us what you're thankful for.

What's your must-have Thanksgiving staple? Share your video, pictures and recipes with Eatocracy.

We're sharing our time-tested Thanksgiving hosting tips and recipes, as well as plenty from chefs, hospitality experts, celebrities, hosts and home cooks we love.
updated 11:53 AM EST, Wed November 21, 2012

Find out what celebrities are doing this Thanksgiving.
updated 12:05 PM EST, Wed November 21, 2012

Real Simple asked three creative geniuses to come up with beautiful, unusual displays that anyone can successfully replicate.
updated 8:45 AM EST, Fri November 23, 2012

Hotels and resorts are getting in on the Black Friday and Cyber Monday action with sales on upcoming stays, all bookable from the comfort of your own home.
updated 7:13 AM EST, Wed November 21, 2012

On a clear dry day, driving 55 mph, it takes long-haul trucker Camille Pask the length of three football fields to stop her fully loaded rig.
updated 9:28 AM EST, Thu November 22, 2012

Judy Warzenski didn't realize how bad her father, Donald's, memory had gotten until he turned to her sister Joyce and asked, "Where's the girl who was sitting next to you?"
updated 6:10 AM EST, Mon November 19, 2012

These clever strategies will help you handle Thanksgiving with less stress and more sanity.
updated 11:21 AM EST, Mon November 19, 2012

What topics do you avoid over dinner? How do you coordinate visiting all of your relatives? Real Simple breaks it down.
updated 2:19 PM EST, Thu November 15, 2012

Ideally, Casey St. Clair would be spending Thanksgiving relaxing and eating dinner with her boyfriend and his family, not working.

Gratitude is the watchword, and it's incredibly easy to lose sight of that while you're bogged down in the details of serving a dinner that packs a certain amount of expectation. So how about giving yourself a break?

Even the most adventurous eaters often give their inner food warrior the day off on Thanksgiving.
updated 7:39 AM EST, Thu December 1, 2011

Thanksgiving is over and you've finally had that last leftover turkey sandwich. Here are some clever ways to get more than just one dinner's worth out of those handy items.