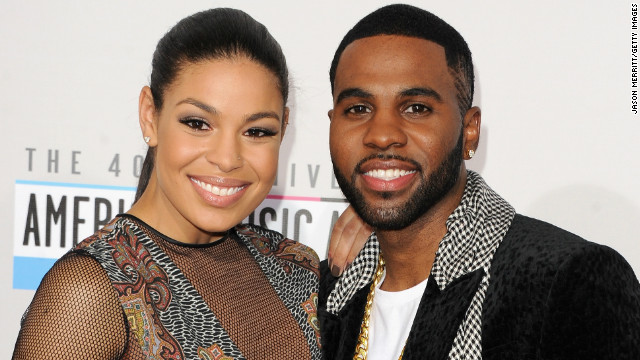 Jason Derulo told CNN on November 19 that he'll be at girlfriend Jordin Sparks' home for Thanksgiving. "I'm spending it with her family this year. She spent it with my family last year." Added Jordin, "I'm going to attempt to cook some of his favorite [Haitian] dishes."
"I'm hosting (Thanksgiving) at my house this year. I'll be in my sweatpants," Christina Aguilera told CNN at the American Music Awards on November 19.
"I always say every year I'm going to learn [my mom's] recipes but I am DEFINITELY gonna do it this year," singer Brandy said. "All her recipes are so good."
"I'm going to my friend's house," said Jenny McCarthy. "And we are going to have a great time. I'm not cooking. I'm going to drink their wine and pass out on their sofa."
"Our whole family is coming to our house and we're so excited. Everyone's flying in and I am cooking," Pink said. "I make to-die-for sweet potatoes, incredible stuffing ... it's gonna be fun."
"This year I'm going to try to clean it up a little bit and maybe not eat so many calories," Usher revealed to CNN at the American Music Awards.
"[For] Thanksgiving I'm taking my mom in the new car I bought her. Driving her home," hip-hop artist J. Cole said. "We'll definitely go out and celebrate, I don't get to see her too much 'cause I'm always traveling. So you've got to use that time wisely."
"I'm thankful for a healthy family, and health," country star Luke Bryan told CNN.
"I'll be at my grandmother's. I gotta make it back to her around the holidays because she worries about me," said 50 Cent.
tweeted
, asking her followers, "What are your Turkey Day plans?"
"Can't wait to spend Camden's first Thanksgiving with our family this week!" Vanessa Lachey
"I have a lot to be thankful for," Carrie Underwood told CNN. "This tour we've been on has just been so rewarding for me."
"I'm thankful to be alive," Sean Kingston told us. "I can't wait! Jerk chicken, oxtail, corn bread, I'm waiting for all that!"
"I'm actually going to be part of the Macy's Parade, and I've been on the hunt for a warm and stylish jacket," Carly Rae Jepsen told CNN of her Turkey Day plans.
"Me and my family are gettin' down this Thanksgiving," Will.i.am told us November 19. "And we're going to have conversations about health and taking care of our bodies, [to] live as long as we can so we can enjoy each others' company and perspective and love and support."
People magazine
at the American Music Awards on November 19. Nick Carter added: "I'm thankful to the AMAs for letting us come here 'cause we're so old and we've been around forever."
"I'm thankful for our 20th anniversary, with all five of us back together," Howie Dorough of the Backstreet Boys told
Jordin Sparks and Jason Derulo
Christina Aguilera
Brandy
Jenny McCarthy
Pink and Carey Hart
Usher
J. Cole
Luke Bryan
50 Cent
Vanessa Lachey
Carrie Underwood
Sean Kingston
Carly Rae Jepsen
Bethenny Frankel
Nathan Followill
Elizabeth Banks
Will.i.am
The Backstreet Boys