Reddit: Best gift ideas for men
updated 2:38 PM EST, Wed November 21, 2012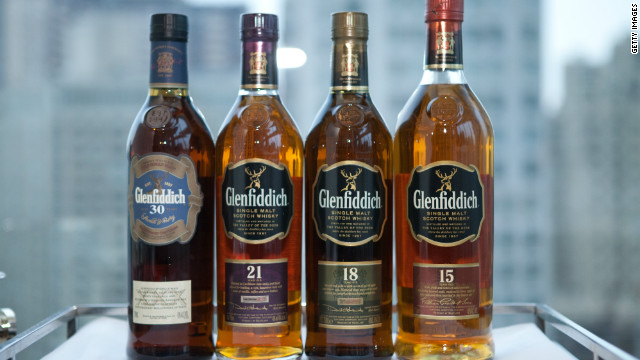 "Everyone knows just to buy me booze. I haven't regifted since the first Bush administration," said LiterallyOuttoLunch.
"I once bought my Dad a complete set of tires for his pickup truck. ... He constantly told his friends, 'My son bought me these incredible tires,' " said a Redditor ironically named Worstdriver.
"I usually get guys tickets to a band they like or to a comedian they enjoy," recommended DancesWithDaleks.
"... don't buy him a mug, buy him the liquids that go in the mug," said FinanceITGuy.
"[G]etting a chainsaw is like a chance to do something awesome," said noahisaac. Ozzimark agreed: "There can never be enough chainsaws and torches."
"Knives or flashlights. Get a tactical light from Streamlight or Surefire (yes, they are worth the price)," recommended teaching-man.
"My boyfriend made everything simple for me -- he pointed me in the direction of his Amazon wishlist. Can't go wrong," said ununpentium89.
"I will never be tired of being taken out to a nice restaurant as a gift. You can never go wrong with gift cards either," said ChocolateMeoww.
OfThriceAndTen claimed a "classic man" would value a good-quality fountain or ballpoint pen.
"You can never go wrong with cigars and Scotch," said BillyJackO.
Reddit: Gift ideas for men
Reddit: Gift ideas for men
Reddit: Gift ideas for men
Reddit: Gift ideas for men
Reddit: Gift ideas for men
Reddit: Gift ideas for men
Reddit: Gift ideas for men
Reddit: Gift ideas for men
Reddit: Gift ideas for men
Reddit: Gift ideas for men
STORY HIGHLIGHTS
Men on Reddit lamented receiving socks, cologne and toiletries for Christmas
Posters suggested coffee, liquor, beer and electronics as worthy alternatives
Some recommended being happy with what you get, as it's the thought that counts
(CNN) -- Fretting over what holiday gift to get the hard-to-shop-for man in your life on Black Friday? Well, so were the users of the social media site Reddit this week. A post asked: "Who thinks 'Mens Gift Ideas' are always super lame? Men of reddit what lame 'guy' gifts are you tired of receiving? How would you edit these lists your wives, mothers, sisters are reading?"
Posters listed everything from cologne to mugs in their catalog of terrible man-gifts. They also shared which items will bring grins instead of groans. See the gallery above for the best gift ideas for men. Below are10 of the worst presents you can give, according to Reddit users:
Worst gifts for men:
1. Underwear
"Boxers and socks. It's nice to get them, don't get me wrong, but I like a heartfelt present too," posted TheGreatGingerOaf.
2. Beard oil
Men should use this facial hair conditioner, "Only if you have a performance grade beard," said Toribor.
3. Calendars
"Please, no Page-A-Day Calendars focused on something that I mentioned in passing that I had a slight interest in eight months ago," complained khdutton.
4. Cologne
"I have an entire shelf in my medicine cabinet dedicated to the various colognes I've received as gifts. I do not need a bottle every single year," said Beholdereye.
5. Golf-themed items
"My grandfather spent at least a decade getting nothing but tacky golf-themed calendars and knick-knacks. He must have been the king of white elephant parties," recalled Tadhgdagis.
6. Soaps and toiletries
"No one, men or women, want (uninvited) toiletries for a gift. The End," noted 7719.
7. Knickknacks
"Everyone hates those gift sets they have at Dillards and other department stores where you can get a mini golf ball polishing machine for your desk or a mini fishing rod to carry around," contended fishrocksyoursocks.
8. Candy
"I've got christmas candy going back a few years in the cupboard," said Walletau.
9. Flasks
"I own four flasks. I consider myself a moderate-to-heavy drinker, but this is overkill," said ReluctantRedditor275.
10. Handkerchiefs
"It's never appealed to me to put a snotty rag back in my pocket for later use," explained uk_bloke.
But Reddit user JoshuaRWillis summed up a recurring sentiment: It's the thought that counts. "If someone cares enough about me to buy me a gift with at least an attempt made in getting me something they think I'd like, I'm a happy man. The easier it was for them, the better," he wrote.