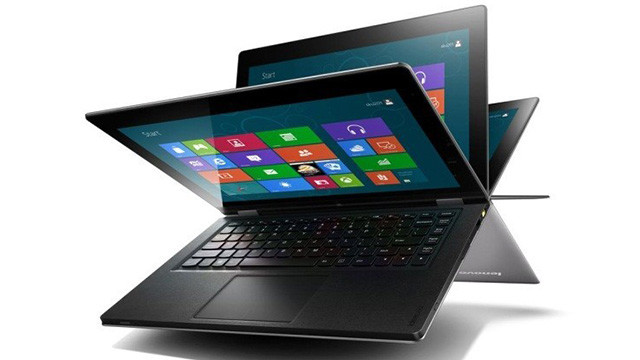 The new Windows 8 devices have some much-needed personality -- and none more so than the
Lenovo IdeaPad Yoga 13
. This is a bendy, touchscreen Ultrabook that costs $1,000. You can fold the screen all the way back to use it as a tablet and get the most out of the new Windows 8 touchscreen interface.
Fitbit Zip
(left, $60) tracks steps, calories and distance, and lets you compete against friends. The
Nike+ Sportwatch GPS
(right, $169) records your location, pace, calories and heart rate while keeping you motivated with gentle reminders.
Just in time for New Year's resolutions, these beefed-up pedometers track more than steps. The
Kindle Paperwhite
(left, $119 with ads) is great for Amazon Prime members. The
Nook Simple Touch with GlowLight
(right, $119) reads standard ePub files.
Tablets are perfect for playing games and watching movies, but avid readers might prefer a mono-tasking device that's easy on the eyes. These E Ink readers have excellent battery life and work in low light. The
Roombas
are pricey, from $350 up to $700, but they know exactly where to clean and even go under the bed without complaining (except sometimes
on Twitter
).
Cleaning your floor isn't fun -- unless you have a smart floor-cleaning robot that you can control with a remote while sipping a cocktail.
This nifty box connects to your DVR or cable set-top box and streams live, high-definition video from your TV to your laptop, tablet or smartphone -- no matter where you are. The Slingbox also gives you remote access to what's stored on your DVR. Available for $179 from electronics retailers.
Nest thermostat
learns your patterns and automates setting the temperature of your home to save money and energy. The Nest, created by a former iPod designer, costs $249. The company just released an upgraded version that's compatible with almost all heating and cooling systems.
Another bit of the future for your home, the
Moxie showerhead
from Kohler addresses this serious problem by placing a removable speaker inside the middle of the actual showerhead. The speaker pairs with your smartphone or music device of choice over Bluetooth.
One problem with singing in the shower is the lack of backup music. The new $199
Sony's new RX1
. It's the smallest available camera with a full-frame sensor, although the price tag is an exorbitant $2,799. For a more reasonably priced, quality compact camera, check out the
Fujifilm X10
.
Inexpensive pocket cameras are being replaced by smartphones. But for serious photographers who want a high-quality compact camera, there's
Sun 660 ($140)
. The camera comes with two packs of PX 680 film, and will make you an instant hit at parties. You can even use your smartphone to take a photo of the Polaroid to share on the social network of your choice.
This is for the Instagram enthusiast in your life. The Impossible Project sells refurbished Polaroid cameras, including the
SpareOne GMS emergency
mobile phone runs on AA batteries, doubles as a flashlight, can be located in an emergency and will stay charged (if you don't use it) for up to 15 years. The $60
BoostTurbine2000
is a small backup battery with a hand crank.
For the safety-mided types in your family, these two gadgets are smart additions to any emergency kit. The $100
the Bistro b. over
, it mixes smart tech with delicious drip coffee. The maker costs $250 and comes in black, red, green or white.
There's some overlap between coffee geeks and gadget geeks. This beautiful electric coffee dripper from Bodum is for them. Awkwardly named
The Jawbone Jambox
is just 2.24 inches tall and costs $199.
Built-in smartphone and tablet speakers don't, as a rule, rock. This portable Bluetooth speaker is the perfect solution. It combines slick design with great sound quality and is available in a variety of customizable colors and textures.
Bowers & Wilkins P5 headphones
are not for people content with cheap in-ear buds. These are hi-fi headphones made out of sheep leather and metal, designed to cushion your ears and fill them with rich-sounding tunes while blocking out the rest of the world. The $300 headphones also have a built-in mic so you can take phone calls.
The
Lenovo IdeaPad Yoga 13 laptop
Pedometers
Eyenimal pet camera
7-inch tablets
E Ink e-readers
Roomba floor-cleaning robot
Slingbox 350
The Nest smart thermostat
Moxie Showerhead + Wireless Speaker
Sony RX1 compact camera
Bluetooth silicone keyboard
Sun 660 Polaroid camera
In case of emergency
Bistro b. over coffee maker
Jawbone Jambox portable speaker
Bowers & Wilkins P5 headphones