STORY HIGHLIGHTS
Leo Messi moves to 80 goals for 2012 after Barca's 3-0 win at Spartak Moscow
Messi needs just six more goals to surpass Gerd Muller's record of 85 set back in 1972
Chelsea face early exit from Champions League after Juventus defeat
Bayern Munich and Valencia both through to knockout phase after 1-1 draw
(CNN) -- Lionel Messi continued his incredible year by moving ever closer to Gerd Muller's record goal total by firing Barcelona into the next round of the Champions League.
The Argentina star scored twice to take his 2012 tally to 80 as Barca recorded a 3-0 win at Spartak Moscow.
Muller scored 85 goals in 60 matches for Bayern Munich and Germany back in 1972 but his record is under increasing threat.
Barca has six matches left before the turn of the year with Messi requiring six goals to surpass Muller and break yet another record.
"My aim was just to get the ball, create chances and that we win the game, that is what is important," Messi told reporters.
"We knew we couldn't afford to make mistakes after what happened against Celtic and that we had to go out strongly even though it is difficult to play away in this competition."
Messi passes Pele's goal milestone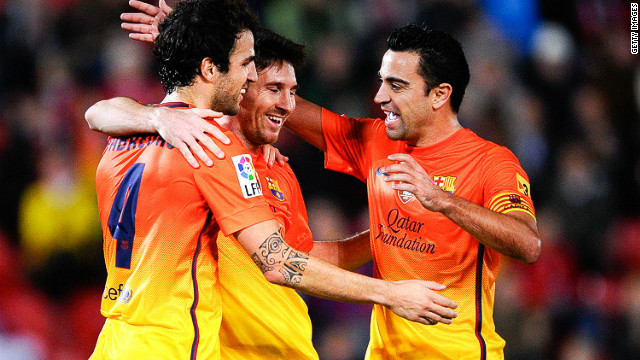 Lionel Messi, center, celebrates with Barcelona teammates Cesc Fabregas, left, and Xavi Hernandez after matching Pele's 75 goals in a calendar year.
The Argentina star then moved past the Brazil legend with his second goal of the match against Mallorca, which left Messi nine short of the best tally for a year held by Germany's Gerd Muller.
The 25-year-old has had a new celebration since the birth of his first child, son Thiago, earlier this month.
Messi is in line to win a fourth successive world player of the year award in January. Pele presented him with the Ballon d'Or at the start of this year.
Pele scored 75 goals in 1958, when he launched onto the football scene as a 17-year-old and helped Brazil win that year's World Cup.
That feat was surpassed in 1972 by Muller, who scored 85 goals as West Germany won the European Championship and his club Bayern Munich lifted the Bundesliga title.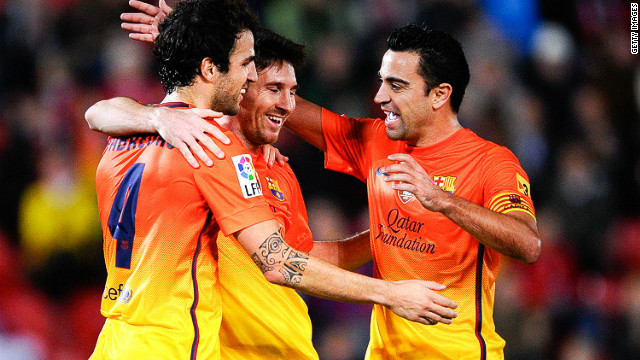 Messi moves past Pele milestone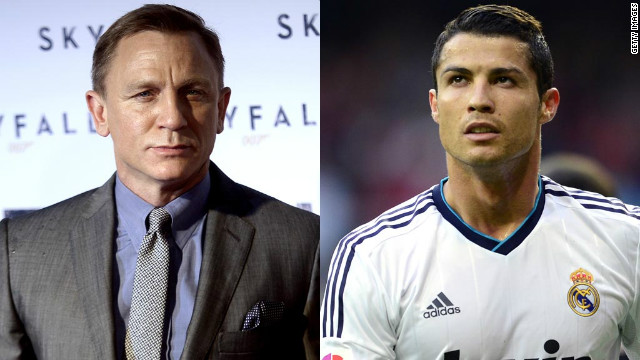 Daniel Craig and Cristiano Ronaldo have both been outspoken in their desire to reclaim a right to privacy. Both men have become frustrated with their treatment in public.
Cristiano Ronaldo and his model girlfriend Irina Shayk enjoy some peace and quiet together but the camera lens is never far away from the pair.
Shayk is a celebrity in her own right having established herself as a leading model. The Russian's romance with Ronaldo has taken her fame to new heights.
"We are just partners," Ronaldo told CNN when asked about his relationship with Shayk. "We have a good relationship, we are almost three years together, I love to be with her, I love her. It's great."
Ronaldo has yet to pop the question to Russian model Shayk but he admits he has thought about marriage. He said: "Not now, but of course in the future, yes. Everyone wants that. I still haven't done that. I don't have the courage."
"In Real Madrid we are always under pressure," Cristiano Ronaldo told CNN. "This is maybe the best club in the world... so we have a lot of pressure and we know that the fans, the Madrid city... everyone wants 'La Decima' (a 10th European Cup). "
Ronaldo has nothing but praise for Real coach Jose Mourinho: "Well, my relationship with him is perfect. I don't ask for nothing better. In terms of coaching I'm sure 100%... 200% that he is the best. He shows every country who's the best because he wins all the leagues."
Ronaldo will be up against Barcelona's Lionel Messi for the Ballon d'Or with the Argentine having won the prize on each of the past three occasions. Both men were on target twice during the last El Clasico match which finished 2-2 at the Camp Nou.
Ronaldo has scored 160 goals in 164 appearances for Real Madrid since his move from Manchester United in 2009. His determination to win is always evident, even when it comes to beating his girlfriend at swimming in their own pool. He said: "Sometimes you have to give her an opportunity to be happy, but I win because I don't like to lose."
Ronaldo last won the Ballon d'Or in 2008 after helping lead Manchester United to the Champions League crown with victory over Chelsea in Moscow. In the 2007-8 season, he scored 42 goals as United also won the English Premier League title.
While Ronaldo has enjoyed great club success with Manchester United and Real Madrid, he has yet to win a major tournament with Portugal. "I'm not saying Portugal doesn't have the capacity to win the World Cup or Euro, but its more tough... its difficult, because you don't have 100 players to choose," sai the Portuguese star.
Ronaldo insists he'd relish the opportunity to talk to his critics and listen to their opinions on why they believe he is arrogant. He told CNN: "People who call me arrogant, I'm interested, not with all of them, but most of them. One day I would like to sit with them and have a chat to see in which way they think I'm arrogant."
When he finishes his football career, Ronaldo wants to become an actor.
Ronaldo tells CNN's Pedro Pinto in an exclusive interview that he believes his perceived 'arrogance' has made him less popular than his chief rival Lionel Messi. "You know, sometimes I'm a victim of that because they don't know the real Cristiano," said the Real Madrid forward.
Cars are one of Ronaldo's great passions. In 2009, while at Manchester United, Ronaldo was lucky to esacpe injury after crashing his Ferrari.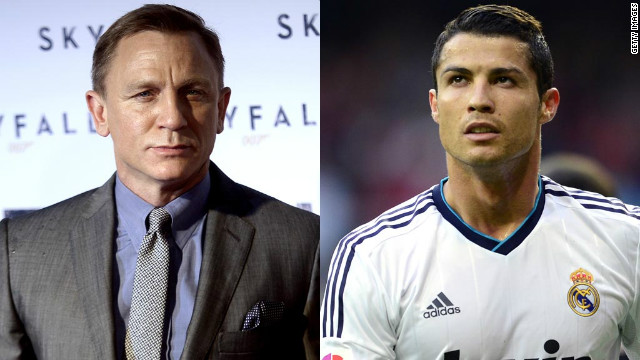 The Real Ronaldo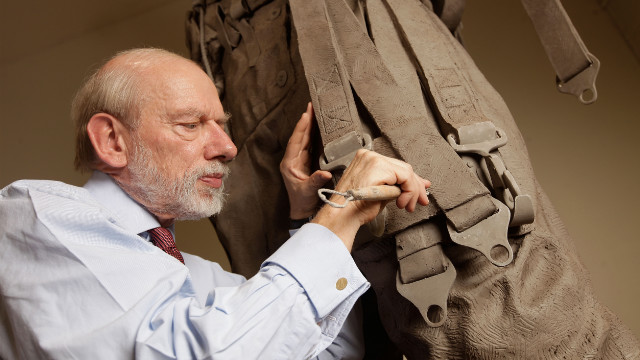 Like Alex Ferguson, sculptor Philip Jackson was born in Scotland. Here he is pictured working on The Bomber Command Memorial Sculpture, which is situated in London's Green Park, and was unveiled by the Queen in June.
Jackson was also the artist who created the statue of former England captain Bobby Moore, which is located at Wembley Stadium. The statue, standing six meters in height and weighing approximately two tons, commemorates when Moore captained England to World Cup glory in 1966.
The Alex Ferguson sculpture is the third Manchester United piece Jackson has produced. His statue of George Best, Denis Law and Bobby Charlton, which stands outside Old Trafford, depicts three of the club's greatest players.
Jackson's first Manchester United related sculpture depicted former manager Matt Busby, who was a key figure in creating the club's attacking philosophy of football which Ferguson has helped maintain.
Jackson's bronze scultpture of Ferguson is nine foot in height. It will be unveiled ahead of United's home game against Queens Park Rangers on November 23.
A number of other English clubs have commissioned artworks to remember former managers, notably Bobby Robson, who managed a number of clubs including Ipswich Town, Barcelona and Newcastle United as well as England. This statue of Robson is outside Newcastle United's St James' Park.
Manchester United's great rivals Liverpool have a statue of former Scottish manager Bill Shankly outside their Anfield ground.
It is not just managers and players who have been immortalized in sculpture form. In Baku, Azerbaijan, there is a statue of the 1966 World Cup final linesman Tofig Bahramov outside the Tofig Bahramov stadium. Here former West Germany goalkeeper Hans Tilkowski and former England striker Sir Geoff Hurst are pictured standing next to the the Bahramov statue in June 2011.
The moment French football superstar Zinedine Zidane headbutted Italy's Marco Materazzi in the 2006 World Cup final has been immortalized in a five meter bronze statue. The statue, positioned outside of Paris' Pompidou Museum, is the work of Algerian-born artist Adel Abdessemed.
More unusually in April 2011, Fulham chairman Mohamed Al Fayed unveiled a statue in tribute to singer Michael Jackson, who died in 2009, outside the English Premier League club's Craven Cottage ground.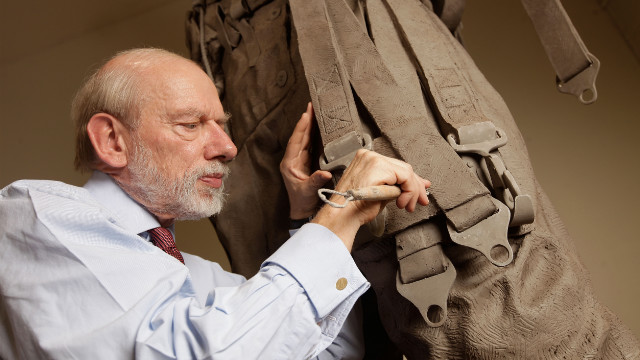 Sculpting football icons
Tito Vilanova's men face Levante on Sunday before further games against Athletic Bilbao, Benfica, Real Betis, Atletico Madrid and Real Valladolid.
After eclipsing the achievement of Brazil legend Pele, who scored 75 goals from 53 matches in 1958, Messi moved up a gear in the Russian capital.
With Barcelona already leading through Dani Alves' 16th minute effort, the diminutive striker fired home following a mix-up in the Sparktak defense.
On the synthetic playing surface, Barcelona's tiki-taka football proved too much for the home side to cope with.
And with just six minutes of the first period remaining, Messi grabbed his second of the evening with a neat finish after eluding the Spartak defense.
"Everyone talks about Leo, the goals and the records but it is more his awareness and tactics," Vilanova told reporters.
"The way he defends and attacks and helps the team in all areas.
"The team showed how great they are as this was a difficult game in the cold on an artificial pitch although some of them have played on it before, and they played an excellent match.
"It was important for us not to have to qualify in the final game which will not be easy against Benfica."
Messi leads Ballon d'Or nominations
Led by Xavi, who made his 125th Champions League appearance, the Catalan giant could have had several more goals had it not been for wastefulness in front of goal.
Pedro Rodriguez and Cesc Fabregas both had chances to extend Barca's lead as Spartak fell away.
Meanwhile, Benfica kept alive its hopes of qualifying for the next stage with a 2-1 win over Celtic in Group G's other game.
The Portuguese side took an early lead through Ola John only for Georgios Samaras to pull Celtic level.
But Ezequiel Garay's fiercely struck volley secured victory for Benfica, who face a trip to the Camp Nou to play Barcelona in its final group game.
Should Benfica suffer defeat , Celtic can secure a place in the last 16 with victory over Spartak Moscow.
Barca's unbeaten run ended by Celtic
Chelsea could become the first defending champion to be knocked out in the Group Stage after it lost 3-0 to Juventus in Turin.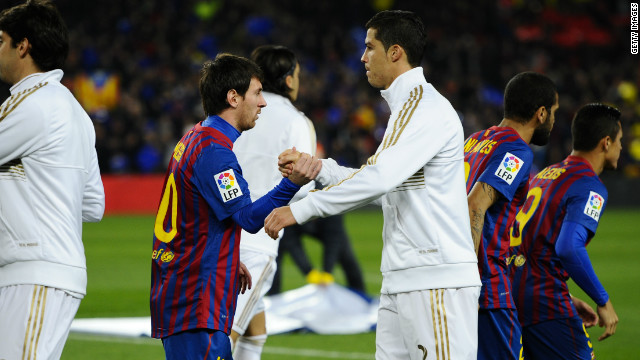 Barcelona's Lionel Messi (left) and Real Madrid's Cristiano Ronaldo (right) -- widely considered the two best players in the world -- shake hands before the 'El Classico' derby between Spain's two biggest clubs. But is the huge wealth of Barca and Real damaging the rest of Spanish football?
Real Madrid manager Jose Mourinho (left) and Barcelona manager Tito Vilanova (right) shake hands at the derby between the two clubs. Real's revenue is $695 million, $42 million more than Barca and $526 million more than that of Valencia.
Barcelona's Andres Iniesta, Lionel Messi and Real Madrid's Cristiano Ronaldo were all nominated for the prestigious Balon d'Or award this year. The last time the Barca-Real league monopoly was broken was in 2004 when Rafael Benitez's Valencia won La Liga.
Atletico Madrid striker Radamel Falcao is arguably the best striker in the world, but the Colombian is likely to be sold at the end of the season.
Real Oviedo fans show their support for the club in the Estadio Carlos Tartiere with a banner reading "For the future of Real Oviedo". The third-tier club's financial problems are so great that they have turned to their fans for help, offering them the right to buy shares in Oviedo.
The Real Oviedo team huddle on the pitch before taking on Real Madrid's reserve team in Asturias. Oviedo need to raise $2.4 million to save the club.
Real Oviedo fans hold up banner as they march through the city on their way to the league match to protest against the possible closure of the club due to financial difficulties.
The Spanish financial crisis has led to a raft of anti-austerity measures. Protests against cuts have been seen on the streets of Madrid, where a minority of protesters have been involved in violent clashes with the police.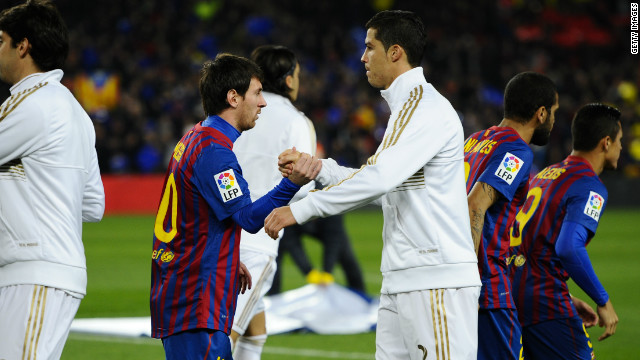 Spanish football hit by sponsorship cutbacks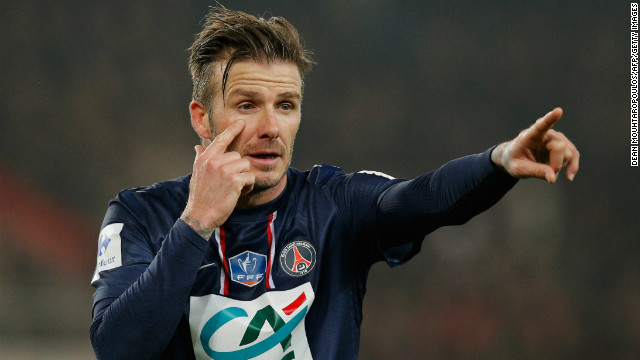 David Beckham made an immediate impact at Paris Saint-Germain, with victories in his first two appearances against French rivals Marseille.
He was unveiled at the Parc des Princes on the final day of the January 2013 transfer window, and announced that he will donate the pay he receives during his five-month contract to a children's charity in Paris.
Beckham celebrated his second MLS Cup success with Los Angeles Galaxy in December 2012, when he decided to leave with a year left on his contract as he sought one final career challenge in Europe.
David Beckham made his debut for English Premier League team Manchester United in 1993. By 1996, the midfielder was becoming renowned for his ability to score and create goals with his now legendary right foot. In a match against Wimbledon, Beckham stunned football fans by scoring from the halfway line.
Beckham swiftly progressed into the England team and was part of Glenn Hoddle's squad for the 1998 World Cup in France. In a second-round match against Argentina, Beckham was sent off for kicking out at Diego Simeone. England lost the match on penalties and were eliminated, with Beckham becoming a hate figure for some fans.
Beckham rebuilt his reputation and in 1999 was a key part of the Manchester United team which became the first English club to win the Premier League, FA Cup and European Champions League in the same season. The Old Trafford side, led by Alex Ferguson, secured the treble thanks to a stunning late comeback against Bayern Munich in the Champions League final.
Beckham's redemption was complete in 2000, when caretaker England manager Peter Taylor made him captain of the national team. He retained the role under Sven-Goran Eriksson, leading England at the 2002 and 2006 World Cups and the 2004 European Championships.
In 2003, after a turbulent final few months at United which involved Ferguson accidentally kicking a boot at Beckham, he joined Real Madrid's "Galacticos".
But Beckham's spell in Madrid didn't produce the trophy rush he had hoped for. His sole title came in 2007, under future England manager Fabio Capello, thanks to a win against Real Mallorca on the final day of the season.
Beckham made the switch to Los Angeles Galaxy in the U.S.'s Major League Soccer in 2007. His stated aim was to raise the profile of soccer in the country.
Four years after heading to the States, Beckham finally won the MLS Cup with Galaxy last season. Galaxy beat Houston Dynamo 1-0 in the final thanks to a goal from Landon Donovan.
Off the pitch, Beckham is famous for being one half of one of the world's most high-profile couples. He started dating Victoria Adams of British pop group Spice Girls in 1997. The pair married in 1999 and have four children, son Brooklyn, Romeo and Cruz and daughter Harper Seven.
Football fans wear masks depicting Beckham at the London 2012 Olympics. He was not picked for the GB team, but played a big role in his hometown being awarded the Games.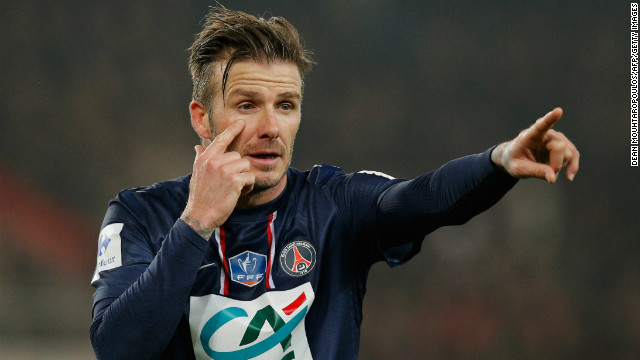 The career of David Beckham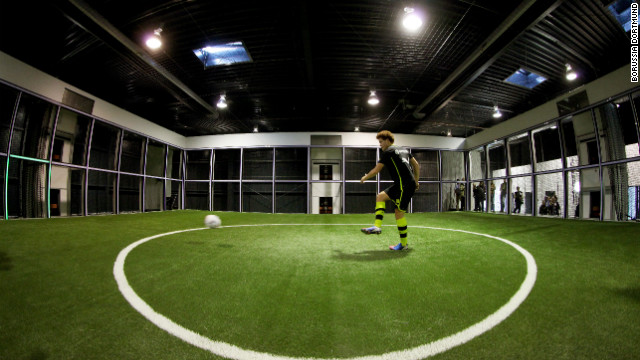 The "Footbonaut" -- is a robotic cage which footballers can use to improve passing, spatial awareness and control. The machine is being used by German champions Borussia Dortmund.
Once inside the "Footbonaut", a player is fed balls by eight different machines and then has deliver the ball to one of the 72 panels - - which is indciated by a flashing green light -- that make up the space-age contraption before they receive another ball. This picture shows Dortmund's German star Mario Gotze testing himself against the machine.
German coach Jurgen Klopp has overseen Dortmund's recent domination of German football. Dortmund have won the Bundesliga in each of the last two seasons, winning plaudits for the adventurous style of play. Klopp's team also currently sit top of a European Champions League group containing Real Madrid, Manchester City and Ajax.
Dortmund's rise to prominence has forced their attractive young squad into the limelight. None more so than Polish striker Robert Lewandowski, who was strongly linked with a move to Manchester United earlier this year.
One player who did swap Dortmund for Manchester was Shinji Kagawa. The Japanese playmaker had made a promising start to his Old Trafford career before being sidelined with a knee injury last month. Another player developed by Dortmund was Nuri Sahin, the Turkish midfielder who signed for Real Madrid in 2011 before joining Liverpool on a season-long loan deal in August.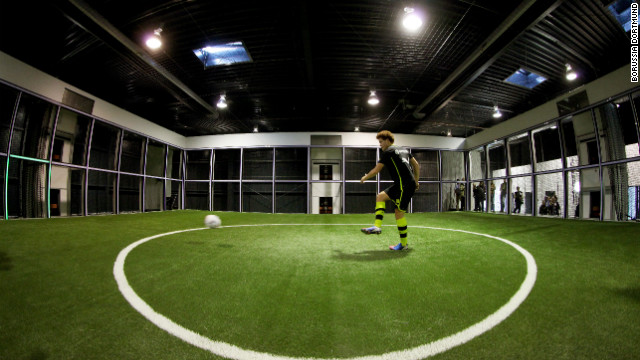 Dortmund's training pays dividends
The defeat is Chelsea's heaviest in the competition since they were beaten 5-1 by Barcelona 12 years ago.
The Blues will go into the final round of Group E matches in third place after goals from Fabio Quagliarella, Arturo Vidal and Sebastian Giovinco sealed the win for Juventus.
"We showed much better spirit than the last games," Chelsea goalkeeper Petr Cech told ITV.
"The first half it was very difficult, we did well and created chances, but if you create a chance you need to take it.
"That was the difference. They went ahead with a lucky deflection, the second goal was another deflection but they did very well and deserved to win. We didn't cope very well.
"We said before the game that we have our destiny in our hands, not any more. Now we need to do our bit , we need to win our last game and hope our fate is kind.
"Being realistic, Juventus played very well and they need a point and Shakhtar are already through. It is a very sad moment."
Chelsea must hope that the Italians slip up and it records victory over Nordsjaelland to sneak through.
Shakhtar Donetsk's 4-2 triumph over Danish side Nordsjaelland means the Ukrainian champion is guaranteed a place in the last-16 of the competition.
Controversy
A Luiz Adriano hat-trick and a Willian double gave Shakhtar all three points and means it tops the group from Juventus.
But it wasn't all plain sailing for Shakhtar after it scored a hugely controversial goal to go to 1-1.
With a drop ball signaled by the referee, Shakhtar kicked the ball back to the Nordsjaelland goalkeeper, only for Adriano to intercept and score.
With the Danes fuming, the visitors were ready to allow a Nordsjaelland player to walk the ball into the net in a gesture of sportsmanship.
But one defender took exception and put in a tackle much to the fury of the home side.
And while Nordsjaelland did grab another goal eventually, it never really recovered as Shakhtar eased home.
In Group F, Thomas Muller secured Bayern Munich's place in the next round following a 1-1 draw with ten-man Valencia.
The Spaniards, who had Antonio Barragan sent off, had looked set to snatch victory when Sofiane Feghouli scored with 17 minutes remaining.
But Muller hit back just five minutes later to claim a point and send both teams through to the next stage following BATE Borisov's defeat by Lille.
The French side claimed a 2-0 win in Belarus courtesy of goals from Dijbril Sidibe and Gianni Bruno.
Pilkington punishes Manchester United
Galatasaray kept its hopes of making it out of Group H alive following a 1-0 win over Manchester United.
Buruk Yilmaz, the only Galatasaray player to score in the competition so far, took his tally to five to move level with Cristiano Ronaldo at the top of the scoring charts.
The Turkish side sits second in the group with United having already qualified after winning its first four games.
"It was difficult conditions and the pitch wasn't great," Manchester United midfielder Darren Fletcher told Sky Sports.
"It was an intimidating atmosphere. "It was difficult to hear but you have to deal with that. The big problem was the pitch.
"I thought first half especially we did enough. I thought the young players did fantastic and they'll only get better playing in an atmosphere like that.
"As soon as they got the goal they slowed the game down. They started to foul and make tactical fouls."
But Romanian side Cluj, which faces United at Old Trafford in its final game, still has a chance of making it through to the knockout phase.
It won 3-1 against Braga with Portuguese striker Rui Pedro scoring a hat-trick to leave it within touching distance of the next round.