STORY HIGHLIGHTS
Allegations that British newspapers hacked phones caused an international scandal
For a time, the affair looked set to jeopardize Rupert Murdoch's global media empire
It resulted in the closure of the UK's biggest-selling newspaper
Criminal charges have been laid against number of former figures at News International
London (CNN) -- Accusations that journalists at Rupert Murdoch's British newspapers hacked into the phones of politicians, celebrities and unwitting people caught up in the news -- including child murder victims -- have severely bruised his media empire.
The scandal forced the closure of Britain's top-selling paper, the News of the World, resulted in the withdrawal of his bid for the satellite broadcaster BSkyB, and led to criminal charges being laid against former senior News International figures, including his trusted UK chief executive Rebekah Brooks. It also led to a wide-ranging inquiry into press standards by Lord Leveson, who is now preparing to publish his recommendations on industry regulation.
The following is a timeline of the scandal:
November 2005
-- News of the World prints a story about Britain's Prince William injuring his knee, prompting royal officials to complain to police about probable voicemail hacking.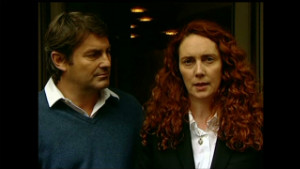 Inside the UK phone hacking scandal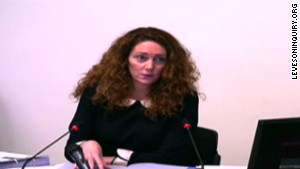 Brooks quizzed over political ties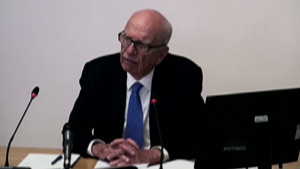 Rupert Murdoch: 'I was not aware'
January 2007
-- News of the World royal editor Clive Goodman and private investigator Glenn Mulcaire are convicted of conspiracy to hack into phone voicemails of royals and are jailed. Andy Coulson, the paper's editor, insists he is unaware of hacking but still resigns.
July 2007
-- Goodman and Mulcaire sue the tabloid for wrongful dismissal. Goodman receives £80,000 (currently $129,190), and Mulcaire receives an undisclosed amount.
-- Also in July, Coulson is hired as director of communications for Conservative party leader David Cameron, who becomes UK prime minister in May 2010.
June 2008
-- News Group Newspapers pays a £700,000 (nearly $1.13 million) settlement to soccer executive Gordon Taylor, whose phone was hacked by Mulcaire.
November 2009
-- Britain's Press Complaints Commission releases a report concluding that there is no evidence of continued phone hacking.
March 2010
-- A celebrity public relations agent agrees to drop his lawsuit against News of the World for a payment of more than £1 million ($1.6 million).
September 2010
-- Former News of the World journalist Sean Hoare alleges that phone hacking was a common practice at the paper and encouraged by Coulson.
January 21, 2011
-- Coulson resigns as Cameron's spokesman because of coverage of the phone-hacking scandal.
January 26, 2011
-- London's Metropolitan Police launches a new investigation into voicemail hacking allegations at News of the World.
April 5, 2011
-- News of the World chief reporter Neville Thurlbeck and former editor Ian Edmondson are arrested on suspicion of intercepting voicemail messages.
April 10, 2011
-- News of the World officially apologizes for hacking into voicemails from 2004 to 2006 and sets up a compensation system for unnamed victims.
April 14, 2011
-- Senior News of the World journalist James Weatherup is arrested on suspicion of conspiracy to intercept communications.
July 4, 2011
-- It is reported that News of the World journalists possibly hacked into then-missing teenager Milly Dowler's voicemail and deleted messages to free space, causing her parents to believe she was still alive.
July 6, 2011
-- Rupert Murdoch, CEO of News Corp., the parent company of News of the World owner News International, promises full cooperation with the investigation and calls the accusations against News of the World "deplorable and unacceptable."
July 7, 2011
-- News International announces that the July 10 edition of News of the World will be the paper's last.
July 8, 2011
-- Coulson is arrested. Goodman, the paper's former royal correspondent who served a four-month jail term in 2007, also is arrested on corruption allegations.
July 10, 2011
-- The 168-year-old News of the World publishes its final edition with the headline "Thank you and goodbye."
July 13, 2011
-- News Corp. withdraws its bid to take over British satellite broadcaster BSkyB, as Prime Minister Cameron announces a wide-ranging public inquiry into the British media.
July 14, 2011
-- The FBI launches an investigation into allegations that News Corp. employees or associates hacked into the phones of 9/11 victims, a federal source says.
July 15, 2011
-- Brooks resigns as chief executive of News International, as Les Hinton resigns as head of the Dow Jones division of the News Group Corp. and publisher of The Wall Street Journal. He was Brooks' predecessor at News International.
July 16, 2011
-- Rupert Murdoch apologizes to the British public with full-page advertisements in seven national newspapers.
July 17, 2011
-- Brooks is arrested on charges of suspicion of corruption and conspiring to intercept communications. She is released on bail after questioning.
-- Metropolitan Police Commissioner Paul Stephenson -- who leads London's police and is the UK's highest-ranking policeman -- resigns. It comes after revelations that former News of the World executive editor Neil Wallis later became a communications consultant for police.
July 18, 2011
-- Assistant police Commissioner John Yates, who ruled two years ago that there was no reason to pursue an investigation into phone hacking by journalists, resigns.
-- Home Secretary Theresa May announces that London's police department will be investigated for corruption.
July 19, 2011
-- Murdoch, his son James and Brooks testify before Parliament's Culture, Media and Sport Committee. Colin Myler and Tom Crone, former top executives of News of the World, subsequently accuse James Murdoch of giving "mistaken" evidence.
October 21, 2011
-- News International agrees to pay £2 million (about U.S. $3.2 million) to the family of Milly Dowler. Also, Murdoch will pay £1 million (about U.S. $1.6 million) to charities chosen by the Dowler family.
October 25, 2011
-- In a News Corp. shareholders' vote, Rupert Murdoch's sons, James and Lachlan, lose their board of director seats. Rupert Murdoch retains his seat, though 14% of the vote was against him.
November 14, 2011
-- The Leveson Inquiry into journalistic ethics opens in London. It is revealed that more than two dozen News International employees used the services of convicted phone hacker Mulcaire.
December 14, 2011
-- Former News of the World lawyer Crone testifies before parliament that James Murdoch was made aware in June 2008 of the scope of the phone-hacking situation.
December 20, 2011
-- CNN host Piers Morgan, former editor of both the News of the World and Daily Mirror, testifies regarding his knowledge of the phone-hacking scandal involving Paul McCartney and Heather Mills.
January 28, 2012
-- Four arrests, including that of one police officer, are made in connection with investigations of the phone-hacking scandal. No names are released. The four are questioned on suspicion of corruption, aiding and abetting misconduct in a public office and conspiracy, all stemming from allegations of inappropriate payments made to police.
February 8, 2012
-- News of the World's publisher pays out tens of thousands of pounds to settle lawsuits. Actor Steve Coogan gets £40,000 ($63,000) and legal costs; politician Simon Hughes gets £45,000 ($71,000) plus costs; sports agent Sky Andrew gets £75,000 ($119,000) plus costs. Former lawmaker George Galloway gets £25,000 ($40,000) plus costs, and Alastair Campbell, Tony Blair's former communications director, will be paid costs and damages.
February 12, 2012
-- Police arrest eight people, including five journalists on the Sun newspaper, as part of an investigation into allegations of illegal payments to police and officials.
February 29, 2012
-- James Murdoch gives up his title of executive chairman of News Corp.'s UK publishing unit. He will keep his corporate title as deputy chief operating officer. The company says he will now focus on its pay television businesses and international operations.
March 13, 2012
-- UK police arrest six people, including Brooks. All six are arrested on suspicion of conspiracy to pervert the course of justice contrary to the Criminal Law Act 1977.
April 3, 2012
James Murdoch steps down as chairman of UK satellite broadcaster BSkyB, following his earlier resignation as chairman of News International.
April 5, 2012
-- John Ryley, the head of Sky News, admits to authorizing journalists to hack into emails of private citizens. Sky News is owned by News Corp.
April 24, 2012
-- James Murdoch, in testimony before the Leveson Inquiry, says that he knew little about the scale of phone hacking by people working for the News of the World, and that he had no reason to look into illegal eavesdropping by his employees when he took over the company's British newspaper subsidiary in December 2007.
April 26, 2012
-- Rupert Murdoch admitted at the Leveson inquiry that there had been a "cover-up" of phone hacking at his flagship British tabloid newspaper and apologized for not paying more attention to the scandal.
May 1, 2012
Rupert Murdoch is declared "not a fit person" to run a major international company by MPs from the parliamentary culture, media and sport committee in the group's report into the affair.
May 15, 2012
Brooks and her husband, Charlie Brooks, are charged with conspiracy to pervert the course of justice, along with four others involved in the case. The couple deny the charges, the first from the multiple investigations linked to alleged phone hacking to be announced.
July 24, 2012
The UK's Crown Prosecution Service says that eight people will face a total of 19 charges relating to phone hacking: Former News of the World staff Brooks, Coulson, Greg Miskiw, Stuart Kuttner, Thurlbeck, Ian Edmondson and Weatherup are accused of conspiring to intercept communications, while private investigator Mulcaire faces other charges. The accused deny the charges.
November 4, 2012
Personal text messages revealing a cozy relationship between Brooks and Prime Minister David Cameron are published, causing embarrassment for the British leader.