STORY HIGHLIGHTS
Mexican billionaire Carlos Slim invests $2.5 million in struggling Spanish club
Slim was impressed by efforts of fans who bought shares to save Real Oviedo
The third division club had a November 17 deadline to avoid extinction
Slim plans to create "synergies between Spanish, Mexican and Latin American football"
(CNN) -- Real Madrid and Barcelona both comfortably won on Saturday, but for once Spain's two most dominant football clubs were overshadowed by a third-tier team which has been saved from extinction after receiving a huge injection of cash from the world's richest man, Carlos Slim.
Just over a decade ago Real Oviedo played in La Liga alongside Real and Barca, but mismanagement from the club's directors took the Asturian team to the brink of bankruptcy in recent years.
Needing to raise €1.9 million ($2.4 million) by November 17 or go bust, Oviedo's current board announced a share issue earlier this month to attract investment.
Remarkably the scheme took off as fans from all over the world bought the €11 ($13) shares after Oviedo's precarious position was highlighted on the social media website Twitter thanks to the efforts of Spanish football expert and long-time Oviedo supporter Sid Lowe.
Read: 'Monsters' Barca and Real hurting La Liga
Over the past two weeks those fans have bought more than $1.9 million in new shares in the club, and Slim was so impressed -- he described the gesture as "extraordinary" -- that the Mexican tycoon has now pumped in a further $2.5 million to become Oviedo's majority shareholder.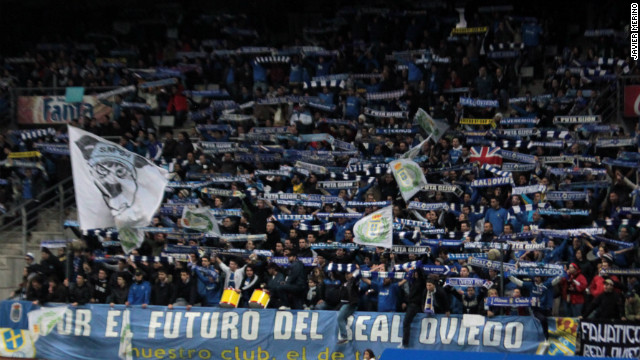 Real Oviedo fans show their support for the club in the Estadio Carlos Tartiere with a banner reading "For the future of Real Oviedo" before a game with Real Madrid's reserve team on November 11, 2012.
The Real Oviedo players huddle on the pitch before the match.
Real Oviedo fans hold up a banner as they march through the northern city on their way to the game.
Fans demonstrate against the demise of their club, which needs to raise $2.4 million by November 17.
Oviedo fans display a banner in the Estadio Carlos Tartiere reading: "Happen what may, Oviedistas until death."
World Cup winner Juan Mata is one of the stars produced by Oviedo's youth system. He now plays for England's European champions Chelsea.
Arsenal's midfield maestro Santi Cazorla is another big-name player from Oviedo's academy who is helping to save his former club.
Michu was a Real Oviedo player for four years and has been campaigning on Twitter to save the club. He now plays in the English Premier League with Welsh club Swansea.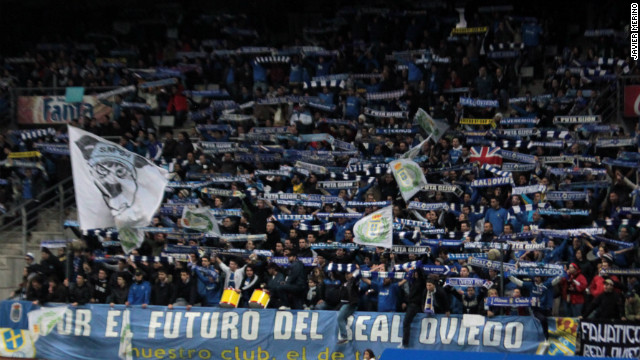 Real Oviedo's fight for survival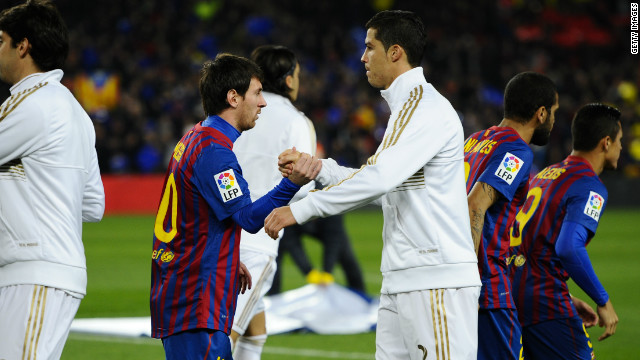 Barcelona's Lionel Messi (left) and Real Madrid's Cristiano Ronaldo (right) -- widely considered the two best players in the world -- shake hands before the 'El Classico' derby between Spain's two biggest clubs. But is the huge wealth of Barca and Real damaging the rest of Spanish football?
Real Madrid manager Jose Mourinho (left) and Barcelona manager Tito Vilanova (right) shake hands at the derby between the two clubs. Real's revenue is $695 million, $42 million more than Barca and $526 million more than that of Valencia.
Barcelona's Andres Iniesta, Lionel Messi and Real Madrid's Cristiano Ronaldo were all nominated for the prestigious Balon d'Or award this year. The last time the Barca-Real league monopoly was broken was in 2004 when Rafael Benitez's Valencia won La Liga.
Atletico Madrid striker Radamel Falcao is arguably the best striker in the world, but the Colombian is likely to be sold at the end of the season.
Real Oviedo fans show their support for the club in the Estadio Carlos Tartiere with a banner reading "For the future of Real Oviedo". The third-tier club's financial problems are so great that they have turned to their fans for help, offering them the right to buy shares in Oviedo.
The Real Oviedo team huddle on the pitch before taking on Real Madrid's reserve team in Asturias. Oviedo need to raise $2.4 million to save the club.
Real Oviedo fans hold up banner as they march through the city on their way to the league match to protest against the possible closure of the club due to financial difficulties.
The Spanish financial crisis has led to a raft of anti-austerity measures. Protests against cuts have been seen on the streets of Madrid, where a minority of protesters have been involved in violent clashes with the police.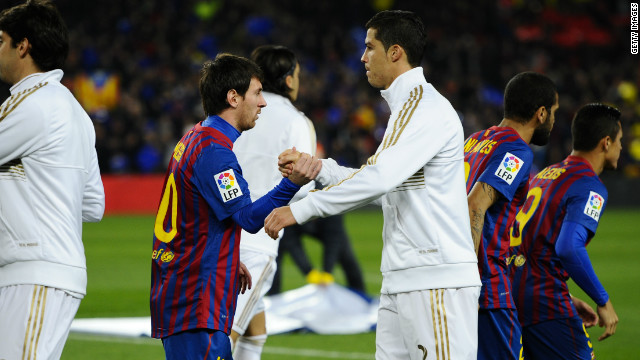 Spanish football hit by sponsorship cutbacks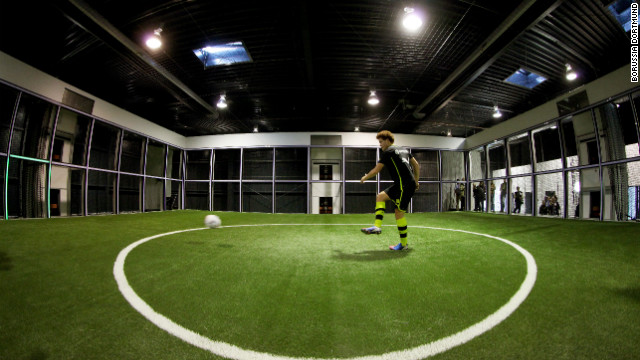 The "Footbonaut" -- is a robotic cage which footballers can use to improve passing, spatial awareness and control. The machine is being used by German champions Borussia Dortmund.
Once inside the "Footbonaut", a player is fed balls by eight different machines and then has deliver the ball to one of the 72 panels - - which is indciated by a flashing green light -- that make up the space-age contraption before they receive another ball. This picture shows Dortmund's German star Mario Gotze testing himself against the machine.
German coach Jurgen Klopp has overseen Dortmund's recent domination of German football. Dortmund have won the Bundesliga in each of the last two seasons, winning plaudits for the adventurous style of play. Klopp's team also currently sit top of a European Champions League group containing Real Madrid, Manchester City and Ajax.
Dortmund's rise to prominence has forced their attractive young squad into the limelight. None more so than Polish striker Robert Lewandowski, who was strongly linked with a move to Manchester United earlier this year.
One player who did swap Dortmund for Manchester was Shinji Kagawa. The Japanese playmaker had made a promising start to his Old Trafford career before being sidelined with a knee injury last month. Another player developed by Dortmund was Nuri Sahin, the Turkish midfielder who signed for Real Madrid in 2011 before joining Liverpool on a season-long loan deal in August.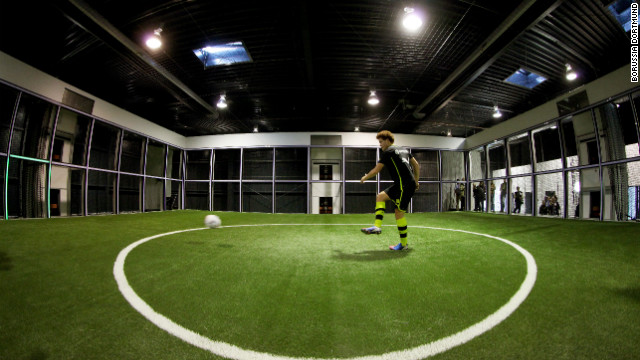 Dortmund's training pays dividends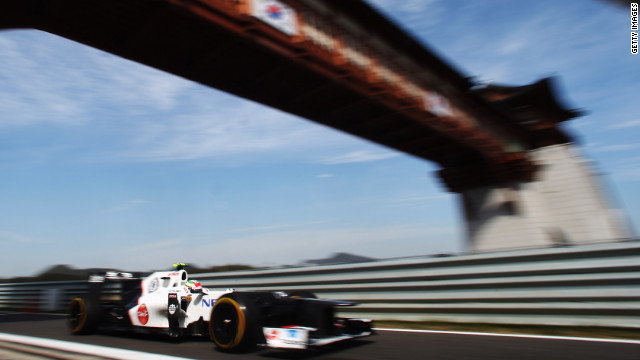 Sergio "Checo" Perez has been the surprise package of the 2012 Formula One season -- just his second year in the elite division of motorsport.
Perez's second place at the Malaysian GP in March was the Mexican's first podium finish in F1. He followed that up with third in Canada and another runner-up position in Italy.
After Lewis Hamilton (left) opted to join Mercedes for the 2013 season, McLaren signed Perez to partner Jenson Button (right) next year.
"Bear in mind that when we took on Lewis he was the same age as Sergio is today and he was incredibly young, incredibly raw and incredibly talented," said McLaren Team Principal Martin Whitmarsh. "Now when Sergio gets to Australia in 2013 he will arrive with the kind of pressure that he can't imagine right now."
Seen here driving in an exhibition through the streets of his home city Guadalajara, Perez was already winning kart races by the age of six.
Manchester United forward Javier Hernandez was also born in Guadalajara -- and Perez is close friends with the footballer, whose nickname is "Chicharito."
Mexico is embroiled in a battle against drugs, which in the last six years has accounted for 60,000 deaths, with 16,000 bodies remaining unidentified and 24,000 people missing. "My country is really only in the media for drugs and violence, which is sad," said Perez.
Perez's father, center, leaves the paddock after the F1 driver's crash during qualifying for the Monaco GP in 2011. Perez's younger brother Antonio is also involved in motorsport and drives in the NASCAR-sponsored race league in Mexico.
When Perez joined Sauber he was sponsored by telecommunications giant Telmex, which is owned by world's richest man and fellow Mexican Carlos Slim.
Ahead of this weekend's U.S. Grand Prix, the penultimate race of 2012, Perez was 10th in the drivers' standings with 66 points.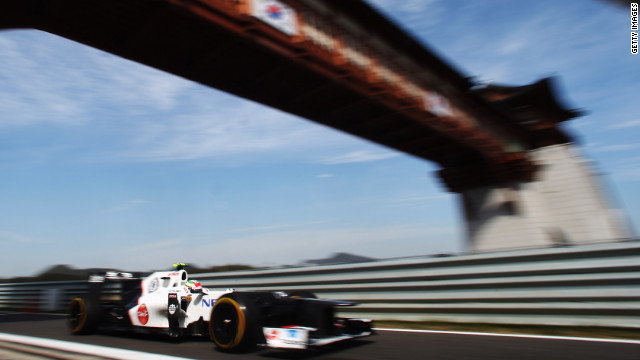 The rise and rise of Sergio Perez
"This challenge and ambition is strictly a sports investment and one that looks to benefit the club and its fans,'' said an Oviedo statement regarding Slim's intervention.
"(The investment) will try to support Oviedo's players so they can reach their goals and the club can reach the division that corresponds to its history and values.''
In September Slim bought 30% stakes in two Mexican football teams, Pachuca and Leon, and he plans to use Oviedo "to create synergies and exchanges between Spanish, Mexican and Latin American football.''
Read: Can Twitter help save Spanish soccer club?
According to Forbes magazine, Slim is the world's richest person with a net worth of $69 billion, having made his fortune in the telecommunications industry.
His widespread interests include providing financial backing for Mexican Formula One driver Sergio Perez.
"Naturally, I have reservations, doubts & concerns," tweeted Lowe on Saturday. "But with c. €2m of shares bought by 13,000+ ppl round world & Slim buying €2m Oviedo safe."
"€1.93m raised by small shareholders alone," added Lowe. "They're the real heroes."
Meanwhile, La Liga leaders Barcelona beat Real Zaragoza 3-1 to move six points clear of Atletico Madrid, who travel to Granada on Sunday.
Lionel Messi scored two more goals to move to 78 for this calendar year, putting the Argentina star seven short of Gerd Muller's all-time record.
Champions Real Madrid trounced Athletic Bilbao 5-1 to stay third, six points behind their arch-rivals.
Cristiano Ronaldo played despite the eye injury he suffered last weekend, but this time the Portugal star was unable to add to his scoring tally as the spoils were shared by Karim Benzema, Sergio Ramos, Mesut Ozil and Sami Khedira after an early own-goal by Jon Aurtenetxe.
In Italy, leaders Juventus were held to a 0-0 draw by fifth-placed Lazio.
Second-placed Inter Milan can close to within two points of the Serie A champions by beating Cagliari on Sunday.
Napoli joined Inter on 27 points after being held 2-2 by AC Milan, who came from two goals down as young striker Stephan El Shaarawy netted twice.
In Germany, Bayern Munich moved eight points clear despite being held 1-1 away to struggling Bavarian rivals Nuremberg.
Second-placed Schalke failed to take advantage, losing 2-0 at Bayer Leverkusen.
Eintracht Frankfurt stayed third after a 4-2 win at home to Augsburg, a point above champions Borussia Dortmund -- who beat Greuther Furth 3-1.