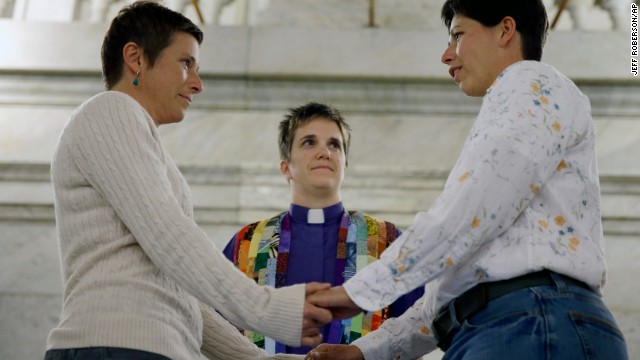 April Dawn Breeden, left, and longtime partner Crystal Peairs are married by the Rev. Katie Hotze-Wilton at St. Louis City Hall on Wednesday, November 5. A Missouri judge on November 5 overturned the state's ban on same-sex marriages and ordered registrars to start issuing licenses to gay and lesbian couples. More than 30 states and the District of Columbia allow marriage for same-sex couples.
Rachael Beierle, left, and Boise City Council President Maryanne Jordan, center, laugh at a joke during Amber Beierle's wedding vows Wednesday, October 15, at City Hall in Boise, Idaho. With Boise Mayor Dave Bieter out of town, Jordan officiated the wedding as acting mayor. Earlier this month, a federal appeals court found that same-sex marriage bans in Idaho and neighboring Nevada were unconstitutional.
Chad Biggs, left, and his fiance, Chris Creech, say their wedding vows in Raleigh, North Carolina, on Friday, October 10, after a federal judge ruled that same-sex marriage can begin there.
Joshua Gunter, right, and Bryan Shields attend a rally in Las Vegas to celebrate an appeals court ruling that overturned Nevada's same-sex marriage ban on Tuesday, October 7.
From left, plaintiffs Moudi Sbeity; his partner, Derek Kitchen; Kody Partridge; and Partridge's wife, Laurie Wood, celebrate after a news conference in Salt Lake City on Monday, October 6. The U.S. Supreme Court had just cleared the way for legal same-sex marriages in five more states -- Virginia, Utah, Nevada, Indiana and Wisconsin.
Abbi Huber, left, and Talia Frolkis exit the City County Building in Madison, Wisconsin, after applying for a marriage license on October 6.
Rob MacPherson, right, and his husband, Steven Stolen, hug during a news conference at the American Civil Liberties Union in Indianapolis on October 6.
Mary Bishop, second from left, and Sharon Baldwin, right, celebrate with family and friends following their wedding ceremony on the courthouse steps in Tulsa, Oklahoma, on October 6.
Jennifer Melsop, left, and Erika Turner kiss after they were married in front of the Arlington County Courthouse in Arlington, Virginia, on October 6.
Pastor Carol Hill from Epworth United Methodist Church speaks during a marriage-equality ceremony at the Kathy Osterman Beach in Chicago on Sunday, June 1. June 1 marked the first day that all of Illinois' 102 counties could begin issuing marriage licenses to same-sex couples.
William Roletter, left, and Paul Rowe, right, press close to each other after having their photo taken with their newly acquired marriage certificate Wednesday, May 21, at City Hall in Philadelphia.
Julie Engbloom, left, and Laurie Brown embrace after they were wed in Portland, Oregon, on Monday, May 19. A federal judge struck down the state's voter-approved ban on same-sex marriage.
Jennifer Rambo, right, kisses her partner, Kristin Seaton, after their marriage ceremony in front of the Carroll County Courthouse in Eureka Springs, Arkansas, on Saturday, May 10. Rambo and Seaton were the first same-sex couple to be granted a marriage license in Eureka Springs after a judge overturned Amendment 83, which banned same-sex marriage in Arkansas.
Same-sex couples get their marriage licenses at the Oakland County Courthouse in Pontiac, Michigan, on Saturday, March 22, a day after a federal judge overturned Michigan's ban on same-sex marriage.
Utah state Sen. Jim Dabakis, left, and Stephen Justesen acknowledge the crowd after being married in Salt Lake City on Friday, December 20. A federal judge struck down Utah's ban on same-sex marriage, saying it conflicted with the constitutional guarantees of equal protection and due process. Many Utah counties began issuing marriage licenses before the state appealed to the U.S. Supreme Court. The high court temporarily blocked enforcement of the lower court ruling until the constitutional questions were fully resolved.
Plaintiffs Laurie Wood, left, and Kody Partridge, center, walk with attorney Peggy Tomsic on Wednesday, December 4, after a judge heard arguments challenging Utah's same-sex marriage ban.
Hawaiian Gov. Neil Abercrombie, left, and former Sen. Avery Chumbley celebrate with a copy of the Star-Advertiser after Abercrombie signed a bill legalizing same-sex marriage in Hawaii on Wednesday, November 13.
Newark, New Jersey, Mayor Cory Booker officiates a wedding ceremony for Joseph Panessidi and Orville Bell at City Hall in October 2013. The state Supreme Court denied the state's request to prevent same-sex marriages temporarily, clearing the way for same-sex couples to marry.
A couple celebrates at San Francisco City Hall upon hearing about the U.S. Supreme Court rulings on same-sex marriage in June 2013. The high court cleared the way for same-sex couples in California to resume marrying after dismissing an appeal on Proposition 8 on jurisdictional grounds. The court also struck down a key part of the Defense of Marriage Act, a 1996 federal law defining marriage as between a man and a woman.
At the state Capitol in St. Paul, Minnesota, Gov. Mark Dayton signs a bill legalizing same-sex marriage in May 2013.
Delaware Gov. Jack Markell holds up legislation in May 2013 allowing same-sex couples to wed in the state.
Rhode Island state Sen. Donna Nesselbush, right, embraces a supporter after the Marriage Equality Act was signed into law at the statehouse in Providence in May 2013.
Jamous Lizotte, right, and Steven Jones pose for photos while waiting for a marriage license in Portland, Maine, in December 2012.
Maryland Gov. Martin O'Malley, center, shakes hands with Senate President Thomas V. "Mike" Miller after signing a same-sex marriage bill in March 2012. The law was challenged, but voters approved marriage equality in a November 2012 referendum.
Washington Gov. Chris Gregoire celebrates after signing marriage-equality legislation into law on February 13, 2012. Voters there approved same-sex marriage in November 2012.
Phyllis Siegel, right, kisses her wife, Connie Kopelov, after exchanging vows at the Manhattan City Clerk's office on July 24, 2011, the first day New York's Marriage Equality Act went into effect.
In 2010, television reporter Roby Chavez, right, shares a moment with gay rights activist Frank Kameny during Chavez and Chris Roe's wedding ceremony in the nation's capital. Same-sex marriage became legal in Washington in March 2010.
Olin Burkhart, left, and Carl Burkhart kiss on the steps of the New Hampshire Capitol in January 2010 after the state's law allowing same-sex marriage went into effect.
Maine state Sen. Dennis Damon, left, hands Gov. John Baldacci the bill that the state Senate passed in May 2009 to affirm the right of same-sex couples to marry.
Amy Klein-Matheny, left, and her wife, Jennifer, exchange vows in Iowa after same-sex couples were allowed to marry there with a court ruling in April 2009.
Michael Miller, left, and Ross Zachs marry on the West Hartford Town Hall steps after same-sex marriages became legal in Connecticut on November 12, 2008.
Lara Ramsey, left, and her partner of eight years, Jane Lohmann, play with their 7-month-old son, Wyatt Ramsey-Lohmann. The two wed in 2004 after Massachusetts approved same-sex marriage. Massachusetts was the first state to do so.
Same-sex marriage in the U.S.
Same-sex marriage in the U.S.
Same-sex marriage in the U.S.
Same-sex marriage in the U.S.
Same-sex marriage in the U.S.
Same-sex marriage in the U.S.
Same-sex marriage in the U.S.
Same-sex marriage in the U.S.
Same-sex marriage in the U.S.
Same-sex marriage in the U.S.
Same-sex marriage in the U.S.
Same-sex marriage in the U.S.
Same-sex marriage in the U.S.
Same-sex marriage in the U.S.
Same-sex marriage in the U.S.
Same-sex marriage in the U.S.
Same-sex marriage in the U.S.
Same-sex marriage in the U.S.
Same-sex marriage in the U.S.
Same-sex marriage in the U.S.
Same-sex marriage in the U.S.
Same-sex marriage in the U.S.
Same-sex marriage in the U.S.
Same-sex marriage in the U.S.
Same-sex marriage in the U.S.
Same-sex marriage in the U.S.
Same-sex marriage in the U.S.
Same-sex marriage in the U.S.
Same-sex marriage in the U.S.
Same-sex marriage in the U.S.
Same-sex marriage in the U.S.
Same-sex marriage in the U.S.
STORY HIGHLIGHTS
A diverse coalition joined forces to bring historic change on same-sex marriage
Minnesota parents of a fallen soldier who was gay worried his death would be in vain
Republican in Maine feared backlash but broke with party line anyway
A preacher in Maryland spoke up to counter media dominance of right-wing pastors
(CNN) -- After their son was killed in battle in Afghanistan, Lori and Jeff Wilfahrt crisscrossed their home state of Minnesota. They spoke at churches, schools, book clubs. They spoke of Cpl. Andrew Wilfahrt's love of country and the Constitution.
They spoke, too, of grief. They are a mother and father who utterly miss their son, a soldier who was openly gay.
On Tuesday, November 6, the Wilfahrts entered their polling station in Rosemount to vote against a state constitutional amendment defining marriage as solely between a man and woman. Both parents wondered: Had their boy died protecting homophobes who would deny him rights back home?
In Frederick, Maryland, the Rev. Barbara Kershner Daniel had lived with guilt for nearly 25 years. A fellow preacher who was gay had asked her to officiate his wedding with his partner. She told him no.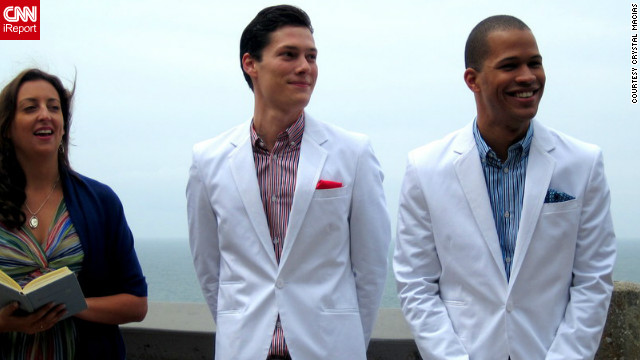 iReporter Alex Rhinehart, center, and Tony O'Brian held their wedding ceremony in a San Francisco park in May 2011, though same-sex marriage was not legal in California at the time. The pair led their guests to the summit of a cliff for the ceremony in lieu of a traditional wedding march -- using the spot to represent their union: "a place so old and solid with such a promising view of the horizon beyond."
Alex and Tony wanted to keep their wedding simple and inexpensive: They made picnic lunches for guests and painted wooden dolls in their likeness for cake toppers.
The son of iReporter Angela Cloninger (right) walked her down the aisle to meet her partner, Barbara, in a wedding ceremony almost three years ago in Asheboro, North Carolina. A few days later, they legally married on courthouse grounds in Washington, D.C. North Carolina voters recently amended the state constitution to make same-sex marriage illegal.
iReporter Valezka Taylor decided to adopt a sailor theme so her mate, Sami, could wear her Coast Guard uniform. They were inspired to get married after "don't ask, don't tell" was repealed, but it took an extra nudge from her teenage daughter to set the wheels in motion. Valezka's daughter and her aunt were bridesmaids; they wore red and blue to match the sailor theme.
Sami, a boat mechanic in the U.S. Coast Guard, wore her dress blues for their April ceremony in front of the Constitutional Garden in Washington.
Ra'Shawn (right) and Kelvin Barlow-Flournoy combined their last names after marrying last year at Howard University School of Divinity in Washington. They married during a Sunday service that was streamed online and viewed by more than 400 people. Both are pastors, and Ra'Shawn is an HIV prevention coordinator for a church in Charlotte, North Carolina.
Ra'Shawn and Kelvin have worked with Human Rights Campaign to spread the word that people of faith can be advocates for gay and lesbian rights. They married during a trip to the Capitol as part of HRC's Clergy Call.
Kevin Haubrick, left, met his husband Mike online in 2009. It quickly became clear to Mike that Kevin was "the one" when he saw Kevin interact with his daughter, Elizabeth. The pair wed at a bed and breakfast in Arlington, Vermont, the following year in the presence of friends who helped Kevin create his online profile.
After the ceremony, they had dinner and cake complete with a customized wedding topper. The following month, Mike and Kevin held a wedding reception in their home city of San Antonio for friends and family.
Craig Woodward (left) proposed to Scott Norton by the ocean at Laguna Beach, California, and surprised him by having all his family and friends there to share it.
Scott and Craig were married in California in front of 100 friends and family. The minister did a reading of Dr. Seuss and the wedding party members boogied down the aisle, each to a personalized song. Here, their friend Chris Williams catwalks down the aisle to "I'm Every Woman" by Whitney Houston.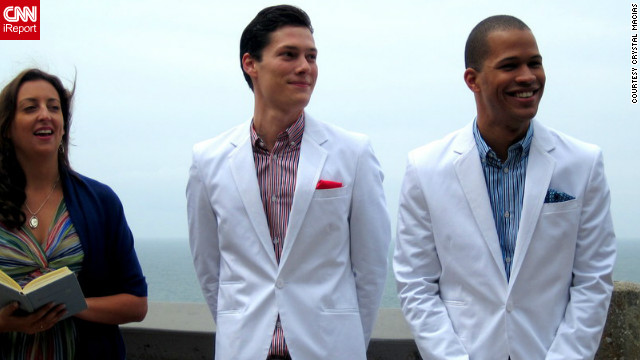 Same-sex wedding snapshots
"Why did I do that?" she has asked herself ever since.
Mark Ellis, the former GOP state chairman in Maine, knew where he stood on the issue of same-sex marriage. Yet he struggled with whether it would hurt him professionally to break from his party.
In the northern suburbs of Seattle, middle school band and orchestra teacher Michael Clark had always spoken of dignity and respect for all. He and his partner of 18 years sat together at their dining table to vote early this year.
Their ballots weren't just votes. They were an affirmation of their love.
iReporters share stories, images from same-sex weddings
From Minnesota to Maryland, from Maine to Washington, this mixed coalition of voters -- grieving parents, a preacher, a lifelong Republican and a gay couple -- joined forces to push for historic change on same-sex marriage.
Never before had a state rejected a constitutional amendment to prevent gays from marrying. Minnesota did just that, in part spurred by the Wilfahrts' activism.
Never before had voters approved laws allowing same-sex marriage. Maryland, Maine and Washington did just that. Those states may not have garnered enough votes if ordinary citizens like Daniel, Ellis and Clark had remained quiet.
Each took up the cause for personal reasons shaped by life experiences. Together, they surprised America; their voices emerged as a sign of a more progressive electorate that's grown tired of arguments that say marriage between two men or two women undermines the institution and the very fabric of society.
This shift in beliefs was captured in a recent Pew Center poll that found 48% of Americans now favor same-sex marriage. Just four years ago, only 39% felt that way.
Before the election, gay marriage had been approved in six states -- Connecticut, Iowa, Massachusetts, New Hampshire, New York and Vermont -- through the courts or legislatures. What made November 6 a watershed moment was that the people decided.
The issue, though, is far from settled. Despite the recent victories, 32 states have altered their constitutions to ban same-sex marriage, and it seems inevitable that the Supreme Court will weigh in this term.
The Supreme Court justices this month will begin considering several cases involving same-sex marriage, including one testing the constitutionality of California's Proposition 8, which says "only marriage between a man and a woman is valid or recognized in California." Other cases challenge the 1996 Defense of Marriage Act, which, among other things, deprives same-sex couples of federal benefits.
The Wilfahrts would have preferred not to have been thrust into the debate. They'd give anything to celebrate Thanksgiving with Andrew at their oak table once more. But their fate changed on February 27, 2011, the day Cpl. Wilfahrt, 31, was blown up while on foot patrol.
On Election Day, the Wilfahrts received something so powerful, so poignant, so unexpected -- a feeling they had not experienced since that awful knock at their door.
Purging guilt
Rev. Barbara Kershner Daniel was a brand new preacher living in Pennsylvania 24 years ago. She had given birth to her first son. While she was on maternity leave, a pastor filled in for her at the pulpit. "A very nice man and incredible preacher," she remembers.
He was gay, and he asked her to officiate a ceremony for him.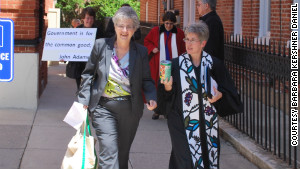 Rev. Barbara Kershner Daniel, right, fought for same-sex marriage in Maryland.
"I declined," she says. "I was in my first parish. I wasn't sure what the reaction would be, and I've regretted that ever since."
Like so many, she struggled with the concept of civil unions versus marriage, too. It's not that she didn't like gay people. She was welcoming to friends and congregation members who were gay. "I was always really aware of this group of folks in the church who were disenfranchised."
As she thought about the issue more and met more gay people over the years, Daniel's view evolved. "When you say civil union, it doesn't have the same meaning."
Same-sex couples find their stride
Daniel is now pastor of the Evangelical Reformed United Church of Christ in Frederick, Maryland. The United Church of Christ passed a resolution in 2005 affirming marriage equality. Daniel's church voted two years later to be an affirming congregation, allowing gays and lesbians to be active in all aspects of the church.
"We're a church where people are welcome, where families are nurtured, where families are families."
She believes right-wing preachers get too much air time, that for far too long, conservative pastors have drowned out the voices of progressive people of faith.
The Maryland legislature passed marriage equality, and the governor signed it into law earlier this year. But opponents gathered enough petition signatures to force a vote this year.
My perspective was built up on being different on this journey through life.
Maine Republican Mark Ellis
Daniel watched from the sidelines last year as conservative clergy led the charge to try to block the legislation and ban gays from marrying. "Not doing anything this year was not an option," she said.
She and other leaders helped form an interfaith group called AMEN -- Advocating for Marriage Equality Now. They received social media training on how to spread posts rapidly across Facebook. They knocked on doors, placed hundreds of phone calls and wrote letters to the editor to area newspapers, anything to reach out to the state's more progressive electorate.
"The evolution on my journey is: Ever since that time I said 'no,' I've said, 'Why did I do that? They love each other. Why is that any different than the other couples I'm marrying?'"
As she cast her ballot, she thought of all the families that could be made whole. "I must admit that it was a bit emotional," she wrote on her Facebook page.
The Sunday after the vote, she stood before her congregation and declared, "We are generous, we are passionate about justice and we support love for all families. Let's give it up for Maryland!"
The more than 200 members cheered wildly.
In the church bulletin, a gay couple who have been together for more than 25 years invited everyone in the church to their wedding on January 5.
Daniel will marry them.
Fighting bigotry
When Mark Ellis was about 3 months old, a white couple from Maine adopted him in the Philippines. His father was in the Air Force and stationed there. For years, they lived the rolling stone life of a military family, moving from base to base. Ellis played with kids from all walks of life, of all different races.
But when he was 10, his father retired, and the family moved back to Maine. Ellis was suddenly dropped into an all-white environment, the only kid of a different race.
"I had never experienced racial bigotry until we got back to my father's home state," he says.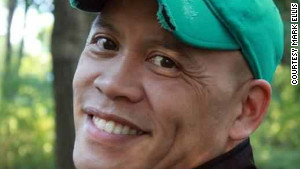 Adopted from the Philippines, Mark Ellis says his views on same-sex marriage were shaped by life experiences.
He heard sneers. Kids mocked him in their pretend Asian voices. They called him "gook."
Being bullied would shape him and his views. "My perspective was built up on being different on this journey through life."
Now 51, Ellis was drawn to the Republican Party during the Reagan era. He found Then-President Ronald Reagan's calls for personal responsibility and growing the economy through private enterprise inspiring. He's been a Republican ever since, eventually becoming the chairman of the GOP in Maine. He is currently the communications director for Maine Senate Republicans.
As this election neared, Ellis thought long and hard about how vocal he should be about same-sex marriage.
"That's something I had to work through personally with an eye on who I'm going to offend and am I going to limit myself professionally or politically. I was sort of weighing all of those things on how public I should be."
He couldn't help but recall his own marriage, 28 years ago. He knew the nation once barred interracial couples like him and his wife, who is white, from marrying. Opponents then used arguments that sound eerily similar to those against gays today, he thought.
Ultimately, Ellis joined a coalition of Republicans for marriage equality and took to his blog to broadcast his support.
"My vote of 'yes' is not based in some radical desire to toss tradition out on its ear or to discount marriage as we know it today," he wrote. "My vote comes from the simple notion that acknowledges the powerful, positive potential [that] loving and committed couples hold for their families, communities, and society."
A vote for dignity
Michael Clark, 35, blazed a trail early on. He was the first openly gay person in his high school in southern Oregon. He faced constant bullying, but he also had "people around me saying that I deserve respect and dignity."
"I had teachers, I had friends, I had community members who would jump to my defense," he says.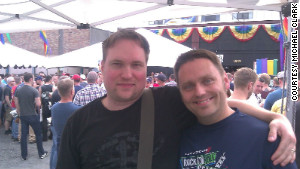 Michael Clark, right, teaches middle school in Washington. His ballot, he said, was an affirmation of love.
At Southern Oregon University, he and his partner were among the first to get a domestic partnership in the town of Ashland. He was 20. "We just knew early on that we wanted to spend the rest of our lives together."
Yet they longed for more. They got married in Canada in the early 2000s, but it felt empty. "It was odd knowing that we were married and equal people in Canada," he says, "but the moment we crossed our borders again, it was all bets off."
They have been together half their lives now. Living in the suburbs of Seattle, the two were anxious to vote on same-sex marriage in Washington.
"My husband and I are not a Norman Rockwell painting, but we're a family that loves one another," he says. "I don't want to be domestically partnered forever and ever. I want to be married to the person that I love.
"Here's the exciting thing to me. We get to define what America is, and America continues to evolve."
As a teacher who hopes to become a principal, Clark kept his political beliefs to himself inside the classroom. Casting his ballot, he thought of the leaders within the gay rights community who had gone before him; of his partner; and of the future generations who would grow up knowing "they can love and marry whomever they want."
"It really felt like it was a vote for dignity and respect and standing up for that," he says.
Fellow teachers visited his classroom the day after the election. They offered congratulatory hugs.
On December 6, he and his partner will call in sick. That day they will wed.
A parents' love
Among the items in the Wilfahrt home in Minnesota is a pen from President Barack Obama. It was used to sign the repeal of "don't ask, don't tell," the policy that required gays in the military to hide that part of their lives or risk being kicked out.
I feel like now in death there is meaning in that, too.
Lori Wilfahrt, mother of Cpl. Andrew Wilfahrt
The White House sent the pen to the Wilfahrts after Andrew was killed in Afghanistan, the first gay soldier killed after the repeal.
Cpl. Wilfahrt became a rallying cry for gay rights supporters. Floats bearing his image have wound down the streets of Minneapolis and St. Paul at the annual pride parade the last two years.
Republican state Rep. John Kriesel, a war veteran who was nearly killed by a roadside bomb in Iraq, passed around Wilfahrt's image at the legislature. He told his colleagues: "I cannot look at this picture and say, 'Corporal, you were good enough to fight for your country and give your life, but you were not good enough to marry the person you love."
Kriesel's speech was turned into an advertisement by supporters of marriage equality and broadcast around Minnesota before Election Day.
Lori Wilfahrt worried her son's death would be in vain if they failed to stop the amendment.
Jeff Wilfahrt told anyone who would listen that his son and other gays were citizens of the state who should never be denied rights. "Very early on," he says, "we took a position to protect citizenship."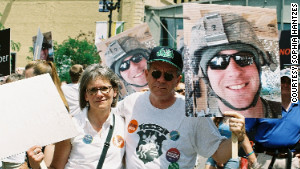 Lori and Jeff Wilfahrt became activists in Minnesota after their son, Cpl. Andrew Wilfahrt, 31, was killed in Afghanistan.
Never afraid to voice his opinion, Jeff once challenged opponents as to how they would prove a couple who wanted to get married were a man and a woman: "Will you as a human being, as an American, as a Minnesotan, be asked to open your trousers or to have your skirt lifted when applying for a license to marry?"
On Election Day, the Wilfahrts arrived at their polling place and waited as the poll worker scrolled through the list of registered voters. They both saw it: Right above Jeff's name was Andrew's.
They told the poll worker their son was killed in Afghanistan, that his name shouldn't be on the list. She was embarrassed and said, "I know. I've seen both of you on television."
The two then went in to mark their ballots. Lori checked hers about 10 times before casting it. "To me, in some ways, it's the last thing I can do for him."
As they prepared to leave, an election judge pulled them aside. They were asked to sign an official deceased voter voucher.
"Here you are before your government declaring your son is dead after that vote," Jeff says. "I can't even put it into words: Why now? Why this place?
"It was like a really weird closure."
Another strange, daily reminder of their profound loss.
That night, Jeff went to bed early; he lost his own bid for a state representative seat. Lori stayed up, alone, awaiting the results on the amendment issue.
Four years earlier, she'd spent election night with Andrew, a joyous occasion when the two celebrated Obama's victory. Minnesota had tried then to amend the Constitution to add a sales tax to help wildlife causes. Andrew told family members: "Oh, no, you don't want to do that. You hardly ever want to amend the Constitution!"
That conversation kept going through her mind this election night. Finally, in the wee hours Wednesday, came the news: The Constitution would not be amended to limit marriage.
It was a victory Andrew would embrace.
"His life was very meaningful, and I feel like now in death, there is meaning in that, too," she says. "Before, it would have been our grief to bear as a family and that would have been it. Now, his name is out there and he will be associated with a movement and a change, and I think that's quite a legacy."
Their son, although a soldier, was a peace activist, too. He had a favorite saying: "You can make change in the smallest of ways just by being nice to somebody."
At least for now, Mom and Dad can rest. Change has arrived.