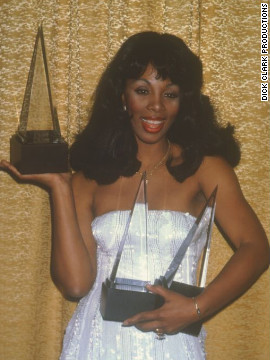 In 1979, Donna Summer won three awards: favorite disco album, favorite disco female and favorite disco single for "Last Dance." This year's American Music Awards are Sunday.
Stephanie Mills performed "Heart Attack" in 1981.
In 1983, Marvin Gaye won favorite soul/R&B single for "Sexual Healing."
Madonna won the award for female pop/rock video in 1987.
Gloria Estefan performed in 1989.
Eddie Murphy presented Michael Jackson with the Award of Achievement in 1989.
Boyz II Men won favorite soul and R&B new artist in 1992.
TLC and "Weird Al" Yankovic presented the award for favorite soul/R&B new artist to Kris Kross in 1993.
Mariah Carey won the award for adult contemporary album for "Unplugged" in 1993.
In 1997, Little Richard won the Award of Merit.
Marilyn Manson performs "Disposable Teens" in 2000.
In 2001, Britney Spears performed her hit "Stronger."
Carrie Underwood presented the award for breakthrough artist to Daughtry in 2007.
In 2008, Taylor Swift was named favorite country female artist.
Pink performed "Raise Your Glass" in 2010.
In 2010, Rihanna performed her hits "What's My Name?" and "Only Girl."
A scantily clad Jennifer Lopez performed "On the Floor" at the 2011 show.
Nicki Minaj Performed "Turn Me On" and "Super Bass" 2011. Minaj and Rihanna this year each have four individual nominations. The show will be broadcast on ABC.
Donna Summer
Stephanie Mills
Marvin Gaye
Madonna
Gloria Estefan
Michael Jackson, Eddie Murphy
Boyz II Men
TLC and Weird Al
Mariah Carey
Little Richard
Marilyn Manson
Britney Spears
Carrie Underwood
Taylor Swift
Pink
Rihanna
Jennifer Lopez
Nicki Minaj