Shooting suspect James Holmes 'unable' to appear in court; hearing postponed
updated 8:30 AM EST, Sun February 17, 2013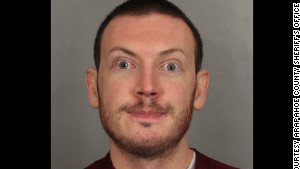 STORY HIGHLIGHTS
NEW: Defense attorneys tell judge Holmes was taken to hospital, CNN affiliate reports
Holmes' attorneys say he developed condition rendering him unable to attend hearing
Judge postpones hearing until December 10
Holmes is accused of killing 12 people, wounding 58 on July 20 in Aurora, Colorado, theater
(CNN) -- A judge has postponed a Thursday hearing for Colorado movie-theater shooting suspect James Holmes after Holmes' attorneys claimed he was unable to attend, citing an unspecified condition they said he developed.
Judge William Sylvester agreed Wednesday to move the motions hearing to December 10, according to Rob McCallum, a Colorado Judicial Department spokesman.
Holmes is accused of killing 12 people and wounding 58 during a midnight screening of the Batman film "The Dark Knight Rises" July 20 at an Aurora cinema.
Holmes' attorneys requested the delay, filing a motion that said because of "developments over the past 24 hours, Mr. Holmes is in a condition that renders him unable to be present in court for tomorrow's hearing."
At a hearing Wednesday to discuss the request, defense attorneys told the judge that Holmes was taken to a hospital but still did not specify his condition, saying his medical or pyschiatric statuses were privileged information, according to CNN affiliate KMGH.
"It's not as simple as a migraine and not as simple as 'will be resolved in the morning,'" defense attorney Tamara Brady said, according to KMGH.
The motion did not specify the condition. No other details about his condition have been released; attorneys and officials in the case are under a gag order.
The shooting unfolded inside a darkened theater packed with Batman fans, some in costume, for the premiere of the movie. Holmes is accused of murder, attempted murder, weapons violations and other charges.
More: Colorado judge denies victims access to Aurora theater rampage documents
Aurora survivor applauds gun discussion, candidate answers disappoint
CNN's Carma Hassan contributed to this report.

Part of complete coverage on

Meet the victims involved in the Colorado theater massacre through shared photos and read the memories kept alive by their loved ones.
updated 9:59 AM EDT, Thu March 28, 2013

Colorado shooting suspect has offered to plead guilty and spend the rest of his life behind bars in exchange for avoiding the death penalty.
updated 10:36 AM EDT, Fri March 22, 2013

Back in the 1950s, Hollywood fell in love with the idea of truth serum. But it doesn't work the way the movies have made it seem.
updated 9:59 PM EST, Fri March 1, 2013

Lawyers for James Holmes, the Aurora, Colorado, mass shooting suspect, took aim against the state's insanity defense laws in court documents made public Friday.
updated 7:18 AM EST, Tue January 8, 2013

So much blood the theater floor had become slippery. Bodies with horrific injuries. The eerie sound of cell phones ringing, over and over again.
updated 11:34 AM EST, Thu January 3, 2013

Relatives of nine people killed said an invitation to attend an event on the eve of the remodeled complex's reopening is "disgusting."
updated 11:30 AM EDT, Tue July 31, 2012

Colorado movie shooting suspect James Holmes was charged Monday with 24 counts of first-degree murder -- two counts for each of the 12 people killed in the shooting.
updated 6:06 PM EDT, Wed July 25, 2012

From the silver lining of welcoming a newborn into the world on Tuesday to promising to live life to the fullest, survivors are looking forward.
updated 10:46 AM EDT, Sun July 22, 2012

James E. Holmes is described by those who know him as a quiet, clean-cut doctoral student.
updated 10:35 AM EDT, Fri July 20, 2012

A heavily armed gunman opened fire at a movie theater on July 20, killing at least 12 and wounding 38. Here are some of the worst U.S. mass shootings since World War II.
updated 2:59 PM EDT, Wed July 25, 2012

Photos of the scene in Aurora after the shooting took place.
updated 9:59 PM EDT, Fri July 20, 2012

A heavily armed gunman sprayed the audience with gunfire during an early morning screening of the new Batman movie, killing 12 and wounding 38 others, authorities said.

Are you a friend or family member of one of the victims? Share your tributes here.