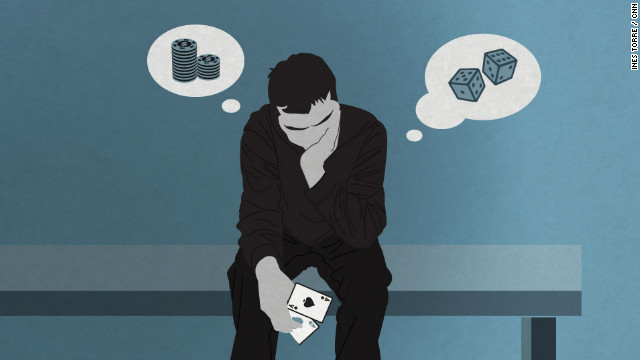 English football and some of it's most high-profile stars have long battled gambling addiction. The combination of a bloated bank account and boredom can set some players on the road to ruin.
Tony Adams struggled with alcohol and drug addiction throughout his career, serving a jail sentence for drink driving in 1992. The former Arsenal captain managed to turn his life around, leading the north London club to a league and FA Cup double in 2002. He also set up the Sporting Chance clinic, aimed at helping fellow sportsmen and women hooked on gambling, alcohol and drugs.
Paul Merson was a longtime teammate of Adams at Arsenal. The midfielder fought gambling addiction and said he once won £54,000 on a single bet as well as losing £30,000 on another.
Dietmar enjoyed an illustrious playing career, winning the European Champions League with Liverpool and collecting 59 caps for Germany. The midfielder told the BBC in February he fell into gambling when his marriage broke down and lost over £200,000 in one night, saying he gambled to forget about the absence of his children.
Matthew Etherington is another English Premier League player to have succumbed to gambling addiction. In order to overcome his problems, the Stoke City winger attends Gambling Anonymous meetings twice a week.
Michael Chopra played in the Premier League for both Newcastle United and Sunderland. Last year the striker revealed he was undergoing treatment for gambling addiction, saying he was betting up to £20,000 per day and he had lost between £1.5m and £2m.
Gambling in football
Tony Adams
Paul Merson
Dietmar Hamann
Matthew Etherington
Michael Chopra
STORY HIGHLIGHTS
In his latest piece, The Secret Footballer tells CNN about gambling in the EPL
Former Arsenal captain Tony Adams has established the Sporting Chance Clinic
Adams struggled with addiction throughout his career and now helps fellow sports stars
EPL players such as Dietmar Hamann and Paul Merson have battled gambling addiction
Editor's note: "The Secret Footballer" is a current player who has chosen to write about his life in the English game. His book "I Am The Secret Footballer: Lifting The Lid On The Beautiful Game" is published by Guardian Books. Read more about him at www.thesecretfootballer.com. In the first of a two-part piece on gambling and match-fixing, he reveals how big betting can be the ruin of the rich and famous. Part two to follow on November 20.
(CNN) -- To my mind, gambling is the son of avarice and the father of despair. I have never got in over my head where gaming is concerned but I have witnessed some horror stories that have made the front page of the national press and, away from the blackjack table, I have experienced the sharp decline of the floor beneath my feet when I have invested more than I could afford to lose.
In one walk of life, you are a victim of the times and, therefore, a blight on acceptable living. And a candidate for somebody like Harvard to throw shit loads of money into some groundbreaking research so that they can determine whether or not you have similar brain activity to that seen in cocaine addicts.
Which would mean you can be categorized as suffering from "impulse control disorder" and which would ultimately mean that you can pay for and be treated acceptably.
Read: Down the rabbit hole - Depression in the English Premier League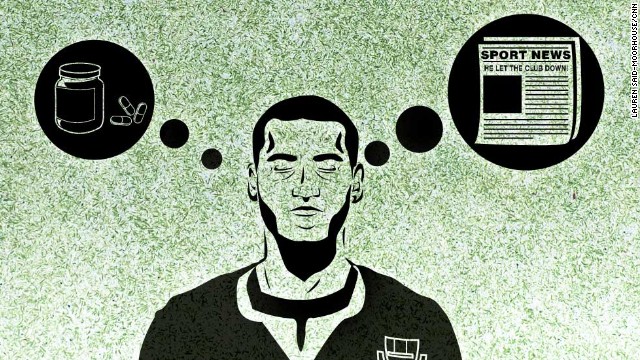 In 2009, Robert Enke was first-choice goalkeeper for the German national football team, enjoying a successful club spell with Hannover. But in November of that year, he took his own life by stepping in front of train. The 32-year-old had been battling depression for the majority of his career and the story of his struggle is told movingly in Ronald Reng's acclaimed biography "A life too short: The tragedy of Robert Enke".
Kelly Holmes is a British sporting hero after winning her gold medals over 800 and 1500 meters at the Athens 2004 Olympic Games. But the track star has had to fight depression throughout her life, including a period of self-harming in the year before her Olympic triumph.
Stan Collymore is former England footballer turned broadcaster who now campaigns for depression charities. He tweeted last year: "I'm tweeting because the stigma around this illness suggests that us sufferers all of a sudden become useless, maudlin, and unable to function. Well, I haven't seen daylight for 4 days now ... but I've done a week of Talksport/Channel 5 prep work, a national newspaper column, all in the eye of one of the most challenging, soul destroying bouts of this cruel illness one could have."
Sebastian Diesler was hailed as the future of German football after bursting onto the international scene at the start of the last decade. His performances earned him a move to Bayern Munich in 2002, but by 2007 he had retired -- aged 27. Diesler endured an injury-ravaged career, while struggling to come to terms with the pressure of professional football.
Boxer Ricky Hatton revealed he contemplated suicide following his brutal defeat to Manny Pacquiao in 2009. Hatton, who has suffered from drink and drug problems, retired from the sport in the aftermath of the loss, but this month announced he intends to make a return to the ring in November.
Marcus Trescothick was a key member of the England Test cricket team which beat Australia to win the Ashes in 2005. Ahead of the return series in 2007, England announced Trescothick would be leaving the squad citing a reccurence of a stress-related illness as the reason.
Jerry West is an NBA icon who revealed he has been battling depression since childhood, stemming from his abusive father. West said his relationship with his father left him feeling worthless and tormented.
Former New Zealand rugby international John Kirwan spoke in detail about his battle with depression in the book "All Blacks Don't Cry". He is actively involved with mental health campaigns in his homeland.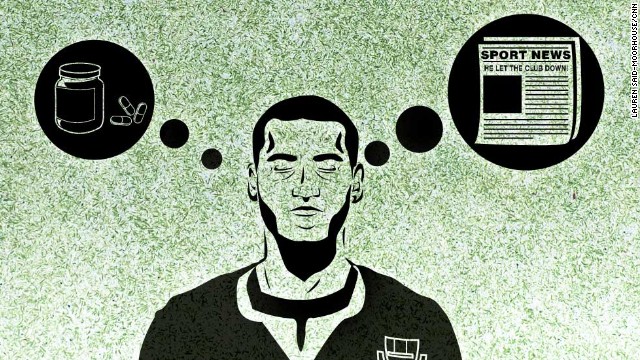 Sport's battle against depression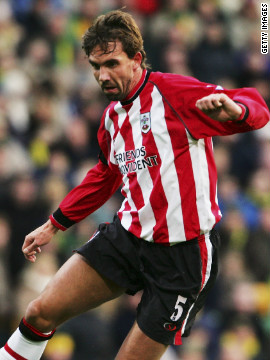 Former Southampton defender Claus Lundekvam has claimed there was widespread spot-fixing in the English Premier League. Lundekvam told a Norwegian television channel he and fellow players would bet on minor details of games, such as when the first throw-in would be taken.
Lars Bohinen enjoyed eight years in the Premier League and played alongside Lundekvam at international level for Norway. He told CNN there is far more addiction among top-flight players than people see. He said: "You could sense it from the way they gambled."
Former England captain Tony Adams is one footballer who has lived with addiction. After overcoming drug and alcohol problems he founded the Sporting Chance Clinic, dedicated to helping other sportsmen and women do the same. The Professional Footballers' Association and his one-time Arsenal teammate Paul Merson are also patrons.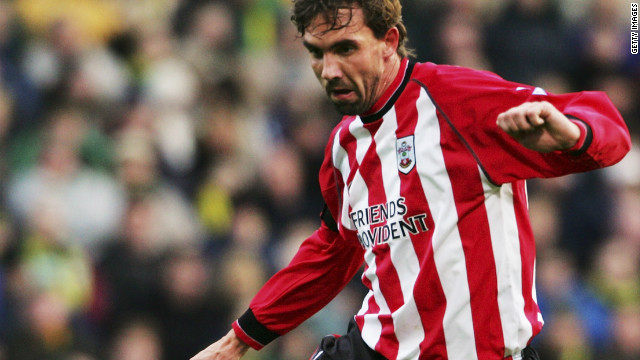 Footballers speak out on addiction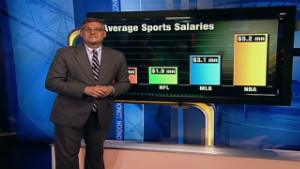 Footballers' salaries surge
In another life, a merchant bank will throw serious money at you, start you off on utilities and call you "a trader".
I tend only to bet on the things that are easy to get caught up in. That said, I never really get a buzz from betting, even if I win, which isn't often.
Having grown up on Mike Tyson knocking the heads off anyone who was stupid enough to get in a ring with him, I found myself getting carried away with the pre-fight bravado just like everybody else -- to the point that I wagered £200 on "Iron Mike" to beat Lennox Lewis in 2002.
Tyson wasn't the only man down and out when Lewis connected with a big right hand towards the end of the eighth round and, if the truth were told, William Hill (the English bookmaker), was never in any danger where my bet was concerned.
Read: The Secret Footballer reveals life inside the English Premier League
And in that brief remembrance of fights past can be found my saving grace where would-be gambling addiction is concerned. When it comes to staking my life on the outcome of any given sporting event, I haven't got a f***ing clue what I'm doing.
I recognize that fact and I am not ashamed to admit it.
Whether confessing that important piece of information to either my colleagues urging me to join in a game of high-stakes poker or to my father in a best-of-three pool match down the pub, I can honestly say that I have saved both a fair amount of embarrassment and incalculable amounts of money by putting my cards on the table at the outset.
Despite that, it is probably fair to say that I have been exposed to gambling and its downfalls slightly more often than the average person.
When you are trapped on a coach or in a plane or in sunny climes with 20 millionaires, one of two things will happen: the conversation turns to women -- and, by extension, wives -- or, as if by magic, somebody produces a pack of cards. Either way, somebody always takes a pasting.
Read: The gambling game: Soccer's battle with betting
From that moment on, anything can happen. And in my time as a footballer, I have seen it all -- from players losing tens of thousands of pounds on the turn of a card, and their families staging interventions, to their more fortunate contemporaries winning $250,000 in a Las Vegas casino after popping down to the lobby to buy a phonecard.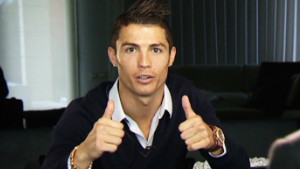 A day in the life of Cristiano Ronaldo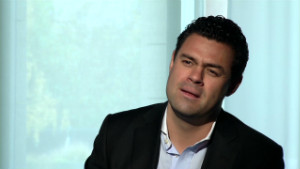 Ronaldo: 'I have bad image on pitch'
"Card schools" are not as prolific among professional football ranks as you might think.
In fact, I'd go so far to say that, with each crop of new players which comes through, another few card schools fall by the wayside. These days, it seems there are more important vices to spend one's money on, like prostitutes and fast cars.
But I did play at one Premier League club which had developed a fairly serious card school.
I judge the level of seriousness by the fact that, as the team bus pulled in to our London opposition's stadium, several of the team were missing from the pre-match walk on the pitch -- historically used to check what stud is needed for the turf but, instead, is now used as a chance to upload pictures of empty stadiums on to Twitter.
Those players had remained on the bus, wrapping up their last hand and making sure that the bus driver didn't clear anything away. We went into that match very confident and I am convinced we would have won, save for two individuals who produced less than average performances.
Back on the bus, the card school reassembled while I made the rest of the players' cups of coffee.
Walking back and forth along the bus, delivering their caffeine fix for the long journey home, I began to notice that the two players who had played so badly were also the two players who had between them lost tens of thousands of pounds since we had set off from home the day before.
The running total was being kept by another player and he flashed me a sheet of paper as I walked past, only because he wanted to show me he was significantly up.
I resented having to give the coffees out, let alone my wages. The experience gave me an added incentive not to get involved; it was clear a player could not function on the pitch with such a heavy financial burden hanging over him.
I never really get a buzz from betting, even if I win, which isn't often
The Secret Footballer
But it didn't stop there.
With no money left to gamble one of the players threw an expensive piece of jewelery onto the table. The bet was several thousand, all in. The other players looked at him and, without the expertise of a certified gemologist, it was decided a second piece should also be thrown in. He lost the lot.
Around six weeks later, the defeated player still hadn't paid his debt. Worse, his car was spotted every day outside a betting shop that was close to our training ground.
One day, a member of the same card school came in looking a little shell shocked and proceeded to tell the players assembled for breakfast in the canteen what he had witnessed at the same betting shop after training the previous day.
I'll let him tell the story because I can remember it almost word for word, it has become a bit of a cult tale in football circles (I have changed all the names, including any business names etc):
"We finished training and thought we'd get a takeaway. "'Nobby' said: "Let's just stop in at the betting shop and see what's on'. So he put on an accumulator. He picks five horses and we go to get the food. We come back and three of the horses have won so we hang about.
"Then the next one wins and the other one wins. Nobby cleaned up, thousands and thousands! So I say: 'Nobby, class, mate. You can pay off the lads, get your stuff back and give that money to your missus'. She'd been badgering him about a new runaround, as I recall. But he says: 'Na, mate. I'm on a roll, ain't I?'
I drive to his house and tell his missus what's happening, She grabs the kids and makes me drive her back. By the time we get there, he doesn't have anything left
The Secret Footballer
"So he puts a bit on the next one. Doesn't win. And the next one. Doesn't win again. I can't get him out of the place, so I drive to his house and tell his missus what's happening. She grabs the kids and makes me drive her back. By the time we get there, he doesn't have anything left, mate. Not a f***ing thing."
It's worth bringing this story up because a lot of people don't know when to stop.
The trick is in never getting started. Yet that last sentence is easy for me to type from the comfort of my office and with the kids safely tucked up in bed.
I have never experienced a gambling addiction ... but I know a man who has. On a pre-season tour, I once roomed with a guy who had a genuine gambling addiction.
We had never spoken to each other in the whole time I had been at the club, simply because we were very different people, and that wasn't about to change off the back of one trip in the sun, despite the manager's best efforts.
We were away for a week and, I promise you, the only thing we said to each other was: "Have you got the room key?" But there was another reason as to why we couldn't strike up a meaningful conversation.
He had an extraordinary inability to detach himself from one of two laptop screens, which were open on two separate online bookmakers' sites, or -- if we were coming back from training -- his iPhone, on which he had the mobile app versions running continuously.
One night, I woke up to go to the bathroom and saw him feverishly placing bets on college basketball. It must have been about 3am and quite what he knew about college basketball is anyone's guess.
I have thought many times as to whether I should have said something but I have concluded anything I could had said would have fallen on deaf ears.
I couldn't understand how a person could continue on the path to ruin while their kids needed food, clothes and education
The Secret Footballer
Shortly after our return, his family stepped in and he began to go to meetings for his gambling problems. As far as I know, he has never relapsed.
I have thought about him a lot in the intervening years because, for a long time, I didn't have much sympathy for those who frittered away their money at the "bookies".
I couldn't understand how a person could continue on the path to ruin while their kids needed food, clothes and education.
But one man's gambling is another man's harmless flutter and the level of the stakes are, of course, extremely circumstantial.
Betting on a game is against the rules for professional footballers, even when they are betting on their own team to win.
Anyway, a football team can't legislate for somebody being sent off or an opposing striker having the game of his life or a freak spate of injuries in the first 10 minutes -- unless they take action to account for such things and I have certainly never seen how that could be the case.
That said, I do know players have manipulated the system to their advantage.