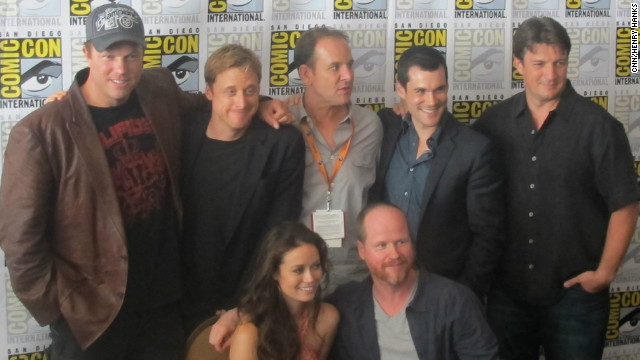 A decade after its debut, fans of the short-lived sci-fi series "Firefly" continue to talk about it online and quote the show. Memorable moments from the series have gone viral, years later. Seizing on that excitement, the Science Channel is airing a marathon and 10th anniversary special, "Browncoats Unite" on Sunday. Here are some of our favorite quotes.
Kaylee's (Jewel Staite) exclamation of "Everything's shiny, Captain. Not to fret," followed by Jayne's (Adam Baldwin) "Shiny. Let's be bad guys," in the feature film "Serenity," led to this one word being possibly one of the most-quoted lines by sci-fi fans.
This "Serenity" quote, along with the series' "I swear by my pretty floral bonnet I will end you," sum up Mal in a nutshell.
Mal (Nathan Fillion) declared in the pilot episode, "We have done the impossible, and that makes us mighty." Fans took it on as a great motivational quote and "Done the Impossible" was the name of a documentary about "Firefly" fandom.
"Firefly" fans are often heard referring to members of the cast, crew and fellow fans who do good as "big damn heroes." This came from an episode in which Mal and Zoe (Gina Torres) rescue Simon (Sean Maher) and River (Summer Glau) by saying, "Appears we got here just in the nick of time. What does that make us?" "Big damn heroes, sir." "Ain't we just?"
Jayne said this several times an episode, in response to the fact that the "companion," Inara (Morena Baccarin), took on a female client. Married crew members Wash (Alan Tudyk) and Zoe later adapted the phrase for themselves.
It was a particularly good day for Kaylee (she got to wear a nice dress, after all) so her response to Mal in one episode has definitely made "Captain Tight Pants" an oft-quoted line.
'Firefly:' Our favorite quotes
'Shiny!'
'I aim to misbehave'
'Done the impossible'
'Big damn heroes'
'I'll be in my bunk'
'Yes sir, Captain Tight Pants'