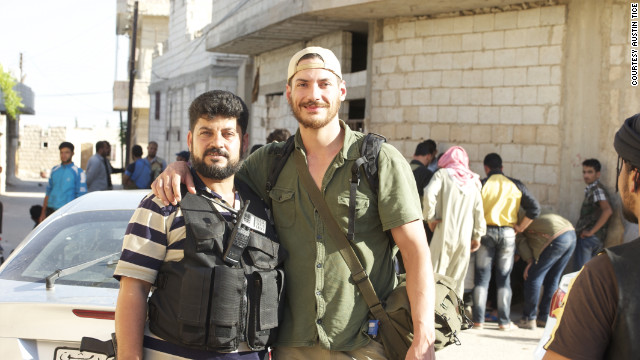 The parents of Austin Tice, the American journalist believed to be held in Syria,
will travel to Lebanon
to make an appeal for their son's release. A video surfaced on YouTube in September that appeared to show a blindfolded Tice being led by men armed with machine guns and a grenade. Many questions still surround the video, and Tice hasn't been heard from on social media since August 11. Above, Tice appears with a Syrian rebel.
Here's a look at some of the other stories CNN plans to cover this week.
Diwali, also known as the Festival of Lights, begins on November 13 and is celebrated for several days by millions of Hindus across the world as one of the most important events on their spiritual calendar. To commemorate Diwali,
fiscal cliff
-- a series of tax increases and spending cuts that are set to start taking effect in January and could have a potentially disastrous impact on the U.S. economy.
Congress will return to work Tuesday. Legislators face a host of unresolved issues including the pressing task of avoiding the
congressional hearings resume
on the terror attack on the U.S. diplomatic mission in Libya that left four Americans dead.
The Senate Intelligence Committee will conduct a closed-door hearing November 15. Scheduled witnesses include Director of National Intelligence James Clapper, former CIA Director David Petraeus, Under Secretary of State Patrick Kennedy, FBI Deputy Director Sean Joyce and National Counterterrorism Center Director Matthew Olsen. It's not clear if Petraeus will appear, after he resigned Friday.
Senior intelligence, State Department and FBI officials can expect to be grilled next week as
Xi Jinping
is set to be announced as the leader of the world's most populous nation.
What China's leadership change may bring
China is expected to introduce its new leadership to the world Wednesday or Thursday after the Communist Party's 18th National Congress wraps up.
North American debut
last week, toting more than 200 eager United Airlines passengers from Houston to Chicago.
The first B-787 Dreamliner aircraft is to land at Chopin International Airport in Warsaw, Poland, Thursday. It made its
For the first time ever, this year's crop of accolades for American League and National League baseball stars will be announced on television. The MLB Network airs the honors at 6 p.m. each night from Monday to Thursday.
Austin Tice's parents make appeal
Diwali begins
Congress gets back to work
Benghazi attack hearing
China announces new leadership
Dreamliner lands
MLB: AL and NL MVP Awards