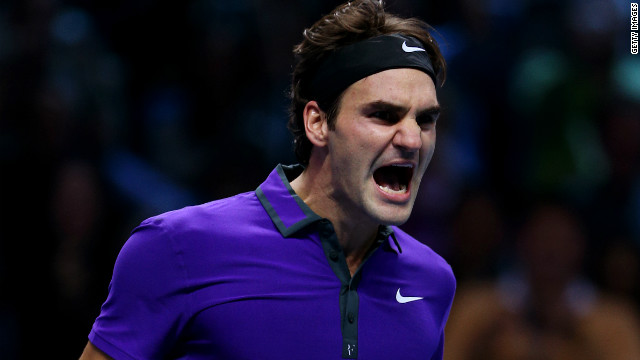 Defending champion Roger Federer celebrates after beating home hope Andy Murray at the ATP World Tour Finals on Sunday.
Murray, who won the Olympic gold medal and his first grand slam title this year, has now fallen in the semifinals of the season-ending event three times.
Six-time champion Federer will on Monday play world No. 1 Novak Djokovic, who won the tournament at its last staging in Shanghai in 2008.
Djokovic reached his first London final after defeating 2009 runner-up Juan Martin del Potro, who made it to the last four after beating Federer in their final group game on Saturday.
Federer into final
Murray misses out
No. 1 Novak
Del Potro defeated
STORY HIGHLIGHTS
Roger Federer will play world No. 1 Novak Djokovic in final of season-ending tournament
Defending champion Federer beats world No. 3 Andy Murray in Sunday's semifinal
Federer will be seeking a record-extending seventh title, and his third in a row
Djokovic beats Juan Martin del Potro to reach final for second time, his first in London
(CNN) -- Even after all these years, Roger Federer is still thrilled by the chase.
The 31-year-old cannot regain his No. 1 ranking this year, but he can add yet more accolades to his glittering resume if he beats Novak Djokovic in Monday's climax of the ATP World Tour Finals in London.
The 17-time grand slam champion blew away Andy Murray in Sunday's second semifinal, earning some measure of revenge for his defeat in August's Olympic gold medal match and denying the Scot another long-awaited milestone.
Murray became the first British male to win a grand slam since 1936 when he lifted the U.S. Open in September, but the UK will have to wait for its first finalist in the season-ending showpiece.
"It was a special match. It was the third time in London this year for the two of us and the crowd was electric," said two-time defending champion Federer, who beat Murray in July's Wimbledon final to match Pete Sampras' record of seven titles on the hallowed grass courts.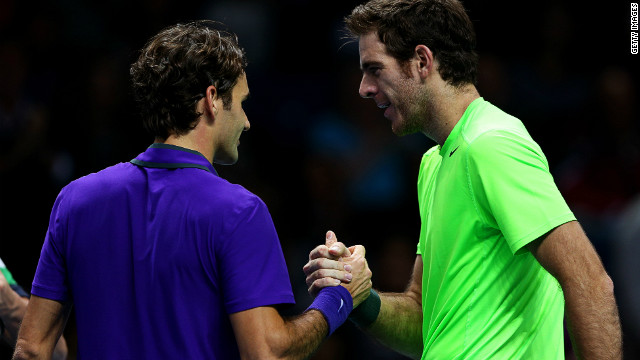 Juan Martin Del Potro, right, shakes hands with Roger Federer after qualifying for the semifinals of the ATP World Tour Finals with victory over the 17-time grand slam champion.
Two-time defending champion Federer was disappointed to lose, despite having already secured a place in the last four of a tournament that he has won a record six times.
Del Potro last played in the season-ending tournament in 2009, when he lost in the final. Since then the Argentine has battled his way back into the top 10 following a serious wrist injury.
Del Potro's win ended the hopes of Spain's world No. 5 David Ferrer, who reached the semifinals last year and was runner-up in 2007 when the elite eight-man event was held in Shanghai.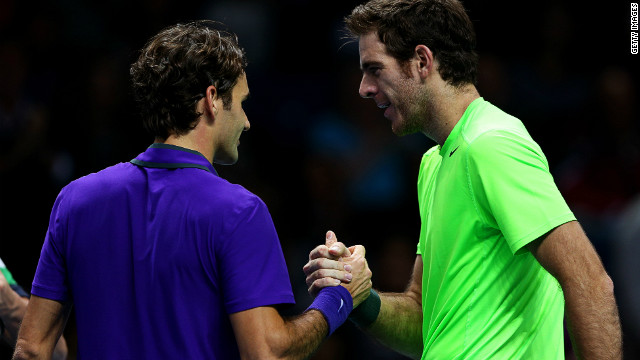 Del Potro beats Federer in London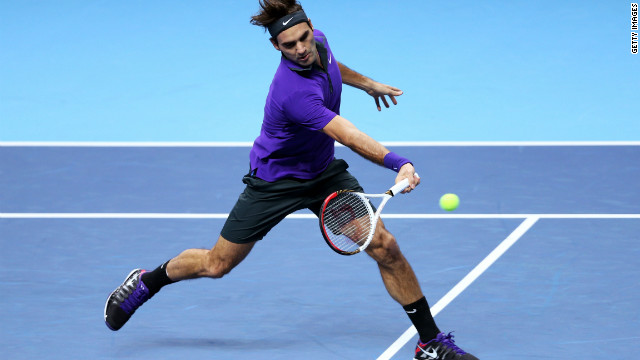 World No. 2 Roger Federer continued his domination of fifth-ranked David Ferrer on day four of the ATP World Tour Finals.
Federer now has a 14-0 record against the Spaniard, who he beat in the 2007 final of the season-ending event when it was held in Shanghai.
The tournament is the showpiece climax to the men's tennis season and this week it has attracted sports stars such as Fabrice Muamba, who had to retire this year due to a heart problem, and fellow footballer Juan Mata of Chelsea.
Veteran actor Ian McKellen, star of the Lord of the Rings trilogy and the upcoming Hobbit movies, was also in attendance to see defending champion Federer reach the semifinals for the 10th time in 11 appearances at the ATP finals.
The previous day, Federer was presented with the Stefan Edberg Sportsmanship Award, voted for by his peers, and the ATP World Tour Fans' Favorite Award at London's O2 Arena, which will host the tournament until 2015.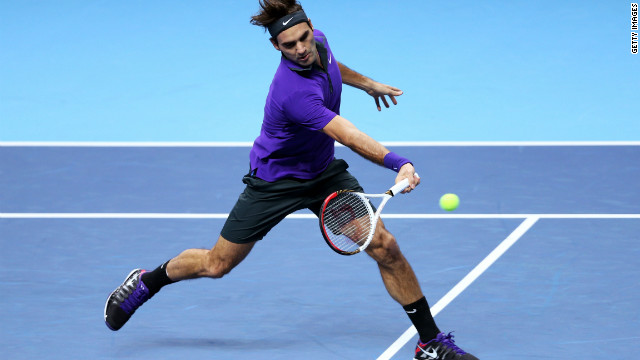 Federer moves into ATP semifinals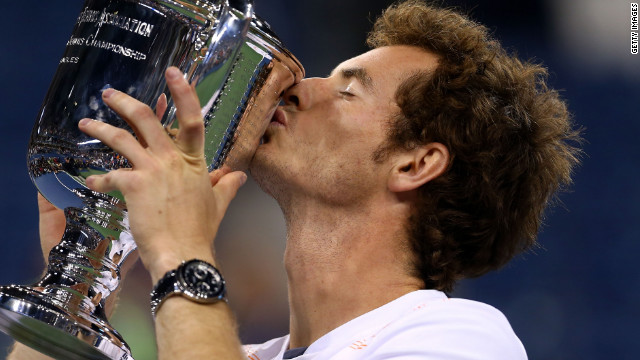 Andy Murray gets his hands on a grand slam trophy at last as he beats Novak Djokovic of Serbia to win the 2012 U.S. Open at Flushing Meadows.
Murray has reached two grand slam finals and won an Olympic gold medal since hiring Ivan Lendl. Even the great Czech player -- winner of eight majors -- needed four attempts before winning his first final.
Murray, seen here on court in the junior tournament during the 2002 Wimbledon Championships, went to Spain as a teenager to hone his tennis skills.
Murray announced himself as a player to watch with a emphatic victory in the final of the U.S. Open boys' tournament at Flushing Meadows in 2004. The then 17-year-old beat Sergiy Stakhovsky of Ukraine 6-4 6-2.
A 21-year-old Murray lined up against Roger Federer in his first grand slam final at the U.S. Open in 2008. It was a one-sided affair with Federer winning in straight sets 6-2 7-5 6-2 to pick up his 13th major.
Federer once again stood in the way of Murray at the Australian Open in 2010. The match was a bit closer than the 2008 final at Flushing Meadows, but Federer still ran out a comfortable winner 6-3 6-4 7-6.
Murray must have fancied his chances against Djokovic in 2011's Australian Open -- It was his third grand slam final and Federer wasn't his opponent. But his longtime friend provided equally stern opposition, thrashing the Scot 6-4 6-2 6-3.
Murray's fourth attempt to win a grand slam final got off to the perfect start at Wimbledon in July as he took the opening set 6-4 against Federer. But the Swiss champion fought back to win the next three sets, dashing British hopes of a first men's grand slam title since 1936.
Murray needed only a month to bounce back and beat Federer on the same courts to claim the gold medal at the London 2012 Olympics -- a victory that he later said gave him the confidence that he could win a grand slam.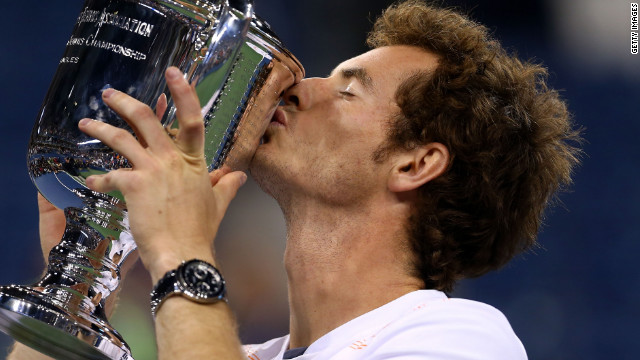 Murray joins the grand slam club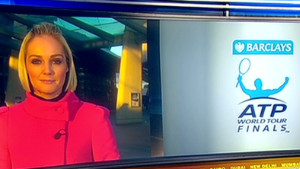 World's best tennis players face off
"I have been around the block a few times and that was something. You can't tire of nights like this.
"That is why I keep practising in front of no people, it inspires you to keep working hard."
At first it had seemed that Federer might have been feeling the effects of Saturday's three-set defeat by Juan Martin del Potro, as Murray -- who had an extra day off -- took an early 3-1 lead.
But the Swiss worked his way back into the match in front of a pro-Federer crowd, and raced away to win 7-6 (7-5) 6-2 in one hour and 33 minutes.
"Almost all the times when you play Roger anywhere in the world he gets great support everywhere. He deserves that because of everything that he's achieved," said Murray.
It was his third semifinal defeat in the elite eight-man event, while last year he pulled out with injury during the round-robin stage.
"It's been the best year of my career by a mile ... I've achieved things I've never achieved before," the 25-year-old said.
Federer will seek a record-extending seventh title, and bid to match the last man to have won it three years in a row -- Murray's coach Ivan Lendl.
He will face a formidable foe in Djokovic, who was guaranteed the year-end No. 1 spot when Federer decided not to defend his Paris Masters title last week.
The Serbian lost his opening match in the French capital soon after his father was taken to hospital with a serious respiratory problem, but better news from home has helped him win all four matches so far this week.
Djokovic was tested by Del Potro in Saturday's opening semifinal, but showed the fighting abilities he needed in earlier group-stage wins against Murray and Tomas Berdych as he prevailed 4-6 6-3 6-2.
The giant Argentine, runner-up in 2009, looked poised to reach the final for the second time as he went a break ahead in the second set but Djokovic turned it around.
He won the 2008 final when the tournament had its final staging in Shanghai, but has never got this far in London.
"Knowing it's the last match of the season, I'm really going to try to give my best physically and mentally tomorrow," said Djokovic, who equaled David Ferrer's leading 74 match victories this year.
Del Potro has won a career-high 65 matches in 2012, battling back into the top 10 after a long recovery from serious wrist problems.
"He deserved to win today. If you don't play for the whole match at your best level, it's really difficult to beat him," Del Potro said.
"I had the chance to win today when I was a break up in the second, but I didn't serve like yesterday and I didn't serve like my first set today. Nole was returning really well."