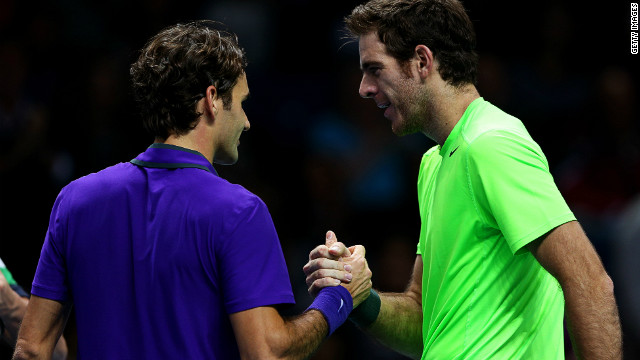 Juan Martin Del Potro, right, shakes hands with Roger Federer after qualifying for the semifinals of the ATP World Tour Finals with victory over the 17-time grand slam champion.
Two-time defending champion Federer was disappointed to lose, despite having already secured a place in the last four of a tournament that he has won a record six times.
Del Potro last played in the season-ending tournament in 2009, when he lost in the final. Since then the Argentine has battled his way back into the top 10 following a serious wrist injury.
Del Potro's win ended the hopes of Spain's world No. 5 David Ferrer, who reached the semifinals last year and was runner-up in 2007 when the elite eight-man event was held in Shanghai.
Del Potro's day
Federer's frustration
Argentine advances
Forlorn Ferrer
STORY HIGHLIGHTS
Juan Martin del Potro beats Roger Federer to claim semifinal place in ATP World Tour Finals
Argentine's three-set victory ends the hopes of Spain's world No. 5 David Ferrer
Ferrer finishes on a high note as he beats Janko Tipsarevic in final round-robin match
Federer will face Andy Murray in Sunday's semifinals, while Del Potro plays Novak Djokovic
(CNN) -- Roger Federer has vowed to bounce back from his second successive defeat against a man who has gained a recent edge over the 17-time grand slam champion.
Juan Martin del Potro made his name by beating Federer in the 2009 U.S. Open final, and won again at that year's ATP World Tour Finals, but lost seven in a row before toppling the then world No. 1 in the final of his home event in Basel last month.
The Argentine, who towers over most opponents at six foot six inches tall, followed that up on Saturday with a 7-6 (7-3) 4-6 6-3 victory to qualify for the semifinals of the season-ending showpiece in London.
"It's disappointing," said defending champion Federer, who was already assured of a place in Sunday's semifinals after beating David Ferrer on Thursday.
"I had a good feeling going into the match, definitely the right game plan. It's indoor tennis, he has a big serve and all those things. But still I expect myself to get more returns into play.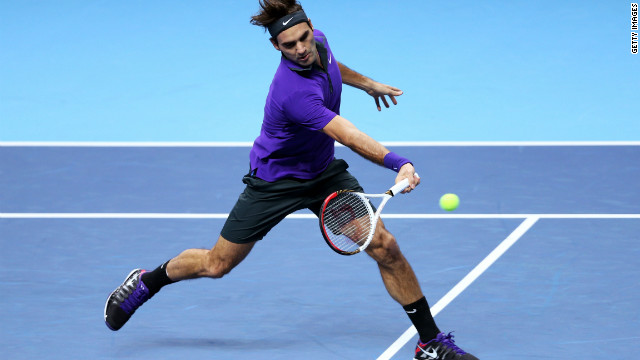 World No. 2 Roger Federer continued his domination of fifth-ranked David Ferrer on day four of the ATP World Tour Finals.
Federer now has a 14-0 record against the Spaniard, who he beat in the 2007 final of the season-ending event when it was held in Shanghai.
The tournament is the showpiece climax to the men's tennis season and this week it has attracted sports stars such as Fabrice Muamba, who had to retire this year due to a heart problem, and fellow footballer Juan Mata of Chelsea.
Veteran actor Ian McKellen, star of the Lord of the Rings trilogy and the upcoming Hobbit movies, was also in attendance to see defending champion Federer reach the semifinals for the 10th time in 11 appearances at the ATP finals.
The previous day, Federer was presented with the Stefan Edberg Sportsmanship Award, voted for by his peers, and the ATP World Tour Fans' Favorite Award at London's O2 Arena, which will host the tournament until 2015.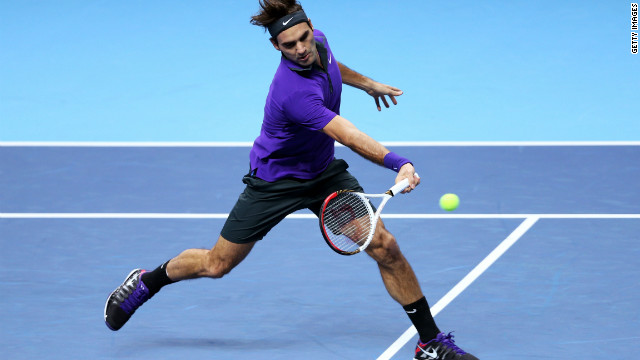 Federer moves into ATP semifinals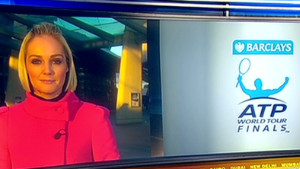 World's best tennis players face off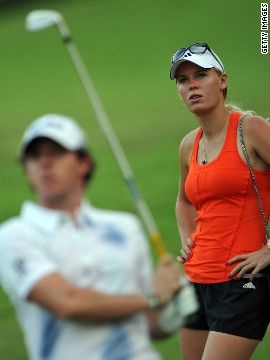 Caroline Wozniacki watches boyfriend Rory McIlroy during the continuation of the weather-delayed first round of the Singapore Open.
The Danish tennis star tweeted that she had not enjoyed having to get up at 5.15 a.m. as McIlroy got ready to resume the tournament.
McIlroy took a break last week to watch Wozniacki's final tournament of the year, and she returned the compliment as he returned to action following his "Duel at Jinsha Lake" against Tiger Woods.
Half of the tournament's players were unable to start their second rounds on Friday due to ongoing rain delays and the threat of lightning.
McIlroy is struggling with illness as he seeks to clinch a notable money list double on both the European and U.S. PGA Tours, emulating Luke Donald's feat last year.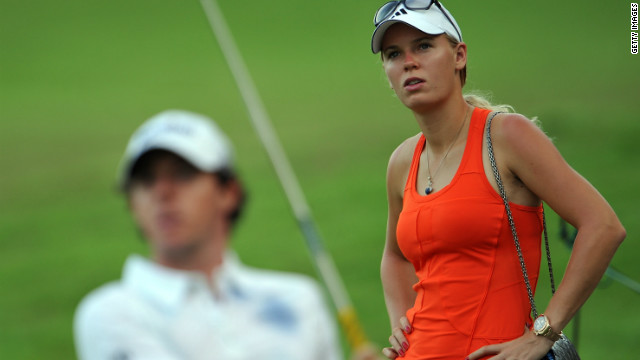 'Wozilroy' struggling in Singapore rain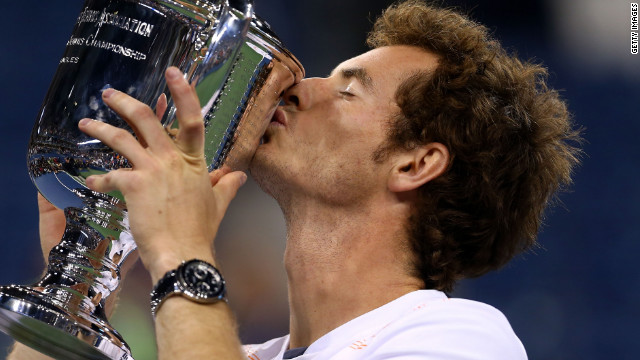 Andy Murray gets his hands on a grand slam trophy at last as he beats Novak Djokovic of Serbia to win the 2012 U.S. Open at Flushing Meadows.
Murray has reached two grand slam finals and won an Olympic gold medal since hiring Ivan Lendl. Even the great Czech player -- winner of eight majors -- needed four attempts before winning his first final.
Murray, seen here on court in the junior tournament during the 2002 Wimbledon Championships, went to Spain as a teenager to hone his tennis skills.
Murray announced himself as a player to watch with a emphatic victory in the final of the U.S. Open boys' tournament at Flushing Meadows in 2004. The then 17-year-old beat Sergiy Stakhovsky of Ukraine 6-4 6-2.
A 21-year-old Murray lined up against Roger Federer in his first grand slam final at the U.S. Open in 2008. It was a one-sided affair with Federer winning in straight sets 6-2 7-5 6-2 to pick up his 13th major.
Federer once again stood in the way of Murray at the Australian Open in 2010. The match was a bit closer than the 2008 final at Flushing Meadows, but Federer still ran out a comfortable winner 6-3 6-4 7-6.
Murray must have fancied his chances against Djokovic in 2011's Australian Open -- It was his third grand slam final and Federer wasn't his opponent. But his longtime friend provided equally stern opposition, thrashing the Scot 6-4 6-2 6-3.
Murray's fourth attempt to win a grand slam final got off to the perfect start at Wimbledon in July as he took the opening set 6-4 against Federer. But the Swiss champion fought back to win the next three sets, dashing British hopes of a first men's grand slam title since 1936.
Murray needed only a month to bounce back and beat Federer on the same courts to claim the gold medal at the London 2012 Olympics -- a victory that he later said gave him the confidence that he could win a grand slam.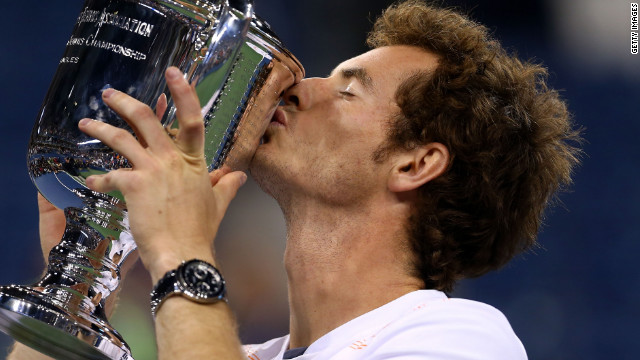 Murray joins the grand slam club
"But it's important to move on right now. Mentally, it's important to look ahead and rest because it's a quick turnaround.
"I tried everything I could and was a bit frustrated at times, but it shouldn't affect me tomorrow."
Dad's recovery gives Djokovic focus
By losing the first set, Federer ended the hopes of 2007 runner-up Ferrer -- who beat Janko Tipsarevic 4-6 6-3 6-1in the final match of the round-robin stage on Saturday.
Ferrer's victory means that Federer faces world No. 3 Andy Murray on Sunday in a rematch of the Wimbledon and Olympic finals, while Del Potro plays No. 1 Djokovic -- who won all three of his Group A games.
World No. 5 Ferrer is one of the ATP Tour's in-form players this season, with a leading seven titles -- including his last two outings in Valencia and Paris, where Federer relinquished his title and the No. 1 ranking when he decided to skip the season's final Masters event.
The Spaniard now has a tour-leading 74 match wins this year, one more than Djokovic.
"I really wanted to give him a chance and give myself the best possible preparation for the semis. I really hoped I could win," said Federer, who is seeking a record-extending seventh title at the elite eight-man event.
"It's not that I prefer David over Juan Martin -- not at all -- but I think he's had a stellar season.
"It was a given I was going to give my very best. But I'm more disappointed for him than I am about losing today."
Djokovic edges Murray at ATP finals
Del Potro is appearing at the ATP World Tour Finals for the first time since 2009, when he lost in the final in the tournament's debut year in the UK capital.
"Beating Federer is not easy for sure. But I didn't think about trying to qualify for the next round," said the 24-year-old, who has battled his way back into the top-10 after long-term wrist problems.
"I was just thinking about my match and doing the same things like Basel. At the end I was thinking maybe it could be my last service game of the year.
"So I put all my concentration into serving and that helped me to make fantastic first serves and many aces. But he's still the favorite to win the tournament, with Murray and Djokovic.
"Now you have three big names in the semifinals and one big guy. I'm the number four for sure. But everything can happen. I beat Federer, Novak and Andy a long time ago, so maybe if I am lucky I can repeat that here."