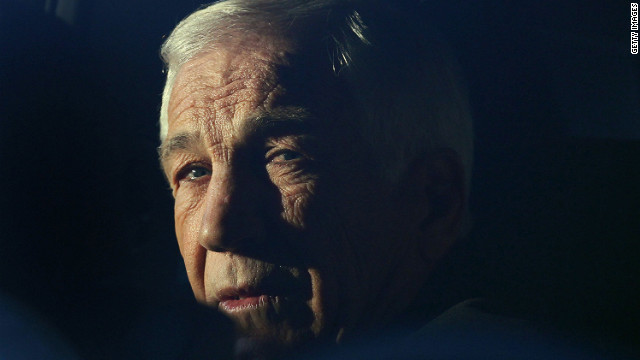 Ex-Penn State defensive coordinator Jerry Sandusky was arrested in November 2011 on charges that he preyed on boys he met through The Second Mile charity. In June 2012, he was convicted of 45 counts involving 10 young victims, and in October, he was sentenced to 30 to 60 years in prison. In July 2012, the NCAA imposed sanctions against Penn State, including a $60 million fine, scholarship reductions, the vacating of 112 wins, five years' probation and a bowl ban for four years. Click through the gallery for other notable NCAA scandals.
Penn State University head football coach Joe Paterno on the sidelines during a 2004 game. Paterno's legacy was tarnished in the wake of the Jerry Sandusky child abuse scandal. The fallout included NCAA sanctions in July 2012 that struck 111 of Paterno's 409 wins from the record book. The stripped victories stretched back to 1998 and removed Paterno's crown as winningest college football coach in history. He died of cancer in January.
Head coach Jim Tressel with his Ohio State Buckeyes at the 2011 Sugar Bowl. Tressel admitted he knew several star players were trading memorabilia for cash and tattoos in violation of NCAA rules. The NCAA banned the Buckeyes from postseason play for the upcoming season, and OSU voluntarily vacated all 2010 wins. Tressel "resigned" in May 2011, a move OSU later deemed a retirement.
University of Miami quarterback Jacory Harris throws a pass during a 2011game. Harris was one of 13 Hurricanes initially ruled ineligible after the NCAA began investigating allegations by Nevin Shapiro, an imprisoned former booster, that he for eight years provided 72 athletes with benefits that violated NCAA rules. Shapiro is incarcerated for running a $930 million Ponzi scheme. After Miami petitioned for the players' reinstatements, one player was vindicated, while the other 12, including Harris, were reinstated after serving suspensions and/or paying restitution. The investigation into the Shapiro scandal is ongoing.
Reggie Bush of the University of Southern California carries the ball past Fresno State's Matt Davis in 2005. The NCAA announced sanctions in June 2010 against USC, finding that Bush and basketball star O.J. Mayo had received lavish gifts. Bush voluntarily forfeited his Heisman Trophy, while USC was given four years' probation, stripped of 30 scholarships and had to vacate 14 wins, including a national championship.
Members of the Duke men's lacrosse team listen to the national anthem at their season opener in 2007. In 2006, members of the team hired stripper Crystal Mangum for a party, and she accused three players of raping her. The scandal forced the cancellation of the men's lacrosse season that year and the resignation of team coach Mike Pressler. The allegations later proved to be false, and prosecutor Mike Nifong was disbarred for ethics violations.
The NCAA has found the University of Alabama football program in violation of its rules at least three times in the last two decades. The most notable incident came in 2000 when a booster paid a high school coach to steer a recruit to the Crimson Tide. An investigation found numerous other violations, and Alabama was placed on five years' probation, among other sanctions. In 1995, the NCAA forced Alabama to vacate wins after it learned coaches were aware one of the school's All-Americans had secretly signed with an agent, and in 2009 the university was sanctioned for misuse of its textbook distribution program by 16 athletic programs, including football.
Jim Harrick Sr., then head coach of the University of Georgia Bulldogs, yells from the sidelines during the 2002 NCAA Division I men's basketball tournament. Harrick resigned as UGA's head basketball coach in 2003 after his son, Jim Harrick Jr., was accused of giving an A to three basketball players who didn't attend class and paying a phone bill for one of them. The NCAA punished UGA with four years' probation, and the school was forced to vacate 30 wins from 2001-2003.
Baylor University basketball player Carlton Dotson reaches for the ball against Montana State in a 2002 game. In June 2003, Baylor's Patrick Dennehy went missing. Dotson confessed to killing him and was sentenced to 35 years in prison. The NCAA later determined that Coach Dave Bliss had instructed his players to lie to investigators and tell them that Dennehy dealt drugs to cover up the coach paying thousands of dollars of Dennehy's tuition. The NCAA put the school on probation until June 2010. It also was banned from playing nonconference games for a season.
Chris Webber strolls upcourt during a home game in 1993. Webber pleaded guilty in 2003 to being paid by a University of Michigan booster to launder money from an illegal gambling operation. The NCAA put the program on four years' probation and banned the team from postseason play for the 2003-04 season. Charged with lying to federal investigators, Webber pleaded guilty to misdemeanor criminal contempt and paid a $100,000 fine.
The Southern Methodist University football team warms up in 1988, two years after a scandal broke that SMU boosters had been giving football players thousands of dollars from a slush fund with university officials' knowledge. In what was the first and last time it gave the "death penalty" to a football program, the NCAA suspended SMU from playing its 1987 season and banned it from recruiting. The school also was not allowed to play at home in the 1988 season and lost dozens of scholarships.
Bill Musselman watches court action during a 1990 NBA game as head coach of the Minnesota Timberwolves. In 1975, Musselman left as head coach of the University of Minnesota Golden Gophers. The NCAA later found 127 violations from his four-year tenure at the school, including direct payment to players for rent and transportation.
Kentucky celebrates the 2012 national championship in April. Sixty years earlier, the NCAA opened an investigation into the University of Kentucky Wildcats basketball program, following a national championship season in which three players had been arrested in a point-shaving scandal. The subsequent probe revealed that 10 players had received impermissible financial aid. The NCAA banned the school's entire athletic program from playing for a year -- in effect, marking the advent of the so-called "death penalty," even though the penalty wasn't given the nickname until the 1980s.
Notable NCAA scandals
Notable NCAA scandals
Notable NCAA scandals
Notable NCAA scandals
Notable NCAA scandals
Notable NCAA scandals
Notable NCAA scandals
Notable NCAA scandals
Notable NCAA scandals
Notable NCAA scandals
Notable NCAA scandals
Notable NCAA scandals
Notable NCAA scandals
STORY HIGHLIGHTS
Kathleen Kane, a newcomer in state politics, won Pennsylvania AG job
She became first woman and the first Democrat elected to the job
She was asked about the Sandusky case frequently during the campaign
(CNN) -- In different year, the race for attorney general in Pennsylvania might have been just a footnote to the presidential election.
But more people in the Keystone State voted Tuesday for Kathleen Kane to be their attorney general than voted for Barack Obama to be their president. And much of that may be attributed to the furor over the Jerry Sandusky child sex case.
She beat the Republican challenger, David Freed, by almost 15 points, and the overwhelming support makes her the first woman and the first Democrat elected to the job in Pennsylvania.
What may have pushed Kane over the top was her strong stance on the Sandusky scandal. She promised to look back to November 2008, when the first victim came forward, and carry out an independent review into why Sandusky was not charged until three years later.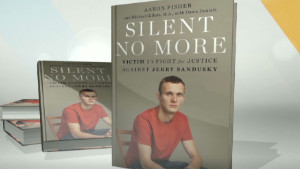 'Victim #1' speaks out in new book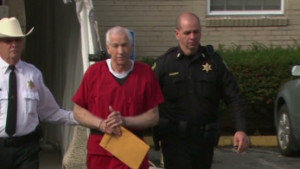 Sandusky victim: 'I do not forgive you'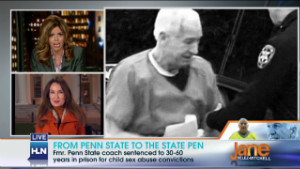 Was Sandusky's sentence harsh enough?
"We need an independent investigator to look at what happened," Kane told CNN. "Over 3 million people feel that I am that independent investigator."
Her promise means she'll be taking on the state's sitting governor, Tom Corbett. And her review into the Sandusky case investigation will delve into the years that Corbett was the attorney general. He launched the Sandusky investigation before he ran for governor.
Despite some criticism, Corbett has denied that politics had anything to do with investigative decisions. Instead, he accused Democrats of politicizing the case when two leading state Democratic lawmakers wrote a three-page letter asking U.S. Attorney General Eric Holder to look into how the Sandusky investigation unfolded. Holder's office says the letter is under review.
It's a topic that comes up at almost every news conference Corbett holds — no matter the stated topic.
"I challenge anybody out there who says there is to bring forward one piece of evidence, one sentence of evidence, one thread of evidence," Corbett said in October, defending his handling of the investigation.
Criticism of Corbett emerged soon after Sandusky's arrest last year, when the school's faithful began to question his role on the university Board of Trustees, which had fired the Nittany Lions' long-time football coach, Joe Paterno.
Kane said most of the questions she received during more than 20 months on the campaign trail were about Sandusky.
"Everywhere I went, people from every profession, almost every county, asked me what happened and why it took so long and how I felt about it, because they knew I specialized in the prosecution of child sex abuse cases," she said. "It was something that bothered them. It was something that was on their mind."
With good reason, she said: the delay in making an arrest meant that the predator remained free for years.
During that time, investigators issued no subpoenas to Sandusky's charity, The Second Mile, even though that's where he met his first accuser.
It took investigators looking into the November 2008 accusation 25 months to find a 1998 Penn State police report in which two boys had accused Sandusky of having touched them inappropriately in a campus shower.
In addition, no one from Penn State testified before the grand jury until last year, even though Sandusky had worked there for decades.
But almost immediately after Corbett took office in January 2011, eight state police troopers were added to the case. Seven of the eight initial accusers were found in the second 18 months of the investigation.
Corbett's spokesman, Kevin Harley, said each move was strategic and that the governor handled the case responsibly.
"If Kathleen Kane can transition from a partisan politician to a professional prosecutor and put aside her hyperpartisan views of law enforcement, hopefully she will learn how a sophisticated and complex investigation into a serial pedophile was conducted," Harley told CNN Thursday.
Kane may be a political novice, but she's been a prosecutor since 1995, when she left a Philadelphia law firm to return home to Scranton, where she took a job as an assistant district attorney in Lackawanna County.
She said it paid half of what she had made in Philadelphia and she had to share her desk with another prosecutor.
But she stayed in Scranton to raise her two boys, Christopher, 11, and Zachary, 10, she said.
During 17 years there, she has prosecuted public corruption cases as well as hundreds of cases involving child rape, abuse and neglect, she said.
"They are very labor-intensive," she said. "You need to have a strong stomach, and you need to know that, no matter who it is, you have to follow the facts. I've done that before and I'll do it again."
When she starts the job in January, Kane will acquire the ongoing Sandusky grand jury investigation, plus the prosecution of three former Penn State officials, each of whom is charged with conspiracy, obstruction of justice, child endangerment, perjury and failure to report a crime.
Attorneys for those men have asked a judge to delay the scheduled January trial date.
Sandusky was convicted in June on 45 counts of child sex abuse, ranging from corruption of minors to involuntary deviate sexual intercourse, which were laid out in graphic testimony by his accusers over the course of the less-than-two-week trial. He was sentenced to 30 to 60 years in prison.