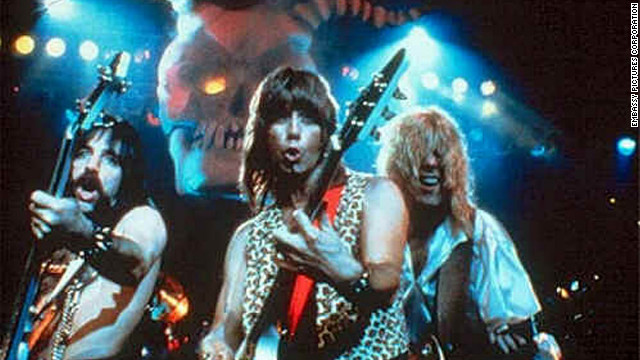 Harry Shearer, Christopher Guest and Michael McKean star in the 1984 musical mockumentary "This is Spinal Tap."
"Almost Famous" follows an aspiring young journalist as he tours with the up-and-coming band Stillwater, played by Jason Lee, John Fedevich, Noah Taylor, Billy Crudup and Mark Kozelek. Crudup is featured as the band's guitarist Russell Hammond in the 2000 Oscar-winning film.
Russell Brand first played Aldous Snow of the fictional band Infant Sorrow in 2008's "Forgetting Sarah Marshall." He reprised his role as the "We've Got to Do Something" rocker in 2010's "Get Him to the Greek."
"Rock Star" stars Mark Wahlberg as a tribute band singer-turned-lead singer of his favorite band, Steel Dragon. Jennifer Aniston plays the rocker's girlfriend in the 2001 film.
"The Blues Brothers," a 1980 musical comedy starring John Belushi and Dan Aykroyd, is about making music for a good cause.
In 1998's "Velvet Goldmine," Christian Bale plays Arthur Stuartwan, a journalist investigating the disappearance of former rock star Brian Slade, played by Jonathan Rhys Meyers. Ewan McGregor also stars as Slade's one-time lover, Curt Wild.
Tom Cruise plays aging rocker Stacee Jaxx in "Rock of Ages," the 2012 film based on the musical of the same name.
In the 2001 comedy "Josie and the Pussycats," Tara Reid, Rachael Leigh Cook and Rosario Dawson star as the next big thing. However, unbeknownst to the group, subliminal messages are delivered to listeners through their music. And they're not the only ones ...
Successful boy band Du Jour, which features Alex Martin, Seth Green, Breckin Meyer and Donald Faison, is unsuccessfully offed by their record executive (Alan Cumming) after discovering the subliminal messages relayed through their music.
The Wonders, formerly The Oneders, are discovered by a record company representative (Tom Hanks) in 1996's "That Thing You Do!" Tom Everett Scott, Johnathon Schaech, Steve Zahn and Ethan Embry star.
John Cameron Mitchell directed, wrote and starred in 2001's "Hedwig and the Angry Inch," based on the musical of the same name. In the film, Hedwig, a transsexual rocker, writes songs for Tommy Gnosis (Michael Pitt), who eventually steals her songs and goes on to becomes a successful artist.
"Say No More Mon Amour"
in "Empire Records." As the ladies say in the 1995 flick, "Oh, Rexy, you're so sexy."
Maxwell Caulfield's Rex Manning is the stud behind the fictional hit
In 1994's "Airheads," Steve Buscemi, Adam Sandler and Brendan Fraser make up The Lone Rangers, a band willing to do anything for a big break.
Sean Penn stars in "This Must Be the Place" as Cheyenne, a retired rock star living off his royalties. The dramedy recently opened in the United States.
'This is Spinal Tap' (1984)
'Almost Famous' (2000)
'Get Him to the Greek' (2010)
'Rock Star' (2001)
'The Blues Brothers' (1980)
'Velvet Goldmine' (1998)
'Rock of Ages' (2012)
'Josie and the Pussycats' (2001)
Du Jour from 'Josie and the Pussycats' (2001)
'That Thing You Do!' (1996)
'Hedwig and the Angry Inch' (2001)
'Empire Records' (1995)
'Airheads' (1994)
'This Must Be the Place' (2012)