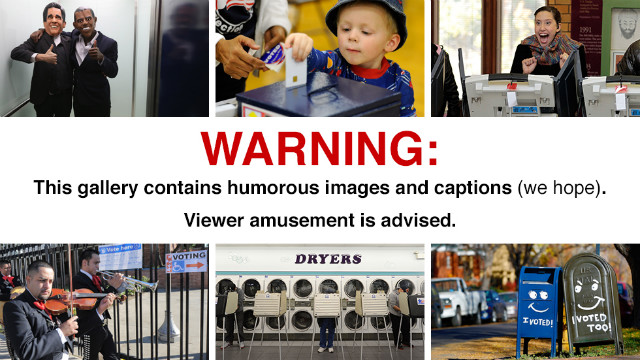 Like an electoral version of "The Blob," 2012 sample ballots occasionally get out of hand.
Each party has its good-luck superstitions. Republicans rub the trunk of a stuffed elephant, while loyal Democrats feed pictures of the president to a donkey.
Ties! Ties! Get yer all-American red-striped Statue of Liberty ties right here!
The clever Bowzer the Mystery Dog gathers data as voters perform their civic duty.
Yeah, kid, we think it's been a long campaign, too.
Neither snow, nor rain, nor heat, nor gloom of night can stop these mailboxes from their civic duty.
Children are always the quickest to adapt to new technologies.
No matter where you go, you just can't avoid them.
In Los Angeles, Election Day comes with some excellent entertainment.
Who knew that John Kerry and Chris Rock were running for president?
"I won! I won! I won!"
A Colorado voter is sucked into the Votron 3000 time machine. He ended up voting for Samuel Tilden.
In the spirit of Punxatawney Phil and Paul the Octopus, Bowzer the Mystery Dog prepares to pick the winner of the 2012 presidential election.
The rules are different in California.
These votes are about as clean as they come.
Perhaps we should combine polls and laundromats across the country.
No doubt, many voters will also cast their ballot with the "adult emporium" down the road.
Some voters are truly blank slates.
"Where's the pony? I was promised a pony!"
Election outtakes
17 election outtakes
donkey elephant split 1106
Election outtakes
Election outtakes
Election outtakes
Election outtakes
Election outtakes
Election outtakes
Election outtakes
Election outtakes
Election outtakes
Election outtakes
Election outtakes
Election outtakes
Election outtakes
Election outtakes
Election outtakes
Election outtakes
Election outtakes