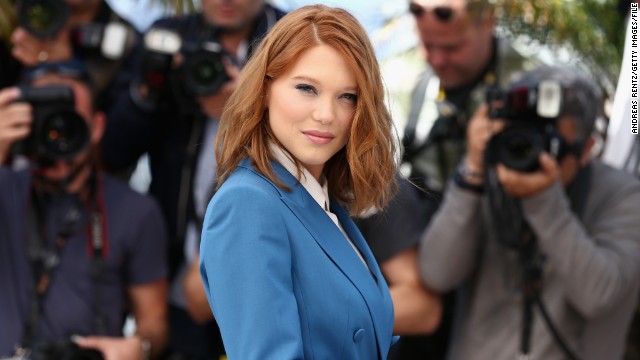 Could French actress Lea Seydoux, who recently starred in 2013's indie smash "Blue is the Warmest Color" and 2014's "The Grand Budapest Hotel," be our next Bond girl?
A Daily Mail report
has stirred up rumors that Seydoux will be the femme fatale of Sam Mendes' upcoming "Bond 24." While we wait to see if she'll be teaming up with our current 007, Daniel Craig, here's a look back at other actresses who've played the part:
Ursula Andress played Honey Ryder opposite Sean Connery's James Bond in the 1962 film "Dr. No." Bond first sees Ryder as she emerges from the ocean wearing a white bikini. She asks him, "What are you doing here? Looking for shells?" He replies, "No. I'm just looking."
Bond girl Tatiana Romanova was played by Daniela Bianchi in "From Russia with Love." A corporal in the Soviet army, Romanova saved Bond's life in the 1963 movie, which is regarded by many as one of the best "Bond" films of all time.
Pilot Pussy Galore, played by Honor Blackman, claimed to be immune to Bond's charm in 1964's "Goldfinger." However, Galore eventually falls for 007.
After Bond saved Domino Derval, played by Claudine Auger, from drowning in 1965's "Thunderball," she returned the favor by shooting Largo in the back before he could kill Bond. Derval is one Bond girl who is rarely out of a bikini.
Mie Hama's Kissy Suzuki marries Bond in a mock wedding ceremony while he's undercover as a fisherman in 1967's "You Only Live Twice."
Daniel Craig, among others, has called Diana Rigg's Teresa di Vicenzo one of the
most memorable
Bond girls of all time. The only girl to actually marry Bond (George Lazenby), Teresa di Vicenzo is killed shortly after they tie the knot in 1969's "On Her Majesty's Secret Service."
Jill St. John played diamond smuggler Tiffany Case in "Diamonds Are Forever." Bond is pretending to be Peter Franks when he and Case meet in the 1971 movie, which marked Connery's last turn as 007.
Jane Seymour's Solitaire loses her ability to see the future after losing her virginity to Roger Moore's Bond in 1973's "Live and Let Die."
Bond's ditzy assistant Mary Goodnight, played by Britt Ekland, eventually helps save the day in the 1974 flick "The Man with the Golden Gun."
In 1977's "The Spy Who Loved Me," Barbara Bach's Anya Amasova attempts to take revenge on Bond for killing her lover. However, she can't bring herself to do it after developing feelings for him.
Space scientist/astronaut/CIA agent Holly Goodhead, played by Lois Chiles, flies with Bond to Drax's space station in 1979's "Moonraker."
After witnessing her parents' assassination, Carole Bouquet's Melina Havelock teams up with Bond and eventually saves his life. Instead of donning an iconic bikini, Havelock bares it all to go skinny-dipping with 007 in 1981's "For Your Eyes Only."
Maud Adams starred alongside Moore's Bond as Octopussy in the 1983 film of the same name. The jewel smuggler and circus owner alerts Bond of a bomb, making her another girl to save his life.
The heir to an oil tycoon, Stacey Sutton, played by Tanya Roberts, works as a geologist in "A View to a Kill."
Bond shoots a gun out of cellist Kara Milovy's hands in 1987's "The Living Daylights." Maryam d'Abo played Milovy opposite Timothy Dalton's Bond.
Bond girl Pam Bouvier, played by Carey Lowell, works as a pilot and assists Bond in his mission in 1989's "License to Kill."
Izabella Scorupco played Natalya Simonova in 1995's "GoldenEye," which marked Pierce Brosnan's first turn as 007. Simonova is a Russian computer programmer who helps Bond save the day.
Another Bond girl who claims to be immune to Bond's charm, Chinese agent Wai Lin, played by Michelle Yeoh, eventually falls for him in 1997's "Tomorrow Never Dies."
Denise Richards is atomic physicist Dr. Christmas Jones in the 1999 film "The World Is Not Enough."
Halle Berry's Giacinta Johnson earned the nickname Jinx because she was born on Friday the 13th. In homage to Andress' Honey Ryder, audiences first see Berry as she emerges from the ocean wearing an orange bikini in 2002's "Die Another Day."
In 2006's "Casino Royale," Daniel Craig's Bond fell for Eva Green's Vesper Lynd.
Olga Kurylenko played Camille Montes in "Quantum of Solace." The former Bolivian agent is first seen in Bond's getaway car in the 2008 film.
Latest Bond girl Sévérine, played by Bérénice Marlohe, helps Bond track Raoul Silva in "Skyfall," which is due out on Friday, November 9.
Bond girls through the years
Bond girls through the years
Bond girls through the years
Bond girls through the years
Bond girls through the years
Bond girls through the years
Bond girls through the years
Bond girls through the years
Bond girls through the years
Bond girls through the years
Bond girls through the years
Bond girls through the years
Bond girls through the years
Bond girls through the years
Bond girls through the years
Bond girls through the years
Bond girls through the years
Bond girls through the years
Bond girls through the years
Bond girls through the years
Bond girls through the years
Bond girls through the years
Bond girls through the years
Bond girls through the years