STORY HIGHLIGHTS
NEW: FEMA chief says search-and-rescue operations taking priority, some fuel being supplied
Republican and Democratic officials praise FEMA's response to Sandy
The agency's performance after Hurricane Katrina forced reforms
It's now "leaning forward" and has closer ties with state and local counterparts
(CNN) -- Seven years after a disastrous response to Hurricane Katrina, the Federal Emergency Management Agency is winning praise for how it's dealing with Superstorm Sandy.
"This is the all-new FEMA, and the leadership is very, very good, very focused," said Dr. Irwin Redlener, a pediatrician and director of the National Center for Disaster Preparedness at Columbia University's Mailman School of Public Health. "They're doing an excellent job."
Score one for FEMA's attempts to come back from its infamous failure after Katrina struck the Gulf Coast in August 2005.
But the post-Sandy reviews for FEMA aren't all moonlight and roses.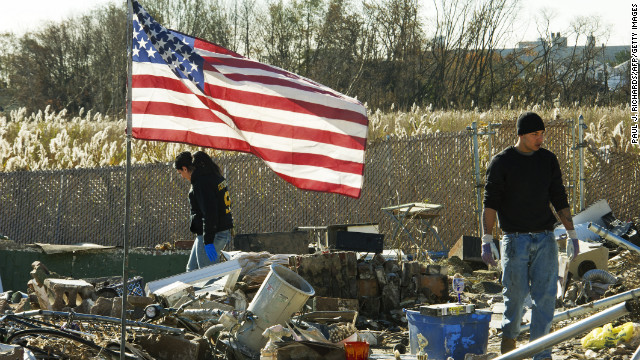 Friends and members of the Puglia family sift through the remains of their missing home for valuables on November 6, 2012, after Hurricane Sandy hit Staten Island, New York. View photos of New York preparing for Sandy.
A part of a house that floated off its foundation during the storm now sits in the middle of a coastal estuary in the Oakwood Beach area of Staten Island.
New York City police officers and a resident warm up in front of a fire in a blacked-out area of Oakwood Beach on Staten Island.
A woman looks through a sand covered parking lot used as a donation center on November 5 in the Rockaway neighborhood of the Queens borough of New York City.
Volunteers who call themselves the Broad Channel Police Department help clean a neighbor's damaged house.
People wait in line for food at a distribution center at Coney Island.
A dump truck empties trash collected from homes damaged by Superstorm Sandy on Saturday, November 3, in the Midland Beach neighborhood of Staten Island, New York. New York is trying to clean up and resume normal activities days after the storm hit.
A volunteer places donated clothing in plastic bags to protect it from potential rain at a relief center on Saturday in Midland Beach.
A damaged chair sits on the beach in low-lying Coney Island on Saturday.
A man salvages a set of drums at Rockaway Beach in Queens, New York, on Saturday. Most of the Rockaway Peninsula remains without power.
People gather among debris from Superstorm Sandy and boxes of donated goods on Saturday in Rockaway Beach.
Boats that were swept aground during Sandy sit against homes near a marina on Staten Island on Friday, November 2.
Eddie Liu uses a broom to clean up mud and water from a flooded coin laundry in Coney Island on Friday.
Michelle Dumas hugs her daughter Olivia to warm her up as they wait in an hours-long line for gas at a station Friday on Staten Island.
Men try to clean up the destruction in a flooded deli in Brooklyn, New York, on Friday.
Members of the Traina family on Friday sort through photographs and other personal items from their Staten Island home that was destroyed by Superstorm Sandy.
In the aftermath of Superstorm Sandy, replacement power utility poles are transported along Old Country Road on Friday in Plainview, New York.
Abandoned and flooded cars are piled up on Friday, November 2, in the heavily damaged Rockaway neighborhood, in Queens, where a large section of a landmark boardwalk was washed away.
Food trucks and men selling bread and cheeses line Broadway at Union Square on Friday in New York as the city recovers from the effects of Superstorm Sandy.
Debris piles up near the foundations of the iconic boardwalk, which was washed away in the Rockaway neighborhood in Queens.
A man rides his bike through the heavily damaged Rockaway neighborhood.
Matthew Mark Meyer, left, and Annie Barwick, center, sit in a darkened Randolf Beer Restaurant which is using generator power to reopen on Friday in New York City.
People walk through the heavily damaged Rockaway neighborhood.
Commuters pack into a train on Thursday in New York City. Limited public transit has returned to the city, where 14 of 23 subway lines are running.
Commuters ride the subway. Public transit is operating in New York City, but travel times are long, up to five hours in some cases.
A police officer directs passengers waiting on Thursday to board city buses into Manhattan at the Barclays Center in Brooklyn. About 4,000 buses are replacing the subway lines still closed by Superstorm Sandy damage.
Thousands of people wait to board city buses into Manhattan, and some subway lines remain underwater. Getting water out of the tunnels is "one of the main orders of business right now," Gov. Andrew Cuomo said Thursday.
A police officer directs traffic entering the Brooklyn Queens Expressway into Manhattan.
A police officer checks cars entering the Brooklyn Queens Expressway to confirm that they have three occupants before allowing them to cross into Manhattan on Thursday. Limited public transit has returned to New York, and most major bridges have reopened. However, vehicles must have three occupants to pass.
Parts of lower Manhattan are still without electricity on Thursday. Superstorm Sandy, which made landfall along the New Jersey shore on Monday, October 29, left much of the Eastern Seaboard without power, including much of Manhattan south of 34th Street.
Residents of New York City's East Village enjoy a bonfire on Wednesday, October 31.
East Village residents charge their phones with power from a generator on Wednesday.
Traffic snarls in New York City on Wednesday. Residents and businesses across the Eastern Seaboard are attempting to return to their daily lives in the aftermath of Superstorm Sandy.
A Caring Foundation worker hands out food to residents of the heavily damaged Rockaway section of Queens on Wednesday.
Water floods streets in the Rockaway section of Queens on Wednesday.
Traders stand outside of the New York Stock Exchange in New York on Wednesday. Stocks advanced as U.S. equity markets resumed trading for the first time this week after the storm.
A man surveys damage on Wednesday, October 31, in the Rockaway neighborhood of Queens, New York, where the historic boardwalk was washed away during Superstorm Sandy.
Residents walk with their belongings through the Rockaway section of Queens on Wednesday.
The remains of homes burned down in Rockaway are seen Wednesday, a day after an inferno spread across the flooded neighborhood.
Firefighters continued to survey the damage in Rockaway on Wednesday. At least 80 homes were destroyed.
People wait for buses on Sixth Avenue in New York on Wednesday as New Yorkers cope with the aftermath of Hurricane Sandy.
People attempt to squish into a crowded bus on First Avenue in New York on Wednesday.
Con Edison crew members work on a steam pipe on First Avenue on Wednesday.
The foundations to the historic Rockaway boardwalk in Brooklyn are all that remain after it was washed away Wednesday during Hurricane Sandy.
People walk to work Wednesday on a normally busy street near the New York Stock Exchange.
Traders work on the floor of the New York Stock Exchange on Wednesday after it had been closed for two days.
Commuters arrive in Manhattan by ferry from Jersey City, New Jersey, on its first day back in business after Sandy.
CNN iReporter Jordan Shapiro captured this view of the Williamsburg Bridge in New York at 11 p.m. on Tuesday, October 30. Half of the bridge and Brooklyn is lit, while the Manhattan side and the surrounding part of the island remain shrouded in darkness.
A subway station and escalator sit underwater in New York on Tuesday.
Much of the New York City skyline sits in darkness Tuesday evening after damage from Superstorm Sandy knocked out power. About 6.9 million customers are without power in 15 states and the District of Columbia, according to figures compiled by CNN from power companies.
New York City Mayor Michael Bloomberg, center, views the damage Tuesday in the Breezy Point neighborhood of Queens, where a fire broke out during Superstorm Sandy and destroyed at least 80 homes.
A resident looks through the debris of his destroyed home in Breezy Point, Queens, on Tuesday.
Burned-out vehicles and destroyed homes line a street in Breezy Point, located on the western end of the Rockaway peninsula in New York.
A fire continues to burn Tuesday in the remains of a structure that was destroyed by the Breezy Point blaze.
A New York City man hands a dog to first responders while being evacuated on Tuesday.
A bartender at the International Bar in the East Village neighborhood of New York City makes drinks in the dark on Tuesday as electricity remains out for many in the city.
Water floods the Plaza Shops in New York, in the wake of Superstorm Sandy, on Tuesday, October 30.
Con Edison employees monitor the drainage of water being pumped out of Seven World Trade Center in the Financial District of New York on Tuesday.
Onlookers watch a construction crane dangling from a $1.5 billion luxury high-rise after collapsing in high winds.
The construction crane dangles from a high-rise in midtown Manhattan.
Ramiro Arcos clears debris from a storm drain in the Financial District of New York after Sandy swept through the city.
A couple walks in the rain Tuesday, with the East River and the Lower Manhattan skyline as a backdrop.
The Manhattan skyline remains dark after much of the city lost electricity in the storm.
Cars float in a flooded below-street-level parking area in the Financial District on Tuesday.
People take a Tuesday morning walk on the Brooklyn Bridge, which remains closed to traffic after the city awakened to the storm damage.
A car sits crushed by a tree in the Financial District on Tuesday. Photos: New York braces for Sandy.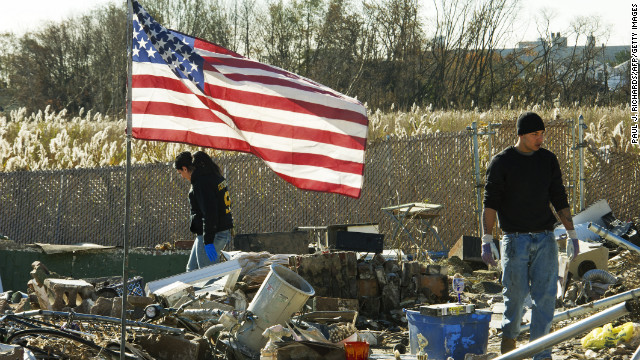 Photos: New York recovers from Sandy
As Secretary of Homeland Security Janet Napolitano -- whose department oversees FEMA -- is expected to visit the region Friday, many survivors in hard-hit places are angry.
More than three days after the storm, they're mad about the lack of electricity, lack of information and the lack of gasoline to run generators.
What's going on, said FEMA Administrator Craig Fugate, is part of a priority system.
Search-and-rescue operations take priority over providing assistance, and searches are still going on, Fugate told CNN's Erin Burnett on Thursday night. Assistance for survivors "is being made," he said, "but we haven't reached everybody. Until we do, we're not stopping."
However, FEMA has "been starting to get emergency fuels in for the generators and for the responders," Fugate added.
In 2005, FEMA's slow and disengaged response was a major embarrassment for the George W. Bush administration, particularly when top officials admitted they were unaware of thousands of people stranded at a convention center in New Orleans without food and water, days after the storm hit.
To be fair, the two storms were very different. Katrina hit Louisiana with much more force, and the population of the Northeast U.S. eclipses Katrina's target area.
After Katrina, a Senate investigation found that FEMA was shorthanded, failed to commit enough people to prepare for the oncoming storm, didn't have enough supplies in position and had poor communication with state and local authorities. Its director at the time, Michael Brown, had little emergency management experience before being named to the agency's top job in 2003.
By contrast, Fugate came to Washington after eight years as emergency management director in Florida, where he dealt with several hurricanes.
One of the post-Katrina reforms passed by Congress was to require that FEMA administrator have an experienced chief, said Bruce Lockwood, an officer with the U.S. Council of the International Association of Emergency Managers.
"It couldn't be just a political appointee," Lockwood said. "It had to be somebody who had a practitioner background in emergency management or public safety field. It had to be somebody who knew what they were doing before they got into that position."
Even in the highly charged political environment days before the U.S. elections, FEMA has won plaudits from governors of both parties.
New Jersey's Chris Christie -- a Republican whose state bore the brunt of the storm -- told CBS News on Tuesday that "cooperation has been great with FEMA here on the ground," while Delaware's Jack Markell -- a Democrat -- told CNN that people in his state have been "really, really impressed by the response of FEMA."
'Leaning forward'
The agency is now aimed at "leaning forward," moving supplies like food, water, generators, blankets and cots into an expected disaster zone ahead of time, said Lockwood, the deputy emergency management director in New Hartford, Connecticut.
"Before, they would have to wait for a call from a state before they started moving material," he said. They still need a request from a state to distribute those supplies, but "They have things on the ready in a very immediate location."
In New York, for example, FEMA has publicized assistance, including rental payments for those whose homes are uninhabitable. Individuals can apply for grants for home repairs and to meet disaster-related needs. Money also is available for construction of a home.
FEMA set up online pages for Connecticut, New York and New Jersey storm victims.
But not everyone is happy with the Sandy response by governments.
Staten Island Borough President James Molinaro said Thursday that residents did not receive timely information on how to get food, shelter and tools for putting their lives back together.
"There was no one there to answer these questions," Molinaro said. "I need answers, and the people need answers."
On Friday, Napolitano is expected to visit Staten Island with FEMA Deputy Administrator Richard Serino to meet with state and local officials about response and recovery.
Ten buses stocked with needed goods were transported to the island Thursday, and FEMA has promised to have a team working with Molinaro on the ground Friday, he said.
The 2,200 people FEMA says it has poured into dealing with Sandy are about as many as it had on its entire payroll at the time of Katrina. The agency also has improved ties with its state and local counterparts as well as other arms of the federal government, said Redlener, the Columbia University disaster preparedness center director.
In addition, Fugate "has been able to attract staff back into the agency, and they have a very competent midlevel management layer to help organize efforts," Redlener said. "They're still probably underfunded, but their staffing is much, much better," he said.
FEMA's current budget is about $7 billion.
For Sandy, the agency said nine task forces were supporting local search-and-rescue operations. FEMA mobile units are providing logistics support for response efforts.
"Community relations teams are on the ground in the hardest-hit areas of the mid-Atlantic going door-to-door to inform disaster survivors about available services and resources and to gather situational awareness," FEMA said in a statement issued Wednesday.
Lessons learned
By comparison, at the time of Katrina, FEMA had manpower and planning problems and confusion about the roles of officials in responding to disasters, according to a 2006 report by the Department of Homeland Security's inspector general.
The report said that with the destruction of communications infrastructure, it took FEMA officials about three days after Katrina's landfall to grasp the magnitude of the hurricane's destruction.
The report cited shortcomings with delivering housing and being prepared to conduct a massive search-and-rescue function. The Katrina report, which made 38 recommendations, said FEMA needed to improve the tracking of supplies.
The experts said it appears that lessons have been learned.
Lockwood said Fugate's philosophy has been that FEMA "is not the team -- they are part of the team."
"That's one of the biggest things that has come out post-Katrina," he said. "There is a cooperative relationship now between local, state and federal agencies to meet the need and fill the gaps."
FEMA's recent performance also won high marks from a former chief, James Lee Witt, who led the agency during the Clinton administration.
"I think the most important thing that FEMA has already done is to have people in the emergency operation centers, and the prestaged equipment, and following whatever resources the states are going to need to start the process of recovery," Witt told CNN 's "Starting Point."
Sandy hit the New Jersey coastline Monday night with 80 mph winds at its center, but it spread destruction across a broad swath of the eastern United States.
The storm smashed beach resorts on the Jersey Shore and flooded Manhattan subway tunnels, felled trees as far south as North Carolina, dumped heavy snow on the highlands of West Virginia and sent debris flying through the streets of Toronto.