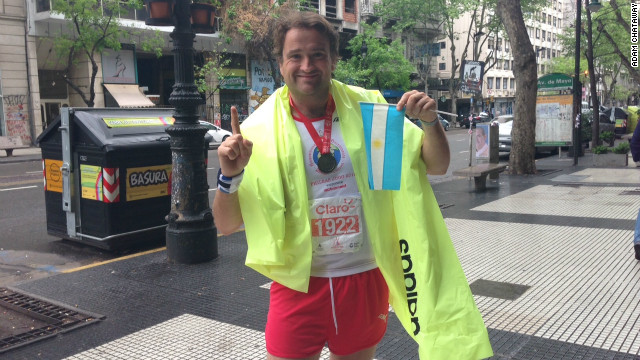 Adam Chataway set himself the challenge of running six marathons on six continents in less than 30 days. The journey started on October 7 in the Argentine capital of Buenos Aires, and ends in New York on Sunday.
The Londoner initially set up a project to bring clean water to Lera Town in Ethiopia following the death of his fiancee Vicky in 2006. After "Vicky's Water Project" was completed, Chataway decided to raise funds for extra classrooms to be built in the area -- and his adventure began.
A week after his first race in Buenos Aires, Chataway was in Australia taking part in the Melbourne Marathon on October 14.
To tick Asia off his list, Chataway took part in the Amman Marathon in Jordan just five days later.
Chataway then ventured into Africa to participate in the Nairobi Marathon in Kenya on October 28.
The very next day, he was on the start line in Dublin after hot-footing it to the Irish capital via Abu Dhabi.
New York City Marathon organizers have announced Sunday's event will go ahead, despite the havoc wreaked on the city by Hurricane Sandy. The storm has caused flooding and blackouts in New York and has killed more than 140 people in North America and the Caribbean.
Chataway comes from good running stock. His father Chris (right) is a former 5,000 meters world record-holder and he was a pacemaker for fellow Briton Roger Bannister when he ran the first sub-four minute mile in 1954.
Man on a mission
For Vicky
Down Under
Journey to Jordan
African adventure
Destination Dublin
New York green light
Famous forerunner
STORY HIGHLIGHTS
British man is running six marathons on six continents in less than 30 days
Adam Chataway is raising funds to build four classrooms in Ethiopian town
The final leg of Londoner's challenge is Sunday's New York City Marathon
Organizers of the race say it will go ahead despite Hurricane Sandy
(CNN) -- When New York City Marathon organizers announced that the destruction wreaked by Hurricane Sandy would not cause the cancellation of Sunday's prestigious race, few people will have been as relieved as Adam Chataway.
The Londoner is a man on a mission -- he ran five marathons on five continents before making it to the Big Apple, and cycled the last leg of the journey from Boston.
Sunday's race will be his sixth in less than 30 days, all run to honor the memory of his late fiancee and provide an education for Ethiopian children.
"There are fallen trees, electricity poles and stuff like that," the 34-year-old told CNN from the roadside after the hurricane had caused widespread disruption along the east coast of the U.S.
New York divided over marathon plans
"It has certainly made it more interesting. I imagine the fine people of New York will show their character and come out and represent. I'm sure it will be a special occasion."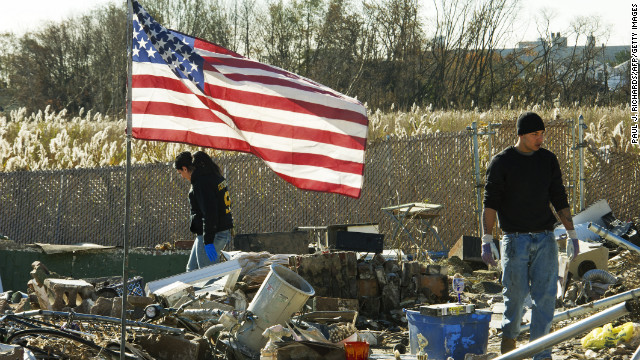 Friends and members of the Puglia family sift through the remains of their missing home for valuables on November 6, 2012, after Hurricane Sandy hit Staten Island, New York. View photos of New York preparing for Sandy.
A part of a house that floated off its foundation during the storm now sits in the middle of a coastal estuary in the Oakwood Beach area of Staten Island.
New York City police officers and a resident warm up in front of a fire in a blacked-out area of Oakwood Beach on Staten Island.
A woman looks through a sand covered parking lot used as a donation center on November 5 in the Rockaway neighborhood of the Queens borough of New York City.
Volunteers who call themselves the Broad Channel Police Department help clean a neighbor's damaged house.
People wait in line for food at a distribution center at Coney Island.
A dump truck empties trash collected from homes damaged by Superstorm Sandy on Saturday, November 3, in the Midland Beach neighborhood of Staten Island, New York. New York is trying to clean up and resume normal activities days after the storm hit.
A volunteer places donated clothing in plastic bags to protect it from potential rain at a relief center on Saturday in Midland Beach.
A damaged chair sits on the beach in low-lying Coney Island on Saturday.
A man salvages a set of drums at Rockaway Beach in Queens, New York, on Saturday. Most of the Rockaway Peninsula remains without power.
People gather among debris from Superstorm Sandy and boxes of donated goods on Saturday in Rockaway Beach.
Boats that were swept aground during Sandy sit against homes near a marina on Staten Island on Friday, November 2.
Eddie Liu uses a broom to clean up mud and water from a flooded coin laundry in Coney Island on Friday.
Michelle Dumas hugs her daughter Olivia to warm her up as they wait in an hours-long line for gas at a station Friday on Staten Island.
Men try to clean up the destruction in a flooded deli in Brooklyn, New York, on Friday.
Members of the Traina family on Friday sort through photographs and other personal items from their Staten Island home that was destroyed by Superstorm Sandy.
In the aftermath of Superstorm Sandy, replacement power utility poles are transported along Old Country Road on Friday in Plainview, New York.
Abandoned and flooded cars are piled up on Friday, November 2, in the heavily damaged Rockaway neighborhood, in Queens, where a large section of a landmark boardwalk was washed away.
Food trucks and men selling bread and cheeses line Broadway at Union Square on Friday in New York as the city recovers from the effects of Superstorm Sandy.
Debris piles up near the foundations of the iconic boardwalk, which was washed away in the Rockaway neighborhood in Queens.
A man rides his bike through the heavily damaged Rockaway neighborhood.
Matthew Mark Meyer, left, and Annie Barwick, center, sit in a darkened Randolf Beer Restaurant which is using generator power to reopen on Friday in New York City.
People walk through the heavily damaged Rockaway neighborhood.
Commuters pack into a train on Thursday in New York City. Limited public transit has returned to the city, where 14 of 23 subway lines are running.
Commuters ride the subway. Public transit is operating in New York City, but travel times are long, up to five hours in some cases.
A police officer directs passengers waiting on Thursday to board city buses into Manhattan at the Barclays Center in Brooklyn. About 4,000 buses are replacing the subway lines still closed by Superstorm Sandy damage.
Thousands of people wait to board city buses into Manhattan, and some subway lines remain underwater. Getting water out of the tunnels is "one of the main orders of business right now," Gov. Andrew Cuomo said Thursday.
A police officer directs traffic entering the Brooklyn Queens Expressway into Manhattan.
A police officer checks cars entering the Brooklyn Queens Expressway to confirm that they have three occupants before allowing them to cross into Manhattan on Thursday. Limited public transit has returned to New York, and most major bridges have reopened. However, vehicles must have three occupants to pass.
Parts of lower Manhattan are still without electricity on Thursday. Superstorm Sandy, which made landfall along the New Jersey shore on Monday, October 29, left much of the Eastern Seaboard without power, including much of Manhattan south of 34th Street.
Residents of New York City's East Village enjoy a bonfire on Wednesday, October 31.
East Village residents charge their phones with power from a generator on Wednesday.
Traffic snarls in New York City on Wednesday. Residents and businesses across the Eastern Seaboard are attempting to return to their daily lives in the aftermath of Superstorm Sandy.
A Caring Foundation worker hands out food to residents of the heavily damaged Rockaway section of Queens on Wednesday.
Water floods streets in the Rockaway section of Queens on Wednesday.
Traders stand outside of the New York Stock Exchange in New York on Wednesday. Stocks advanced as U.S. equity markets resumed trading for the first time this week after the storm.
A man surveys damage on Wednesday, October 31, in the Rockaway neighborhood of Queens, New York, where the historic boardwalk was washed away during Superstorm Sandy.
Residents walk with their belongings through the Rockaway section of Queens on Wednesday.
The remains of homes burned down in Rockaway are seen Wednesday, a day after an inferno spread across the flooded neighborhood.
Firefighters continued to survey the damage in Rockaway on Wednesday. At least 80 homes were destroyed.
People wait for buses on Sixth Avenue in New York on Wednesday as New Yorkers cope with the aftermath of Hurricane Sandy.
People attempt to squish into a crowded bus on First Avenue in New York on Wednesday.
Con Edison crew members work on a steam pipe on First Avenue on Wednesday.
The foundations to the historic Rockaway boardwalk in Brooklyn are all that remain after it was washed away Wednesday during Hurricane Sandy.
People walk to work Wednesday on a normally busy street near the New York Stock Exchange.
Traders work on the floor of the New York Stock Exchange on Wednesday after it had been closed for two days.
Commuters arrive in Manhattan by ferry from Jersey City, New Jersey, on its first day back in business after Sandy.
CNN iReporter Jordan Shapiro captured this view of the Williamsburg Bridge in New York at 11 p.m. on Tuesday, October 30. Half of the bridge and Brooklyn is lit, while the Manhattan side and the surrounding part of the island remain shrouded in darkness.
A subway station and escalator sit underwater in New York on Tuesday.
Much of the New York City skyline sits in darkness Tuesday evening after damage from Superstorm Sandy knocked out power. About 6.9 million customers are without power in 15 states and the District of Columbia, according to figures compiled by CNN from power companies.
New York City Mayor Michael Bloomberg, center, views the damage Tuesday in the Breezy Point neighborhood of Queens, where a fire broke out during Superstorm Sandy and destroyed at least 80 homes.
A resident looks through the debris of his destroyed home in Breezy Point, Queens, on Tuesday.
Burned-out vehicles and destroyed homes line a street in Breezy Point, located on the western end of the Rockaway peninsula in New York.
A fire continues to burn Tuesday in the remains of a structure that was destroyed by the Breezy Point blaze.
A New York City man hands a dog to first responders while being evacuated on Tuesday.
A bartender at the International Bar in the East Village neighborhood of New York City makes drinks in the dark on Tuesday as electricity remains out for many in the city.
Water floods the Plaza Shops in New York, in the wake of Superstorm Sandy, on Tuesday, October 30.
Con Edison employees monitor the drainage of water being pumped out of Seven World Trade Center in the Financial District of New York on Tuesday.
Onlookers watch a construction crane dangling from a $1.5 billion luxury high-rise after collapsing in high winds.
The construction crane dangles from a high-rise in midtown Manhattan.
Ramiro Arcos clears debris from a storm drain in the Financial District of New York after Sandy swept through the city.
A couple walks in the rain Tuesday, with the East River and the Lower Manhattan skyline as a backdrop.
The Manhattan skyline remains dark after much of the city lost electricity in the storm.
Cars float in a flooded below-street-level parking area in the Financial District on Tuesday.
People take a Tuesday morning walk on the Brooklyn Bridge, which remains closed to traffic after the city awakened to the storm damage.
A car sits crushed by a tree in the Financial District on Tuesday. Photos: New York braces for Sandy.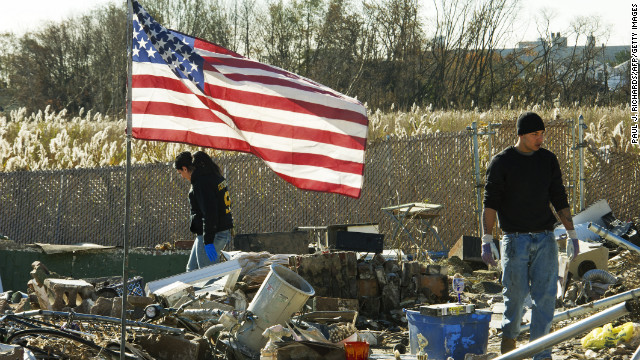 Photos: New York recovers from Sandy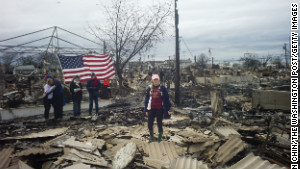 How does Sandy affect your finances?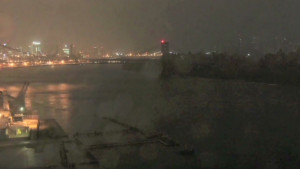 NYC time-lapse shows storm hit
The superstorm has claimed more than 140 lives across North America and the Caribbean, but that has not deterred Chataway as he moves closer to the final 26.2 miles of his task.
"I think people thought we were daft when we said we were going to cycle from Boston to New York, but now they know why, as we couldn't have flown to New York," he said after arriving in the U.S. on Tuesday.
"There hasn't been too much of a chance to get a sense of people. Obviously it is all over the news and I think people, especially here on the eastern seaboard, are a little bit shellshocked."
His global quest began in South America on October 7 with the Buenos Aires marathon. He has since completed a punishing schedule which included races in Australia, Jordan, Kenya and the Republic of Ireland.
The long road Chataway has traveled began in 2006 when his bride-to-be Vicky was killed in a cycling accident on her way home from work in London.
Adam established "Vicky's Water Project" in her memory to help bring clean water to a region of Ethiopia.
"I was fortunate enough to get a lot of time off work and I wanted to do something worthwhile with it," explains Chataway.
"I worked with the charity ActionAid to establish a project in Ethiopia, which is now up and running. As a result of that being set up, children no longer need to spend all day collecting water. So there's now a shortage of classrooms."
The shortage gave birth to Chataway's latest fundraising venture, which he hopes will generate enough money to build four classrooms in the Lera Town area of Ethiopia.
He set off with the aim of raising £10,000 ($16,000), but he is close to doubling that figure. To date, Chataway has collected around £18,000 in his "adventure of a lifetime."
New York after Sandy: A tale of two cities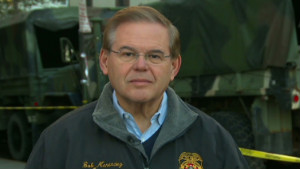 Menendez: No politics in Obama visit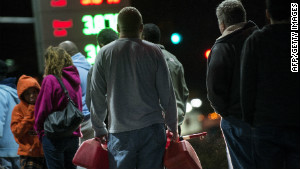 Long gas lines in Northeast after Sandy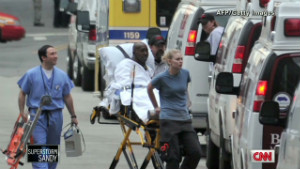 Learning from Sandy hospital evacuations
Chataway comes from a family with running pedigree -- his father Christopher is a former 5,000 meters world record-holder and was a pacemaker when fellow Briton Roger Bannister became the first man to run one mile in under four minutes in 1954.
"I wanted to do every marathon close to the three hours and 45 minutes target," Adam said.
"I thought it was pushing myself close to the limit while also being able to sustain it. All of them have been there or thereabouts, my legs have held up to the rigors of it."
Chataway met that target and went on to achieve something even his father and the great Bannister would have struggled with.
In his schedule, the Nairobi and Dublin Marathons were numbers four and five respectively, which presented a problem. The two races were on consecutive days and being staged on different continents.
"The Nairobi marathon was at seven on Sunday," he explains. "I went to the start line in the knowledge I was up against the finest marathon-running nation on the planet, so knew I was on a bit of a hiding to nothing.
"I daubed myself down with a wet wipe, much to the disappointment of my fellow passengers on the five-hour flight from Nairobi to Abu Dhabi.
"I had six hours on the ground there and just tried to get as much water as I could and some food inside me and stretch my legs. I took off from there at 2:30 a.m. and landed in Dublin at 6:45 a.m.
"I got changed at the airport, met friends and family at the start line and I managed to get around the Dublin marathon in three hours and 38 minutes on slightly weary, but thankfully forgiving, legs."
So with just New York left to tick off on this testing trip, what is next for this Running Man?
"Sleep and beer," he replies. "In London."
Opinion: Jersey Shore, I'll miss you