Police launch hunt for 'racist' Chelsea fan
updated 2:31 PM EDT, Thu November 1, 2012
STORY HIGHLIGHTS
Police launch investigation into allegations of "racist gesture" by Chelsea supporter
Supporter photographed in British national newspaper making alleged gesture
Manchester United striker Danny Welbeck appeared to be the target of alleged abuse
Chelsea promise to "take the strongest possible action, including criminal prosecution"
(CNN) -- English football's battle to eradicate racism suffered another blow on Thursday as police launched an investigation into allegations that a Chelsea supporter made a racist gesture towards a Manchester United player.
A photo of the fan making a "monkey" action, which appeared to be targeted at United's Danny Welbeck during a League Cup match that Chelsea won 5-4, was published in a British newspaper Thursday
Chelsea has launched its own investigation into the matter and has already promised to assist the police in any way possible.
A statement from the Metropolitan Police read: "Today, Thursday, November 1, police have received a complaint regarding alleged racist behavior at Stamford Bridge last night, Wednesday, October 31.
"An investigation has been launched. There have been no arrests and enquiries continue."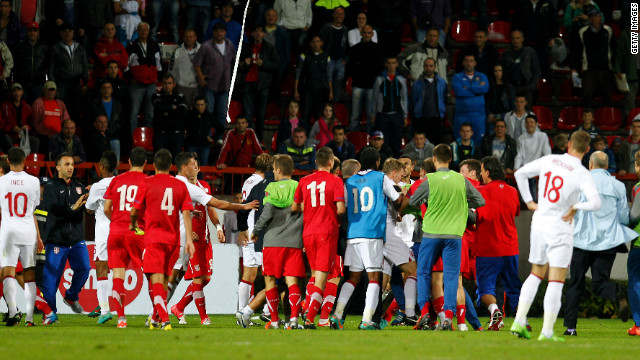 England midfielder Danny Rose claims he was subjected to monkey chants before, during and after the second-leg of their Under-21 Euro 2013 playoff match against Serbia on Tuesday, and had stones thrown at him by the crowd in Krusevac. Fans also ran on to the pitch and scuffles broke out after a 1-0 win secured England qualification for Euro 2013.
The Macedonia FA were fined $26,000 after fans racially abused England trio Ashley Cole, Sol Campbell and Emile Heskey during a qualifying game for Euro 2004.
In September 2011, Bulgaria were fined $55,000 after a small number of fans directed monkey chants at England's Ashley Young, Cole and Theo Walcott during a Euro 2012 qualifier in Sofia.
Russia was hit with a $38,000 punishment after supporters made monkey noises towards Czech Republic defender Theodor Gebre Selassie during Euro 2012
The Croatian FA were ordered to pay a $16,000 fine after their fans were found guilty of "displaying a racist banner and showing racist conduct during the Euro 2008 quarter-final tie against Turkey.
Russia were again in the news for the wrong reasons at Euro 2012 and were fined $39,00 for "the setting off and throwing of fireworks by Russia spectators, displaying of illicit banners and the invasion of the pitch by a supporter," during the Euro 2012 tie against Poland. Russia was also fined $155,000 after clashes between supporters and police during and after their game against the Czech Republic.
Denmark's Nicklas Bendtner was given a one-match ban and a $126,000 fine after he lifted his shirt to reveal a betting company's logo on his underwear while celebrating a goal against Portugal in a Euro 2012 group game.
Porto were hit by a $27,000 fine after their fans were found guilty of subjecting Manchester City forward Mario Balotelli to monkey chants during a Europa League game in February 2012. It took UEFA six weeks to finally hand out a punishment. But questions were raised after UEFA also fined City $40,000 after the club were found guilty of coming back out on to the field of play late after the halftime interval.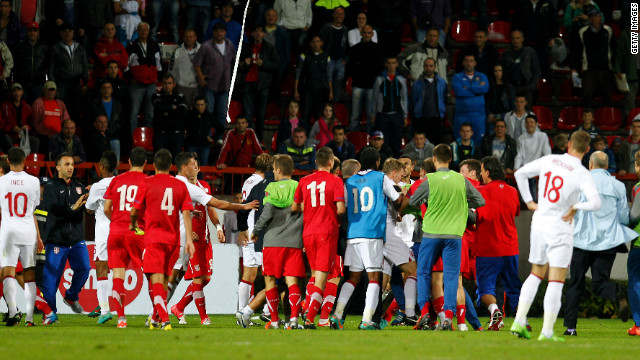 Soccer racism in Eastern Europe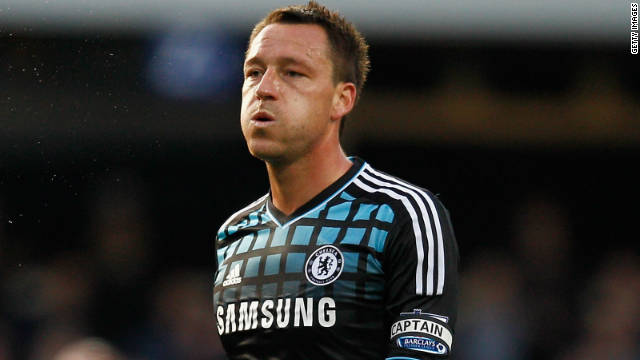 It is now nearly a year since Chelsea lost to QPR 1-0 in an English Premier League game at Loftus Road. During the game it was alleged QPR defender Anton Ferdinand swore at John Terry and made reference to the Chelsea captain's reported affair with the ex-partner of former team-mate Wayne Bridge. Terry is then said to have described Ferdinand as a "f***ing black c***".
In July, Terry was cleared in a London court, where the criminal burden of proof is "beyond all reasonable doubt". But the English Football Association then investigated the case, and using the test of "on the balance of probabilities", came to the conclusion that Terry's defence against claims he racially abused Ferdinand was "improbable, implausible, contrived".
Back in September, Ferdinand had declined Terry's offer of a handshake when QPR met Chelsea at Loftus Road as the feud between the two players rumbled on.
After the FA delivered the independent commission's report on the Terry case, the Chelsea captain's teammate Ashley Cole tweeted: "Hahahahaa, well done #fa I lied did I, #BUNCHOFT***S". The Chelsea and England left-back quickly issued a "unreserved apology" for his tweet through his solicitor.
In 2011 the FA had to deal with another racism case, this time handing Liverpool striker Luis Suarez an eight-match ban and a $63,000 fine after finding the Uruguayan guilty of racially abusing Manchester United defender Patrice Evra.
Suarez and Evra failed to shake hands before the start of an English Premier League game at Old Trafford last season after the Uruguayan had served his ban. However, when United beat Liverpool 2-1 at Anfield in September, the pair did shake hands.
Questions have been raised about UEFA's sanctioning policy. Denmark striker Nicklas Bendtner was fined $126,000 and banned from playing in his side's next competitive game for flashing his sponsored waistband promoting a bookmaker as he celebrated a goal against Portugal in Euro 2012. But that fine eclipsed the $52,000 fine that UEFA handed to the Bulgarian Football Union for its fans' racist abuse of England players during a Euro 2012 qualifier in Sofia in September 2011.
In November 2011, FIFA president Sepp Blatter told CNN that football did not have a problem with racism on the field and any incidents should be settled by a handshake.
The FA's Independent Regulatory Commission heard 473 cases between December 2010 and December 2011, but only two of them ended in "not guilty" verdicts.
Stoke City boss Tony Pulis wants the Football Association to punish Liverpool's Luis Suarez for diving. "It's an embarrassment," said the Stoke manager after a 0-0 draw at Anfield. "The FA should be looking at this."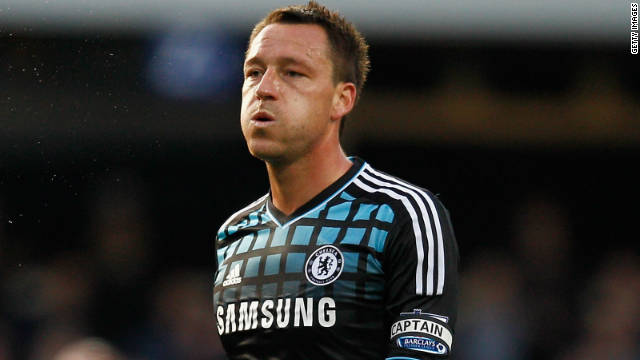 Crime and Punishment in sport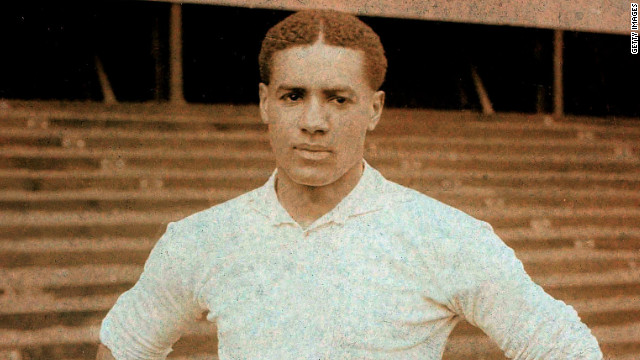 Walter Tull became the first black outfield player to play in the English top flight when he signed for Tottenham Hotspur in 1909. Tull was the subject of racist abuse, with one particular match against Bristol City leading to Tottenham selling him to Northampton Town.
Tull had joined Spurs -- he is pictured here with his Spurs teammates sitting in the front row to the very right -- after helping Clapton F.C. win the Amateur Cup, London Senior Cup and London County Amateur Cup. He made his debut for Spurs at the age of 21.
The First World War broke out in 1914, with Tull signing up to the 17th Service Battalion of the Middlesex Regiment, otherwise known as The Football Battalion. He became the first black officer to lead troops into battle, although he was never officially recognized. Tull was fatally wounded by machine gun fire in the French town of Favreuil in 1918.
A play telling Tull's story is set for a run at Bolton's Octagon theatre, beginning on February 21. Nathan Ives-Moiba (left) will play Tull and he is pictured here with the Octagon's artistic director David Thacker (right). The pair are pictured alongside former footballer Fabrice Muamba, who suffered a cardiac arrest on the pitch while playing for Bolton Wanderers earlier this year.
Parallels have been drawn between Tull's plight and that of Danny Rose, who claimed he was subjected to racist abuse during an England Under-21 match in Serbia last week. European football's governing body UEFA are investigating the matter.
Rose claims he was subjected to monkey chants before, during and after the match against Serbia and had stones thrown at him by the crowd in Krusevac. Fans also ran on to the pitch and scuffles broke out after a 1-0 win secured England qualification for Euro 2013.
Last weekend Reading's Grenadian striker Jason Roberts, who has played in England for the last 15 years, was one of a number of black players who refused to wear the Kick It Out T-shirt in protest at what he perceives to be the campaign group's lack of action in combating racism in football.
Rio Ferdinand was another player who opted not to wear the Kick It Out T-shirt. The Manchester United defender is reportedly involved in talks to set up a separate black footballers' association.
Andrew Watson is another pioneering black footballer. In 1881 he became the first black international player when he represented Scotland in a match with England.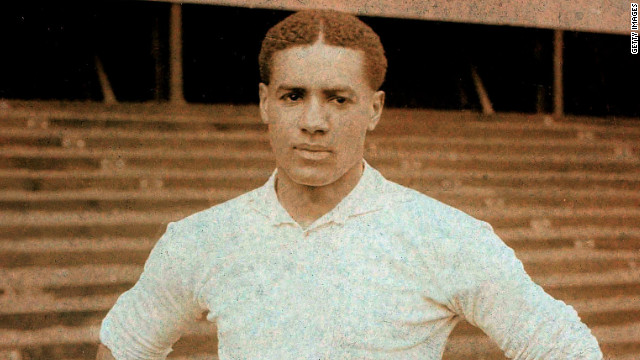 Walter Tull: Black footballing pioneer
The incident follows Chelsea's claim that a referee made racial comments to one of the club's players during Sunday's 3-2 home defeat by United -- a controversial match in which the Premier League-leading team had two men sent off.
Chelsea lodge Clattenburg complaint
On Wednesday, Chelsea confirmed it had lodged a formal complaint with the Football Association after alleging that official Mark Clattenburg had used "inappropriate language towards John Obi Mikel.
Now the club has stated that it will take "the strongest possible action" against the supporter involved in Wednesday's incident.
"Chelsea Football Club can confirm we are investigating an incident involving a member of the crowd at last night's game against Manchester United," a spokesman said.
"The club will be examining all available footage and asks anyone who can identify the individual to contact the club.
"Chelsea FC is committed to removing all forms of discrimination and if we have sufficient evidence we will take the strongest possible action, including supporting criminal prosecution."
Police to investigate 'racist' referee in Chelsea case
Chelsea banned a supporter for life in March after finding them guilty of racially abusing the club's former striker Didier Drogba.
Club captain John Terry is currently serving a four-match domestic suspension after the FA found him guilty of racially abusing Queens Park Rangers defender Anton Ferdinand despite the former England international having been earlier cleared in court.