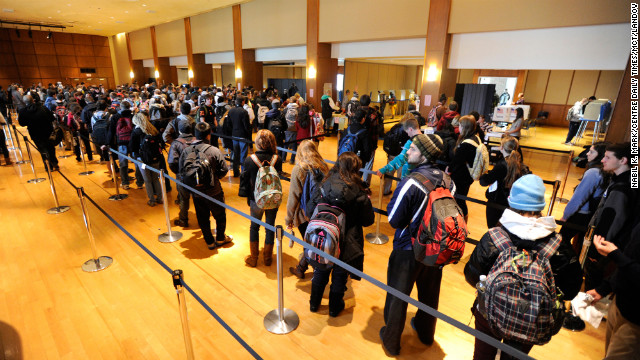 Penn State students wait in line to vote in the student union building on the State College, Pennsylvania, campus on Tuesday.
Voters cast their ballots in Mansfield, Texas.
A man exits a voting booth at a fire station in Point Pleasant, New Jersey. As the New Jersey coastline continues to recover from Superstorm Sandy, numerous polling stations have had to merge and relocate due to storm damage and power outages.
Samantha Pelletier shows off her voting sticker outside Bristol's old Town Hall.
A man votes inside the Town Hall in Franconia, Minnesota.
Adults of the Uddin family, originally from Bangladesh, vote together at the Hightower Elementary School polling site in Doraville, Georgia.
An elderly women casts her vote at Salem Baptist Church in Sparta, Virginia.
A sign directs disabled voters to a polling site entrance at the Graham & Parks School in Cambridge, Massachusetts.
People line up to cast their ballots at the Martin Luther King Jr. Memorial Library in Washington, D.C.
Kezia Gipson, 3, waits with her grandparents Doris Ross and Freddie Irvin in a voting line at the International Longshoremen's Association Office in Ft. Lauderdale, Florida, on Tuesday.
A man puts on an "I Voted" sticker after casting his ballot in Otter Creek, Iowa, on Tuesday.
A voter's shadow appears on the wall as he arrives at a Phoenix, Arizona, polling station Tuesday.
Robert Palmer, left, and Pat Payne wait in line to cast their vote at Mount Pleasant Baptist Church in Kansas City, Missouri.
Horse Gall precinct clerk David Smith talks with poll worker and daughter-in-law Charlene Smith at the home of his father, Vincent Smith, in Varnville, South Carolina. The precinct's polling place is in the elder Smith's den.
Three-term Democratic congressman and U.S. Senate candidate Chris Murphy casts his vote with his 1-year-old son Rider at Cheshire High School in Cheshire, Connecticut.
A woman walks out of a polling place after voting in South Jordan, Utah. The Jordan River Utah Temple of the Church of Jesus Christ of Latter-day Saints is visible in the background.
A voter casts her ballot in the gymnasium of Douglas Elementary School in Raleigh, North Carolina.
Gaberyel Chandler casts his vote with the help of safety patrol officer Cheyenne Roberts during a mock presidential election Tuesday at Emerald Shores Elementary School in Ocala, Florida.
A carved pumpkin greets voters at Hinkle Fieldhouse in Indianapolis, Indiana.
Kaira Ray watches as her grandmother Theresa Bigl votes at the old Town Hall in Bristol, New Hampshire.
A poll worker directs people to a temporary polling center in the Coney Island section of Brooklyn, New York. Polling sites in Coney Island and the surrounding area were damaged during Superstorm Sandy.
Amy O'Neill, left, and Michelle Nowakowski show off an "I Voted" sticker on their Boston terrier Penny in Milwaukee, Wisconsin.
Voters cast their ballots at Dunbar High School in Washington, D.C.
People cast their ballots inside a decorator's garage in South Philadelphia on Tuesday.
A person votes at George Mason University in Fairfax, Virginia.
A jogger on The Strand in the Los Angeles area community of Hermosa Beach passes a directional sign to a polling place at sunrise Tuesday.
Darrick West stands at a voting booth at Salem Baptist Church, on Tuesday in Sparta, Virginia.
A voter takes a moment to read a paper ballot before casting her vote on Chicago's Northside.
Voters mark paper ballots at Halloran Skating Rink in Cleveland, Ohio.
Derrick Banks wears an "I Voted" sticker on his forehead after casting his ballot in Chicago.
Mitt Romney and his wife, Ann, kiss after casting their votes in Belmont, Massachusetts.
Republican vice presidential candidate U.S. Rep. Paul Ryan and his family head to the polls in Janesville, Wisconsin.
An election worker helps President Barack Obama as he votes early at the Martin Luther King Community Center in Chicago on October 25.
Vice President Joe Biden, center, heads toward the voting booth in Greenville, Delaware.
Stickers for voters are seen at Tremont Elementary School in Cleveland, Ohio.
Voters line up to cast their vote at the Boston Public Library in Romney's home state of Massachusetts.
Citizens wait in line at a polling station in a senior appartment complex in Chicago.
A citizen votes at Carleton Middle School in Sterling Heights, Michigan.
Voters line up at the Mount Pleasant Library early Tuesday in Cleveland, Ohio.
Voters in Dixville Notch, New Hampshire, wait to cast the first Election Day ballots of the U.S. presidential race shortly after midnight. The village has opened polls early since 1960, but for the first time in its history, there was a tie. Obama and Romney each received five votes.
Voters wait outside the Johnson County election office in Olathe, Kansas, on Monday, November 5, the last day of early voting.
Residents of Ocean County vote in Toms River, New Jersey, on Monday. A special early mail voting arrangement allows residents of the areas affected by Superstorm Sandy to vote in person with a mail-in ballot on short notice.
Two-year-old Ariel Ferreras accompanies his mother, Erika, as she votes in Silver Spring, Maryland, on Friday, November 2. Voters in Maryland broke the state's record for early voting turnout.
Early voters fill out their ballots on the first day of early voting in Miami on October 27. Early voting in the swing state of Florida was held for eight straight 12-hour days.
Carol Braddock of Los Angeles casts her vote in Norwalk, California, on October 25.
Jalani Hervey, 5, waits with his grandmother, Victoria Gross, while she stands in line to cast a ballot during early voting in Milwaukee on October 22.
Election judges William Moeller, left, and Harry Sabin transfer ballots from a drop box outside of the library in Denver on October 22.
Phignora Brown, left, gets assistance from a polling station worker as she casts her ballot on the first day of early voting in Las Vegas on October 20.
Electronic voting authorization cards are returned at the East Las Vegas Community Center polling station on October 20.
A man uses a touch screen voting booth to cast his ballot on the first day of early voting in Washington on October 22.
Jaime Grant carries her 11-month-old daughter, Brynn, and holds her 3-year-old son Brian's hand as she casts her ballot during early voting in College Park, Georgia, on October 19.
A voter displays an "I Voted" sticker on her lapel after voting early in Wilson, North Carolina, on October 18.
Kalli Hannafious holds her daughter Averie as she signs in for early voting in Anchorage, Alaska on October 2.
Jerry Nagel fills in his ballot during early voting at the Black Hawk County Courthouse in Waterloo, Iowa, on September 27, the first day of early voting in the state.
Voters enter the polling site at StarBridge Christian Center in Wildwood, Missouri.
America heads to the polls
America heads to the polls
America heads to the polls
America heads to the polls
America heads to the polls
America heads to the polls
America heads to the polls
America heads to the polls
America heads to the polls
America heads to the polls
America heads to the polls
America heads to the polls
America heads to the polls
America heads to the polls
America heads to the polls
America heads to the polls
America heads to the polls
America heads to the polls
America heads to the polls
America heads to the polls
America heads to the polls
America heads to the polls
America heads to the polls
America heads to the polls
America heads to the polls
America heads to the polls
America heads to the polls
America heads to the polls
America heads to the polls
America heads to the polls
America heads to the polls
America heads to the polls
America heads to the polls
America heads to the polls
America heads to the polls
America heads to the polls
America heads to the polls
America heads to the polls
America heads to the polls
America heads to the polls
America heads to the polls
America heads to the polls
America heads to the polls
America heads to the polls
America heads to the polls
America heads to the polls
America heads to the polls
America heads to the polls
America heads to the polls
America heads to the polls
America heads to the polls
America heads to the polls
America heads to the polls
America heads to the polls
America heads to the polls