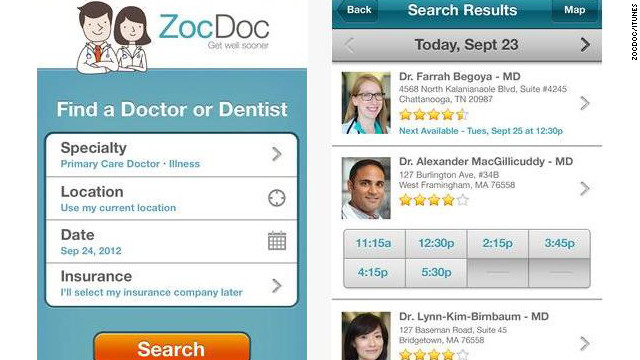 ZocDoc
: (free, zocdoc.com) ZocDoc's pitch is simple: letting users book doctor appointments quickly. Just enter your zip code and insurance information, click through available doctors and book. (iPhone, iPod Touch, iPad, Android)
Zombies, Run!
: ($7.99, zombiesrungame.com) Zombies, Run! takes an unconventional approach to cardio, putting users in the shoes of zombie survivors outrunning the apocalypse. There are more than 30 missions and the high price hasn't dampened online appetite for the app. (iPhone, iPod Touch, iPad, Android, Windows)
HealthTap
: (free, healthtap.com) HealthTap is a mobile health care Q&A station. Users can write and submit their own questions and then get an answer from a real-life doctor -- who is required to show proof of a valid medical license to register. (iPhone, iPod Touch, iPhone, Android)
Calorie Counter & Diet Tracker
: (free, myfitnesspal.com) MyFitnessPal has a database with more than 2 million foods, and touts its fast and easy exercise and diet entry, allowing users to keep track of calorie burning and calorie intake on the go. (iPhone, iPod Touch, iPad, Android, BlackBerry, Windows)
Stress Check
: (free, $1.99 upgrade: azumio.com) This app is both educational and diagnostic. it uses a one-step process -- place an index finger on the camera lens of your phone -- and then measures your stress level while supplying stress tips and tricks. (iPhone, iPod Touch, Android)
Sleep Cycle
: ($ 0.99, sleepcycle.com) This alarm keeps track of users' sleeping patterns and then creates a 30-minute window around a pre-set alarm. Within that window, the app can then wake you from the lightest phase of sleep, which is the natural waking point. Even better -- based on user reviews, it works. (iPhone, iPod Touch, iPod)
Insight Timer
: ($1.99, spotlightsix.com) With the sounds of Tibetan singing bowls as background noise, Insight Timer allows users to track their meditations, is customizable to individual mediatation routines and rewards achievement with insight "milestones." (iPhone, iPod Touch, iPad)
Pocket Yoga
: ($2.99, pocket-sports.com) A mobile guide to yoga, Pocket Yoga is customizable according to three different practices, difficulties and durations, all created by Gaia Flow Yoga. Pose instructions come complete with voiceover, and users can swap out the default music for their own libraries. (iPhone, iPod Touch, iPad)
Food on the Table
: (free, foodonthetable.com) This recipe-builder and shopping aid is rich with features. Users can search recipes, pre-fill their grocery lists, browse store discounts and coupons and even search for meal ideas with what's already on hand in the fridge. (iPhone, iPod Touch, iPad, Android)
LifeKraze
: (free, lifekraze.com) Users post their fitness goals in 160-character posts, plus photos or links. They're also given 300 points a day to reward others' accomplishments. Points can be redeemed for product discounts or donated to charity. The point system encourages people to exercise and urge others to do likewise. (iPhone, iPod Touch, iPad)
ZocDoc
Zombies, Run!
HealthTap
Calorie Counter & Diet Tracker
Stress Check
Sleep Cycle
Insight Timer
Pocket Yoga
Food on the Table
LifeKraze