New Jersey coastal town turned to "devastation"
updated 7:46 AM EDT, Wed October 31, 2012
STORY HIGHLIGHTS
Rescuers dragged about 200 stranded people to safety
But many are left with damaged homes or tales of narrow espapes
It's just devastation everywhere," resident says
(CNN) -- Some of the destructive waters have receded in New Jersey's Toms River and the heavy lifting has begun.
Using boats, and trucks, rescuers dragged about 200 stranded people to safety away from the waterlogged town and the devastated barrier islands.
But many of those saved, in that coastal town in the footsteps of Manhattan, took with them not only their pets and whatever keepsakes they could muster. They take with them the memories of the savage night Sandy came.
Esther Sarabella and her mother found themselves trapped in their car with flood waters up to their necks Monday night.
Grueling recovery begins on the East Coast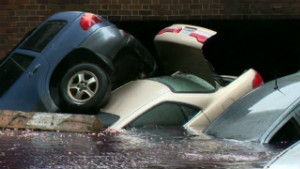 What Sandy left in its wake - Day 2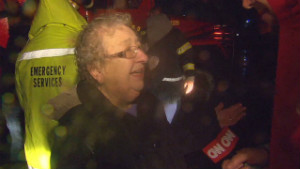 New Jersey's stranded rescued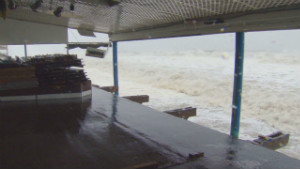 Waves lapping into New Jersey surf club
"You don't know, you don't know where to go, you're trying to get out of the window, you're up to your neck in water. It's freezing, the wind is blowing," said the still shaken woman. "I got a dog, I got my mother. You don't know what's going to happen. You see your life pass. You're in shock. Everybody's in shock. We never thought it was going to be this bad. Ever."
Hers is another tale of woe that came on the powerful winds of Superstorm Sandy. The storm rushed in Monday drenching the East Coast, flooding streets from North Carolina to Vermont. Millions are still left without power and the calamity spawned fires that torched dozens of homes in New York. At least 33 were killed in the United States after the same storm killed 67 in the Caribbean last week.
There were no deaths in Toms River, but still people there are telling their own tale of misery. Waters rose so high in some places that people had to be rescued from second floor windows.
"It was total chaos over there," Toms River patrolman Chris Raia said. "We had a complete breach over there. I don't think there was an area over there last night that was not covered by water."
Rescue efforts in Toms River and nearby Seaside were hampered by high waters. Late Tuesday there was a line of firetrucks, ambulances and other rescue vehicles waiting for the roadways to clear enough to search for others that could be stranded.
"One street away from me, houses have water coming in them," said Keith Paul, a resident. "Boats washed up in the middle of the highway. It's just devastation everywhere."
CNN's Michael Holmes contributed to this report.

Part of complete coverage on
Superstorm Sandy
updated 8:17 AM EST, Mon November 5, 2012

A mother learns that her newborn is part of a hospital evacuation. Facebook posts from a member of the HMS Bounty turn ominous. A man worries about the wind and rain, but another force of nature hits home.
updated 2:53 PM EST, Thu November 29, 2012

Tourists become volunteer rescue workers. The connected provide power outlets and Wi-Fi. Performers lift spirits. Photographers preserve images. Doctors work overtime to keep hospitals running and patients alive.

Get to know the victims of Superstorm Sandy through our interactive feature.
updated 10:42 AM EST, Fri November 30, 2012

It has been in operation only since October 30, but the Facebook page for "Giving back to those affected by Sandy" has a longer timeline than most Facebook members.
updated 3:07 PM EST, Sun November 25, 2012

It's important to remember that even as the effect of Superstorm Sandy recedes from the news, there are still devastated areas that are without electricity, heat or hot water.
updated 11:46 AM EST, Sat November 24, 2012

The rapper 50 Cent brought a little holiday cheer and Thanksgiving food to New Yorkers hit hard by Superstorm Sandy.
updated 12:10 PM EST, Wed November 21, 2012

Our AmeriCares "Operation Muck-Out" team immediately got to work, ripping out the interior walls and removing the insulation until only wooden beams were standing.
updated 12:19 PM EST, Tue November 20, 2012

Ashley Murray became the first female president of Liberty Industrial Gases and Welding Supplies Inc. in Brooklyn. But now the family history Murray was charged with preserving is at risk of ending after Superstorm Sandy.

Truckloads of donations from across the country, carrying everything from bottled water to diapers, are arriving at places of worship.
updated 12:16 PM EST, Tue November 20, 2012

The adage says "a picture is worth a thousand words," but when Leeann Lewandowski happened upon a photograph of her late mother on Facebook after her home was destroyed in Superstorm Sandy, she was speechless.
updated 12:52 PM EDT, Fri November 2, 2012

Roots ripped out of the ground as a large oak tree fell toward Olga Raymond's front door. With it came a power line.

iReporters share their photos, videos and stories of living in the path of the superstorm.