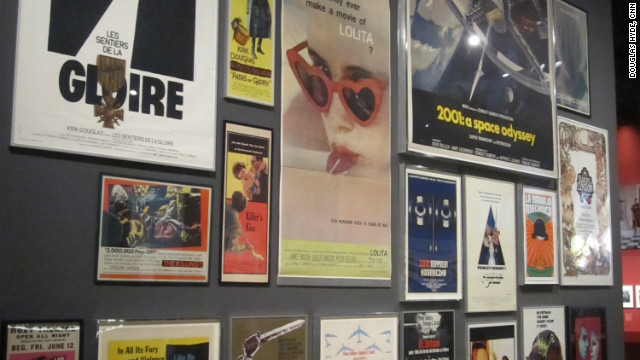 The Los Angeles County Museum of Art (LACMA) has a new exhibit on the life and work of legendary film director Stanley Kubrick. It opens on Thursday and features costumes, props and behind-the-scenes memorabilia from his groundbreaking films. CNN was granted a sneak peek.
An intensely private man and a meticulous and versatile director, Stanley Kubrick only made around a dozen feature films, but most are regarded as classics. He made one from this very chair. Note the boxes on either side used to hold scripts and notes.
This is the picture that changed Kubrick's life. When he was just 16 years old, the future director snapped this shot of a newsstand worker on the day of FDR's death. It led to a job as a photographer for Look Magazine, and a career in photography and filmmaking was born.
A scale model of the iconic war room in "Dr. Strangelove." During his first tour of the White House in 1981, President Ronald Reagan reportedly asked, "Where's the war room?" He was disappointed when told it only existed in Kubrick's dark Cold War comedy.
"Dr. Strangelove (Or How I Learned to Stop Worrying and Love the Bomb)" is quite a mouthful as far as movie titles go, and it was definitely different from the title of the novel it was based on, "Red Alert." But there were "stranger" candidates, as indicated by one of Kubrick's notebooks.
The survival kit issued to the bomber crew in "Dr. Strangelove." Note the teeny tiny red book containing not just the Holy Bible, but a useful list of Russian phrases as well.
The costume for "Moonwatcher," the ape from "the dawn of man" who threw that famous bone toward the heavens in Kubrick's sci-fi film, "2001: A Space Odyssey."
A creepy baby doll? No, it's just the working model of the "Star Child" seen at the end of "2001." What does the great big space fetus represent? Well... that's open to interpretation.
The costume for "Alex," the lead character -- and violence-prone delinquent -- in "A Clockwork Orange."
Kubrick insisted on attention to detail, as these realistic prop newspapers from "A Clockwork Orange" illustrate.
Kubrick turned his attention to the Vietnam War in "Full Metal Jacket." Among the film's artifacts on display are the glasses worn by the lead character, "Joker."
The character Jack Nicholson plays in "The Shining" went to the Overlook Hotel to get away from it all and write a book. But after spending some time at the haunted, spooky place, the only writing he produced was ... this.
The blue dresses worn by the ghostly twins of "The Shining" are just as chilling off the movie set.
LACMA sneak peek: Stanley Kubrick unveiled
Kubrick's director's chair
Kubrick's first picture for Look Magazine
Scale model of the 'Dr. Strangelove' war room
Kubrick's alternate titles for 'Dr. Strangelove'
'Dr. Strangelove' survival kit
Dawn of Man costume from '2001: A Space Odyssey'
'Star Child' model from '2001: A Space Odyssey'
'A Clockwork Orange' costume
Prop newspapers from 'A Clockwork Orange'
'Full Metal Jacket' artifacts
Jack Nicholson's typewriter from 'The Shining'
The spooky twins' costumes in 'The Shining'