Shark seriously injures California surfer
updated 8:25 AM EDT, Wed October 31, 2012
STORY HIGHLIGHTS
Unidentified man, 25, suffers life-threatening injury, sheriff's office says
Other surfers off Eureka shore rescue victim, take him to hospital
(CNN) -- A 25-year-old man suffered life-threatening injuries Tuesday when a shark attacked him while he was surfing in Eureka, California, local authorities said.
Other surfers pulled the injured man from the water, loaded him into a pickup truck and rushed him to a hospital before the local beach patrol could respond, the Humboldt County Sheriff's Office said.
A deputy who spoke with the victim as he was being taken to surgery said the man suffered a 14-inch bite wound and other, smaller wounds. The deputy did not specify what parts of the body were injured.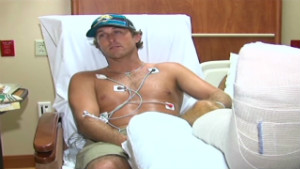 September: Shark bites surfer
The attack occurred shortly after noon off the North Jetty at Eureka's Bunker Surf Spot. Officials did not release the victim's name.
Surfer dies after shark attack off California air force base
Great white shark killed California surfer, officials say

Part of complete coverage on
CNN recommends
updated 8:17 AM EST, Mon November 5, 2012

A mother learns that her newborn is part of a hospital evacuation. Facebook posts from a member of the HMS Bounty turn ominous. A man worries about the wind and rain, but another force of nature hits home.
updated 4:19 AM EST, Thu November 8, 2012

President Barack Obama faces a lengthy and familiar set of challenges after riding a wave of support from moderates, women and minorities to a re-election victory.
updated 2:24 PM EST, Wed November 7, 2012

In a historic turnaround, the ballot box is showing America's shifting attitudes about same-sex marriage. The rights passed in at least two states.
updated 9:42 PM EST, Mon November 5, 2012

How far are consumers willing to go in their quest for homegrown goods? The answer might surprise you.
updated 1:03 PM EST, Tue November 6, 2012

For all of its expected action and drama, the new "Halo 4" boils down to an essential question: Are its central characters humans, machines or something in between?
updated 3:37 PM EST, Tue November 6, 2012

Lakota warrior Crazy Horse has long been a controversial figure, so perhaps it's only appropriate that his memorial follow suit.
updated 2:18 PM EST, Sun November 11, 2012

It may be one of the most-quoted lines in American literature -- and if you dare to quote it, you might have to pay.
updated 10:02 AM EST, Wed November 7, 2012

While the U.S. presidential election dominated coverage, news from across the world certainly hasn't stopped.
updated 1:05 PM EDT, Thu September 20, 2012

For their extraordinary efforts to help change the world and better the lives of others, 10 everyday people will receive $50,000 to continue their work.