Google maps Sandy flooding, power outages
STORY HIGHLIGHTS
Google assembles Sandy crisis map
Interactive map shares weather, storm surge, evacuation and other information
Users can toggle for as much or little data as they want
(CNN) -- Google has used its wealth of data to compile an interactive crisis map for massive storm Sandy, giving users up-to-date information about storm surges, power outages, shelters and evacuation routes.
The Superstorm Sandy 2012 map was assembled by Google's Crisis Response Team to help residents of the battered East Coast, as well as their families and friends elsewhere, track the storm's progress.
By toggling through various options, users can get information including:
-- Tracking data from the National Hurricane Center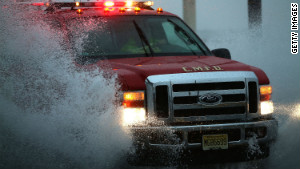 NJ governor: Sandy impact 'terrifying'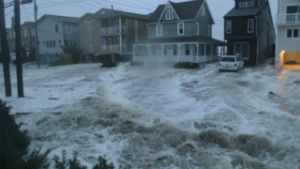 Massive waves wash over New Jersey homes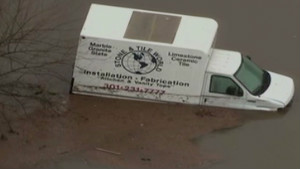 Raw Video: Maryland flooding
-- Alerts, evacuation notices and other announcements from Weather.com and the U.S. Geological Survey
-- Current radar and cloud images from the U.S. Naval Research Laboratory
-- Live cameras and YouTube videos of the storm being posted in specific areas
Superstorm Sandy's wrath: Deaths, flooding, outages - and no end in sight
By toggling through the options, users can display as many or as few of the pieces of data as they like at one time.
Google also has created a New York City-specific map, powered by NYC Open Data, which compiles information from city agencies and other organizations.
The map includes widgets that make it easy for users to share it via social media or embed it into their own websites or blogs.
Sandy, which was then a hurricane, crashed ashore Monday night, leaving 16 people dead and millions without power in 10 states and the District of Columbia.
The storm continued to churn through the northeastern U.S. Tuesday morning, bringing extreme weather conditions in a broad path that stretched from north Georgia all the way to Canada.

Part of complete coverage on
Superstorm Sandy
updated 8:17 AM EST, Mon November 5, 2012

A mother learns that her newborn is part of a hospital evacuation. Facebook posts from a member of the HMS Bounty turn ominous. A man worries about the wind and rain, but another force of nature hits home.
updated 2:53 PM EST, Thu November 29, 2012

Tourists become volunteer rescue workers. The connected provide power outlets and Wi-Fi. Performers lift spirits. Photographers preserve images. Doctors work overtime to keep hospitals running and patients alive.

Get to know the victims of Superstorm Sandy through our interactive feature.
updated 10:42 AM EST, Fri November 30, 2012

It has been in operation only since October 30, but the Facebook page for "Giving back to those affected by Sandy" has a longer timeline than most Facebook members.
updated 3:07 PM EST, Sun November 25, 2012

It's important to remember that even as the effect of Superstorm Sandy recedes from the news, there are still devastated areas that are without electricity, heat or hot water.
updated 11:46 AM EST, Sat November 24, 2012

The rapper 50 Cent brought a little holiday cheer and Thanksgiving food to New Yorkers hit hard by Superstorm Sandy.
updated 12:10 PM EST, Wed November 21, 2012

Our AmeriCares "Operation Muck-Out" team immediately got to work, ripping out the interior walls and removing the insulation until only wooden beams were standing.
updated 12:19 PM EST, Tue November 20, 2012

Ashley Murray became the first female president of Liberty Industrial Gases and Welding Supplies Inc. in Brooklyn. But now the family history Murray was charged with preserving is at risk of ending after Superstorm Sandy.

Truckloads of donations from across the country, carrying everything from bottled water to diapers, are arriving at places of worship.
updated 12:16 PM EST, Tue November 20, 2012

The adage says "a picture is worth a thousand words," but when Leeann Lewandowski happened upon a photograph of her late mother on Facebook after her home was destroyed in Superstorm Sandy, she was speechless.
updated 12:52 PM EDT, Fri November 2, 2012

Roots ripped out of the ground as a large oak tree fell toward Olga Raymond's front door. With it came a power line.

iReporters share their photos, videos and stories of living in the path of the superstorm.