Sandy is year's No. 2 topic on Facebook
STORY HIGHLIGHTS
Sandy has been the year's second most-talked-about topic on Facebook
As of 10 a.m. ET Tuesday, the most-shared term by U.S. users was "We are OK"
Connecticut had the highest rate of chatter about the storm
(CNN) -- Superstorm Sandy has been the year's second most-talked-about topic on Facebook, after the Super Bowl, according to data provided to CNN by the social network.
At its peak on Monday, Sandy scored an 8.34 on Facebook's "Talk Meter," which measures chatter about a news event on a scale of 1 to 10 when compared with a baseline. So far in 2012, Sandy trails only the Super Bowl between the New England Patriots and the New York Giants, which earned an 8.62 in February.
The year's other buzzed-about events on Facebook: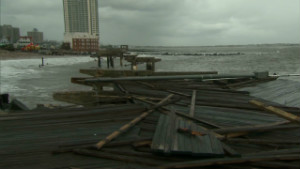 Sandy ravages Atlantic City boardwalk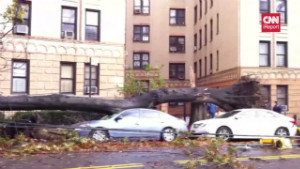 Superstorm aftermath from every angle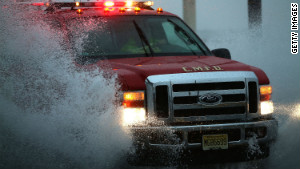 NJ governor: Sandy impact 'terrifying'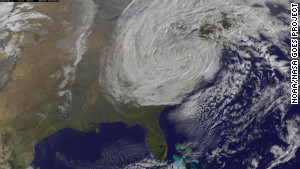 Junger: Sandy similar to perfect storm
• First presidential debate: 8.18
• Vice-presidential debate: 6.79
• Academy Awards: 6.74
• San Francisco Giants winning the World Series: 6.71
• Hurricane Isaac: 5.24
• Announcement of Rep. Paul Ryan as Gov. Mitt Romney's vice-presidential candidate: 5.21
Facebook's data show that men and women are talking about the storm in equal numbers and that older users -- those over 55 -- are chatting more about Sandy than younger ones.
People also are using Facebook to let their family and friends know that they survived the storm. As of 10 a.m. ET Tuesday, the most-shared term by U.S. users was "We are OK." Other top shared words and phrases included references to electrical power, damage and trees,and terms such as "made it," "safe" and "thankful."
Sandy prompts Facebook pleas: 'Stay safe'
Although Sandy made landfall in New Jersey, that state did not have the highest rate of chatter about the storm. That honor went to Connecticut, with New Jersey a close second.
The top 10 states in terms of Sandy chatter are:
1. Connecticut: 9.19
2. New Jersey: 9.16
3. New Hampshire: 9.12
4. Delaware: 9.02
5. Rhode Island: 8.98
6. New York: 8.96
7. Washington: 8.96
8. Massachusetts: 8.95
9. Maryland: 8.94
10. Pennsylvania: 8.92

Part of complete coverage on
Superstorm Sandy
updated 8:17 AM EST, Mon November 5, 2012

A mother learns that her newborn is part of a hospital evacuation. Facebook posts from a member of the HMS Bounty turn ominous. A man worries about the wind and rain, but another force of nature hits home.
updated 2:53 PM EST, Thu November 29, 2012

Tourists become volunteer rescue workers. The connected provide power outlets and Wi-Fi. Performers lift spirits. Photographers preserve images. Doctors work overtime to keep hospitals running and patients alive.

Get to know the victims of Superstorm Sandy through our interactive feature.
updated 10:42 AM EST, Fri November 30, 2012

It has been in operation only since October 30, but the Facebook page for "Giving back to those affected by Sandy" has a longer timeline than most Facebook members.
updated 3:07 PM EST, Sun November 25, 2012

It's important to remember that even as the effect of Superstorm Sandy recedes from the news, there are still devastated areas that are without electricity, heat or hot water.
updated 11:46 AM EST, Sat November 24, 2012

The rapper 50 Cent brought a little holiday cheer and Thanksgiving food to New Yorkers hit hard by Superstorm Sandy.
updated 12:10 PM EST, Wed November 21, 2012

Our AmeriCares "Operation Muck-Out" team immediately got to work, ripping out the interior walls and removing the insulation until only wooden beams were standing.
updated 12:19 PM EST, Tue November 20, 2012

Ashley Murray became the first female president of Liberty Industrial Gases and Welding Supplies Inc. in Brooklyn. But now the family history Murray was charged with preserving is at risk of ending after Superstorm Sandy.

Truckloads of donations from across the country, carrying everything from bottled water to diapers, are arriving at places of worship.
updated 12:16 PM EST, Tue November 20, 2012

The adage says "a picture is worth a thousand words," but when Leeann Lewandowski happened upon a photograph of her late mother on Facebook after her home was destroyed in Superstorm Sandy, she was speechless.
updated 12:52 PM EDT, Fri November 2, 2012

Roots ripped out of the ground as a large oak tree fell toward Olga Raymond's front door. With it came a power line.

iReporters share their photos, videos and stories of living in the path of the superstorm.