STORY HIGHLIGHTS
Police will investigate allegations of racial abuse by Premier League referee Mark Clattenburg
Clattenburg was in charge of Chelsea's 3-2 home defeat by Manchester United on Sunday
Society of Black Lawyers referred complaint to the police
Separate Football Association inquiry will run concurrently
(CNN) -- The racism row involving a Premier League referee could dominate English football headlines for some months, after police announced on Tuesday that they had launched an investigation into the incident.
Mark Clattenburg, who took charge of Chelsea's controversial 3-2 home defeat by Manchester United on Sunday, is alleged to have made "inappropriate" comments to two Chelsea players, one of which is claimed to have had a racial nature.
The footballers in question are midfielders John Obi Mikel of Nigeria and Juan Mata of Spain.
If the police inquiry escalates to a formal charge for Clattenburg, there is unlikely to be any ruling until well into next year.
It took nine months for John Terry to be cleared by a criminal court in London after the Chelsea captain was accused of racially abusing Queens Park Rangers defender Anton Ferdinand in October 2011.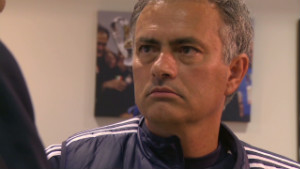 Mourinho: John Terry is not a racist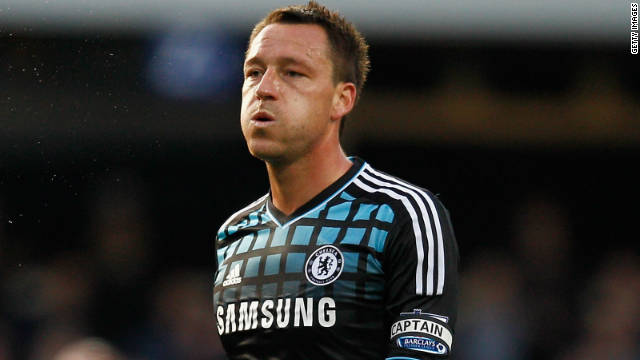 It is now nearly a year since Chelsea lost to QPR 1-0 in an English Premier League game at Loftus Road. During the game it was alleged QPR defender Anton Ferdinand swore at John Terry and made reference to the Chelsea captain's reported affair with the ex-partner of former team-mate Wayne Bridge. Terry is then said to have described Ferdinand as a "f***ing black c***".
In July, Terry was cleared in a London court, where the criminal burden of proof is "beyond all reasonable doubt". But the English Football Association then investigated the case, and using the test of "on the balance of probabilities", came to the conclusion that Terry's defence against claims he racially abused Ferdinand was "improbable, implausible, contrived".
Back in September, Ferdinand had declined Terry's offer of a handshake when QPR met Chelsea at Loftus Road as the feud between the two players rumbled on.
After the FA delivered the independent commission's report on the Terry case, the Chelsea captain's teammate Ashley Cole tweeted: "Hahahahaa, well done #fa I lied did I, #BUNCHOFT***S". The Chelsea and England left-back quickly issued a "unreserved apology" for his tweet through his solicitor.
In 2011 the FA had to deal with another racism case, this time handing Liverpool striker Luis Suarez an eight-match ban and a $63,000 fine after finding the Uruguayan guilty of racially abusing Manchester United defender Patrice Evra.
Suarez and Evra failed to shake hands before the start of an English Premier League game at Old Trafford last season after the Uruguayan had served his ban. However, when United beat Liverpool 2-1 at Anfield in September, the pair did shake hands.
Questions have been raised about UEFA's sanctioning policy. Denmark striker Nicklas Bendtner was fined $126,000 and banned from playing in his side's next competitive game for flashing his sponsored waistband promoting a bookmaker as he celebrated a goal against Portugal in Euro 2012. But that fine eclipsed the $52,000 fine that UEFA handed to the Bulgarian Football Union for its fans' racist abuse of England players during a Euro 2012 qualifier in Sofia in September 2011.
In November 2011, FIFA president Sepp Blatter told CNN that football did not have a problem with racism on the field and any incidents should be settled by a handshake.
The FA's Independent Regulatory Commission heard 473 cases between December 2010 and December 2011, but only two of them ended in "not guilty" verdicts.
Stoke City boss Tony Pulis wants the Football Association to punish Liverpool's Luis Suarez for diving. "It's an embarrassment," said the Stoke manager after a 0-0 draw at Anfield. "The FA should be looking at this."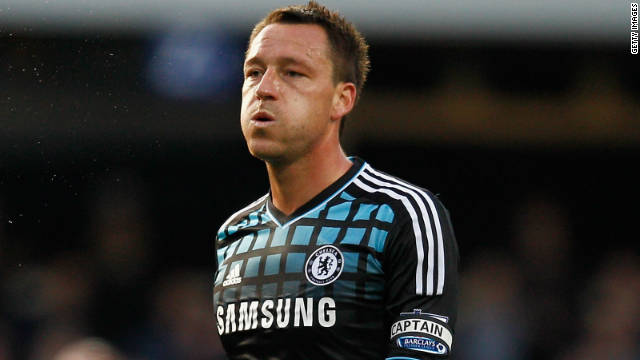 Crime and Punishment in sport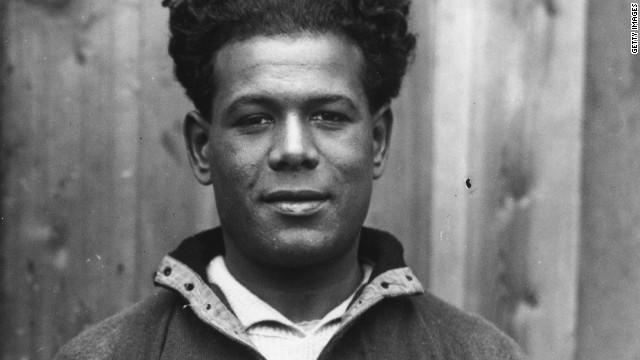 In the 1920s, Jack Leslie was denied the chance to represent England, the country of his birth, due to his Jamaican parentage. A forward at Plymouth Argyle, he was the only black player in England at the time.
Bermuda-born Clyde Best, pictured here in 1972, became the first black player to establish himself in the English top flight with London club West Ham United.
Best is seen here alongside West Ham legend Bobby Moore (center right) in the 1970s. Moore captained his country to World Cup glory when the competition was held in England in 1966.
Laurie Cunningham achieved fame as one of the "Three Degrees" at West Bromwich Albion, being part of a trio of black players also including Brendon Batson and Cyrille Regis. Cunningham became the first black player to represent England at any level when he played for the under-21 team in a friendly against Scotland in 1977. His talent earned him a big-money move to Spanish giants Real Madrid in 1979.
Viv Anderson won the English First Division and played a part in Nottingham Forest's two European Cup triumphs durng a glittering playing career. He is arguably most famous for becoming the first black player to represent the senior England team against Czechoslovakia at Wembley in 1978.
Anderson was one of just two black players in England's 1986 World Cup squad, alongside Jamaica-born winger John Barnes. In contrast, the 23-man England squad which traveled to the 2010 World Cup in South Africa contained eight black players.
Cunningham and Anderson were brought into the England fold by Best's former West Ham boss Ron Greenwood, who managed the national team between 1977 and 1982. Cunningham tragically died in a car crash in Madrid at the age of 33, while Anderson ended his playing career in 1995.
After spending seven years at West Bromwich Albion, England international Regis played for several other clubs in the midlands area of England. In 1984, he joined Coventry City before spending two years with Aston Villa. The powerful striker had a season with Wolverhampton Wanderers and eventually retired in 1996.
After spells at Arsenal and Cambridge United, Batson spent the majority of his career at West Brom. The Grenada-born defender was there between 1978 and 1982 before injury cut short his career. He later became an administrator with England's Professional Footballers' Association.
Midfielder Paul Ince built on the legacy of players like Cunningham and Anderson in 1993, when he became the first black player to captain England in a 2-0 friendly defeat against the U.S. In a career where he played for Manchester United, Liverpool and Inter Milan, he collected two league titles and a European Cup Winners' Cup medal.
The battle for black players to gain international recognition in England may have been a long one, but further north in Scotland a black footballer was paving the way over 100 years ago. Andrew Watson became the first black international footballer when he made his debut for Scotland in 1881, captaining his country to a thumping 6-1 victory against England.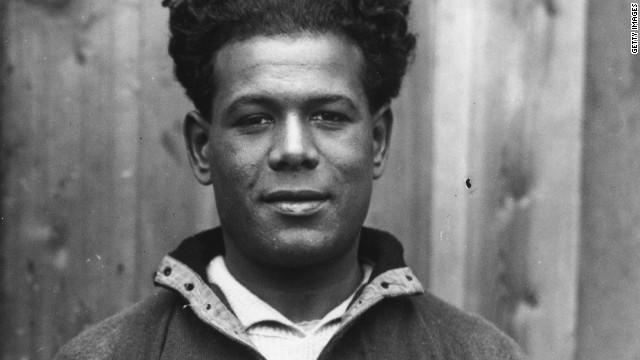 Black football pioneers in England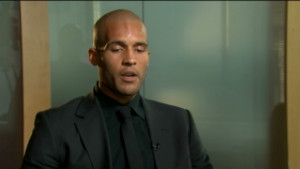 PFA chairman: Serbia should be banned
The English Football Association, which launched its own investigation into the Clattenburg affair on Monday, subsequently found Terry guilty of racial abuse, banning the 31-year-old for four matches as a result.
"An investigation has been launched into alleged comments made during a football match between Chelsea FC and Manchester United FC at Stamford Bridge on 28 October 2012," read the London police force statement.
"This follows on from a complaint received by the Metropolitan Police Service on 29 October.
"Officers ... are in liaison with Chelsea and the Football Association. At this time, the MPS has not received any complaint from either Chelsea or the Football Association."
Peter Herbert, a leading human rights barrister who chairs the Society of Black Lawyers and who has recently staged talks over a black footballers' association in light of recent racism scandals in the English game, says he made the complaint to the police.
"What we don't want is for it to be swept away under the carpet," he told British broadcaster Sky Sports. "It must be subject to a full and proper investigation. It is to lend some seriousness and some weight behind what is happening in football."
The FA's decision to run its own inquiry at the same time as the police investigation has been welcomed by Gordon Taylor, the chief executive of the Professional Footballers' Association, who is keen for the incident to be resolved far quicker than the Terry affair.
Meanwhile, Clattenburg, who refereed the Olympic Games football final in August and who has welcomed the FA inquiry, has been stood down from the elite panel of referees set to officiate Premier League games this weekend.
The 37-year-old has already filed what is known as an "extraordinary incident report," which is believed to deal with an alleged confrontation that took place in the referees' room after the final whistle.
The UK Press Association reported that Mikel accused Clattenburg of abusing him during the post-match conversation, which was observed by Chelsea manager Roberto Di Matteo, assistant manager Eddie Newton and chief executive Ron Gourlay.
On Tuesday, newspaper reports suggested that neither Mikel nor Mata heard any abusive comments but were informed of them later by their teammates.
Clattenburg and his three assistants were all wearing microphones and earphones, but FIFA rules do not permit the recording of such conversations as there is no provision for this in the laws of the game.