Teen charged in Jessica Ridgeway's grisly death
updated 3:56 PM EDT, Tue October 30, 2012
STORY HIGHLIGHTS
Austin Reed Sigg allegedly strangled and dismembered Ridgeway
Sigg is also charged with attempting to kidnap, sexually assault and murder a jogger
He's charged as an adult, a decision his lawyers could challenge
Police say Sigg confessed last week
(CNN) -- A 17-year-old student was formally charged Tuesday with the kidnapping, sexual assault and murder of 10-year-old Jessica Ridgeway, whose body parts were found at a park in a Denver suburb earlier this month.
Austin Reed Sigg, a student at Arapahoe Community College, was also charged with attempting to kidnap, sexually assault and murder a female jogger last May.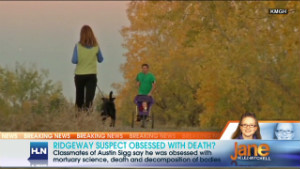 Ridgeway suspect obsessed with death?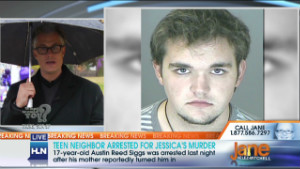 Teen arrested for Jessica's murder
The charges were outlined in a 17-count accusation filed by Jefferson County, Colorado, District Attorney Pam Russell Tuesday.
Sigg, who lived about one mile from Ridgeway's home in Westminster, was charged as an adult, a decision that could be challenged by his lawyers.
The teen was arrested a week ago and accused of strangling Ridgeway, dismembering her and placing some of her body parts in a crawlspace under his family's home.
Police first found parts of her body at a park 5 miles away five days after the bespectacled blonde girl disappeared while walking to Witt Elementary School on October 5.
The big break in the investigation came last Tuesday night, when Sigg's mother called 911 and handed him the phone. Sigg, police said, confessed.
Along with charges related to Jessica's death, Sigg is also accused in the May assault of a 22-year-old woman on a hiking trail.
Suspect in Jessica Ridgeway death made girls in the area uneasy
CNN's Shawn Nottingham contributed to this report.

Part of complete coverage on
CNN recommends
updated 8:17 AM EST, Mon November 5, 2012

A mother learns that her newborn is part of a hospital evacuation. Facebook posts from a member of the HMS Bounty turn ominous. A man worries about the wind and rain, but another force of nature hits home.
updated 4:19 AM EST, Thu November 8, 2012

President Barack Obama faces a lengthy and familiar set of challenges after riding a wave of support from moderates, women and minorities to a re-election victory.
updated 2:24 PM EST, Wed November 7, 2012

In a historic turnaround, the ballot box is showing America's shifting attitudes about same-sex marriage. The rights passed in at least two states.
updated 9:42 PM EST, Mon November 5, 2012

How far are consumers willing to go in their quest for homegrown goods? The answer might surprise you.
updated 1:03 PM EST, Tue November 6, 2012

For all of its expected action and drama, the new "Halo 4" boils down to an essential question: Are its central characters humans, machines or something in between?
updated 3:37 PM EST, Tue November 6, 2012

Lakota warrior Crazy Horse has long been a controversial figure, so perhaps it's only appropriate that his memorial follow suit.
updated 2:18 PM EST, Sun November 11, 2012

It may be one of the most-quoted lines in American literature -- and if you dare to quote it, you might have to pay.
updated 10:02 AM EST, Wed November 7, 2012

While the U.S. presidential election dominated coverage, news from across the world certainly hasn't stopped.
updated 1:05 PM EDT, Thu September 20, 2012

For their extraordinary efforts to help change the world and better the lives of others, 10 everyday people will receive $50,000 to continue their work.