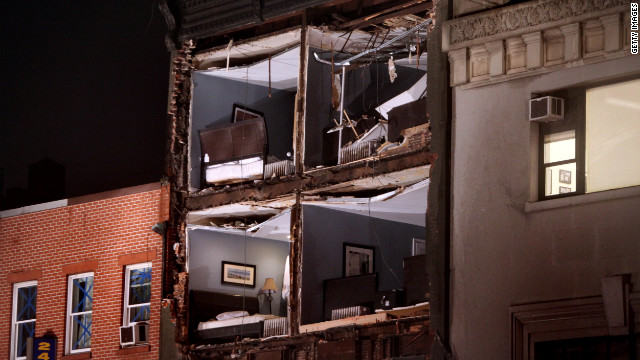 The facade of an apartment building collapsed on Monday, October 29, in the Chelsea neighborhood of Manhattan. Superstorm Sandy smashed ashore in the northeastern United States Monday night, triggering floods, fires and devastation.
See more photos of Sandy's destructive path.
Two men wade through the flooded streets of Brooklyn on Monday as Sandy made landfall.
Floodwater is pumped out of a building in the financial district of New York on Monday evening.
A pedestrian walks across a New York street where the power was out late Monday. The storm surge set records in Lower Manhattan, where flooded substations caused a widespread power outage.
Firefighters use a saw in an attempt to remove a partially collapsed door during the storm in New York on Monday.
Rising water rushes into an underground parking garage in New York's financial district on Monday.
A visitor does a cartwheel in the rain in New York's Times Square on Monday, October 29.
A construction vehicle drives through flooded streets in Brooklyn on Monday as Sandy makes its way north.
Firefighters evaluate an apartment building in New York City where the front wall collapsed due to Hurricane Sandy on Monday.
A police car looks out over Manhattan from near the Brooklyn Bridge as Sandy begins to affect the area on Monday.
People drink at a bar in New York's East Village during the stormy weather on Monday.
Empty toll booths remain closed on Monday at the Brooklyn Battery Tunnel in New York.
New York City firefighters and emergency workers view a collapsing crane hanging from a 90-story residential building in New York on Monday.
Part of a crane boom is seen hanging off a building under construction in Manhattan on Monday.
A car goes through standing water along FDR Drive as New Yorkers venture out into the stormy conditions on Monday, October 29.
A woman walks down the promenade along the East River in New York on Monday.
The Holland Tunnel in New York is closed due to Hurricane Sandy on Monday.
Motorists drive on FDR Drive along the banks of the East River in Manhattan on Monday before Hurricane Sandy makes landfall.
Two people cross the street near the closed Holland Tunnel on Monday as Hurricane Sandy moves up the coast.
The East River in New York churns as Hurricane Sandy approaches on Monday.
Workers close the Holland Tunnel before Hurricane Sandy makes landfall on Monday. New York Gov. Andrew Cuomo announced the closing of that tunnel, as well as the Brooklyn-Battery Tunnel, due to flooding concerns.
People pose outside the sandbagged entrance of the closed Fifth Avenue Apple Store on Monday.
A man walks near the Verrazano Bridge in Brooklyn as Hurricane Sandy moves in.
A woman watches waves crash onto a pier on New York's City Island on Monday. Residents were ordered to evacute the island.
A jogger runs along East River Drive near the Queensboro Bridge in New York City as a police car closed the area down on Monday.
The Hudson River comes over the seawall along the West Side Promenade in the Battery Park area of New York City on Monday.
A tourist stands in Times Square early Monday, October 29, as New Yorkers prepare to endure Hurricane Sandy.
A sailboat smashes on the rocks after breaking free from its mooring on City Island, New York, on Monday.
A security guard looks over Times Square on Monday.
A New York City police officer stands guard at the 42nd Street subway station in Times Square on Monday.
Dark clouds mask the Manhattan skyline as Hurricane Sandy approaches New York on Monday.
People walk across a rainy Brooklyn Bridge as New York City braces for Hurricane Sandy's arrival.
A man watches the waves in New York Harbor from Battery Park on October 29. The core of Sandy's force is supposed to hit the New York area Monday night.
A man runs to make the last Metro North Train as the last people are cleared out of Grand Central Station on October 28. The MTA began an orderly shutdown of commuter rail and subway service in preparation for Hurricane Sandy.
People pose for pictures on the Rockaway Beach Boulevard in Queens ahead of the storm on October 29.
The subway platform at Columbus Circle stands empty after the closure on October 28 due to the storm.
New York City police officers cordon off the subway entrance at Broadway and 72nd Street as the city shuts down public transportation ahead of the storm on October 28.
A pedestrian rides past fruit and vegetable stalls covered with tarps on Broadway on October 28.
New York braces for Sandy
New York braces for Sandy
New York braces for Sandy
New York braces for Sandy
New York braces for Sandy
New York braces for Sandy
New York braces for Sandy
New York braces for Sandy
New York braces for Sandy
New York braces for Sandy
New York braces for Sandy
New York braces for Sandy
New York braces for Sandy
New York braces for Sandy
New York braces for Sandy
New York braces for Sandy
New York braces for Sandy
New York braces for Sandy
New York braces for Sandy
New York braces for Sandy
New York braces for Sandy
New York braces for Sandy
New York braces for Sandy
New York braces for Sandy
New York braces for Sandy
New York braces for Sandy
New York braces for Sandy
New York braces for Sandy
New York braces for Sandy
New York braces for Sandy
New York braces for Sandy
New York braces for Sandy
New York braces for Sandy
New York braces for Sandy
New York braces for Sandy
New York braces for Sandy
New York braces for Sandy
New York braces for Sandy