Great Barrier Reef found to have thriving deep water coral
updated 2:23 AM EDT, Fri October 26, 2012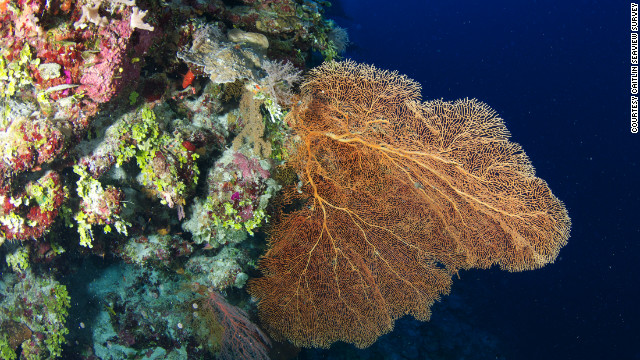 The Catilin Seaview Survey discovered healthy coral populations at depths below 30 meters on the Great Barrier Reef.
These healthy deep reefs are located directly under shallow reefs degraded by storms and other stresses including coral bleaching and invasive crown-of-thorns starfish plagues. The deep coral is often flat because of the lack of light at depth.
Remote operated vehicles (ROVs) were used to get to depths of around 100 meters, much deeper than normal scuba divers are able to go.
"At the moment we know little about the extent of larval movements between the shallow and deep reef, but we are seeing species that exist in both zones," said Pim Bongaerts.
The image shows damage inflicted on Beaver Reef, part of the Great Barrier Reef, by the crown-of-thorns starfish, a species native to Australia which feeds on coral.
Australia's unexplored deep reefs
Thriving in the deep
Roving submersibles
Coral survey
Shallow reef damage
STORY HIGHLIGHTS
Corals in deep water of Great Barrier Reef found to be thriving
Shallow reefs have been in serious decline in last 30 years
Deep-water survey has been exploring previously unstudied reefs
Deep corals could help those in shallower waters recover
(CNN) -- A recent survey of the Coral Sea and Great Barrier Reef has found coral flourishing in deep waters, a stark contrast to the shallower reefs that have seen a drastic decline over the last few decades.
The healthy coral populations were discovered to be below 30 meters -- beyond the usual reach of most scuba divers -- and even found at depths of 80 meters, according to the Catlin Seaview Survey.
"The Holmes and Flinders Reefs in the Coral Sea are renowned for having been badly damaged, said Pim Bongaerts, of the University of Queensland's Global Change Institute, who was leading the deep reef survey.
"Yet we have found their deep reef zone is hardly disturbed at all. In fact the most striking thing is the abundance of coral on the deep reef. What has blown me away is to see that even 70 to 80 meters down, there are significant coral populations."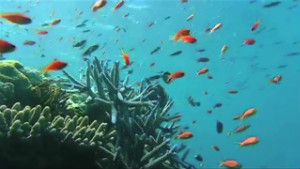 Great Barrier Reef's virtual dive
Earlier this month a report, by the Australian Institute of Marine Science (AIMS) and the University of Wollongong, revealed that the Great Barrier Reef had lost half its coral cover in the last 27 years.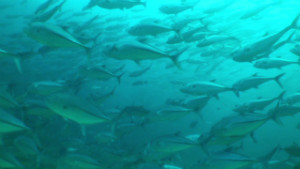 Community saves Mexican coral reef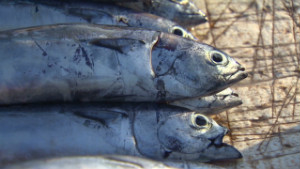 Impact of the live reef fish trade
Researchers say most of the damage to the shallower coral was wrought in recent years by a succession of powerful cyclones. Other threats that are hindering its ability to recover include the crown-of-thorns starfish, or COTS, a native species which feeds on coral, and coral bleaching that occurs when water becomes too warm.
The deep reef survey team used remote operated vehicles able to reach depths of 100 meters, giving scientists a new view of hitherto unexplored reefs.
"It is surprising in this day and age, that below some of the most well-known reefs, which are so popular with divers, there is an almost entirely unexplored world and as a result an enormous amount of science to be done," said Bongaerts.
So far the team has completed four of its ten planned surveys at areas along the length of the 2,300 kilometer-long reef system and outlying atolls.
Bongaerts believes that the deep-water reefs might be able to help the shallower ones recover, as they have been seen to live in both depths of water.
"At the moment we know little about the extent of larval movements between the shallow and deep reef, but we are seeing species that exist in both zones," he said.
"There are clear differences we're observing. Corals are much flatter, more plate-like than the branching and domed shapes seen nearer the surface. This is the corals responding to the reduced light conditions and spreading out to maximize their exposure to light. So far below the surface, the light is blue because all other parts of the spectrum have been filtered out. It is a monochrome world until you turn on strong lights to reveal amazing, beautiful, fantastic colors."

Part of complete coverage on
updated 9:30 PM EST, Sun January 20, 2013

Patricia Wu looks at efforts to combat food waste in Hong Kong.
updated 9:33 PM EST, Sun January 13, 2013

CNN's Pauline Chiou goes to Hong Kong's annual toy fair to find out about the growing market for eco-friendly toys.
updated 11:15 PM EST, Sun December 30, 2012

CNN's Liz Neisloss reports on a roof that is only a sample of the greening of Singapore's skyline.
updated 9:16 PM EST, Tue December 18, 2012

A dam project in Cambodia could destroy livelihoods and ecosystems, says Conservation International
updated 10:22 PM EST, Mon December 17, 2012

Shipping lines, port authorities and technology companies are taking the initiative to go green and reduce costs.
updated 9:06 PM EST, Sun December 9, 2012

Less than 20 miles from Singapore's skyscrapers is a completely different set of high-rise towers.
updated 6:04 AM EST, Thu December 6, 2012

The Pitcairn Islands might only have 55 human inhabitants, but the waters surrounding them are teeming with marine life.
updated 10:22 PM EST, Sun December 2, 2012

Biofuel made from sugar cane waste in Brazil could revolutionize the global energy industry.
updated 9:58 PM EST, Sun November 25, 2012

Many believe that fuel-cell cars will overtake electric vehicles in the near future.
updated 3:20 AM EST, Mon November 19, 2012

Modern and sustainable buildings in the UAE are taking cues from an ancient Arabic design tradition.
updated 11:09 PM EST, Sun November 11, 2012

One man's artistic vision is distracting divers from Cancun's threatened underwater ecosystem.
updated 12:46 PM EST, Mon November 12, 2012

Lake Victoria, Africa's largest lake, has been plagued by water hyacinth plants for over two decades.

Just how much are natural wonders like the Great Barrier Reef worth in monetary terms?