The Rolling Stones play impromptu gig
updated 10:28 AM EDT, Mon October 29, 2012
STORY HIGHLIGHTS
The Rolling Stones performed at a small Paris club on Thursday night
The band tweeted about the secret show just hours before they took the stage
350 tickets were up for grabs at €15 a pop, thought 600 people were in attendance
(CNN) -- The Rolling Stones performed an impromptu, warm-up gig at a small Paris club on Thursday night.
The band tweeted about the secret show just hours before they took the stage at La Trabendo, writing that 350 tickets were up for grabs at €15 a pop.
According to a press release, 600 fans were in attendance to see Mick Jagger, Keith Richards, Charlie Watts and Ronnie Wood.
The Stones kicked off the intimate show with "Route 66," before launching into "It's Only Rock and Roll."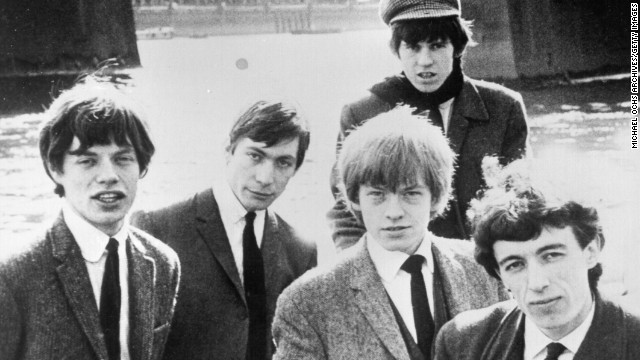 The young band pose for a portrait in a boat, 1964. From left to right are: Mick Jagger, Charlie Watts, Brian Jones, Keith Richards and Bill Wyman. Bassist Wyman joined the Stones in 1962 before leaving in 1993.
Brian Jones performs at Alexandra Palace, London, in 1964. One of the founding members of the band, Jones was found dead in his pool at Cotchford Farm, Sussex, on July 2, 1969. He was 27.
Rolling Stones drummer Charlie Watts joined the band in 1963, earning a reputation as the more staid member. He married Shirley Ann Shepherd in 1964, remaining with her to this day.
Lead singer Mick Jagger is remanded in custody after being found guilty of possesion of drugs in 1967. He appeared before court in West Sussex after a police raid at fellow band member Keith Richards' house.
Keith Richards with girlfriend Anita Pallenberg and their two children at the Cannes Film Festival in 1971. Italian model Anita orginally dated Brian Jones before becoming Keith's partner from 1967 to 1979.
Mick Jagger and Nicaraguan girlfriend Bianca Perez Moreno De Macias marry in a small fisherman's church in St. Tropez, France, in 1971. Among the guests pictured are film director Roger Vadim, actress Nathalie Delon, photographer Patrick Lichfield, Keith Richards and Anita Pallenberg.
Ronnie Wood, pictured in Brussels, Belgium, in 1976. The guitarist joined the band the previous year, though he continued to collaborate with artists including Rod Stewart, Bob Dylan, Prince and Eric Clapton.
Guitarist Keith Richards performs at the Aragone Ballroom in Chicago, Illinois, in 1987. The songwriter collaborated with Mick Jagger on their first international number 1 hit "(I can't get no) Satisfaction" in 1965.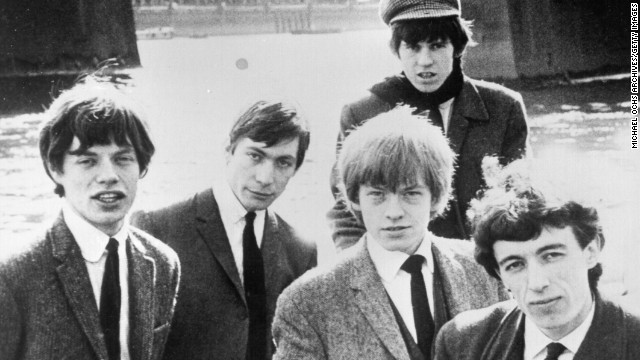 50 years of the Rolling Stones
"I can't believe we're all still standing up, you'd think by now one or two of us would be sitting down, but we're not," Jagger told the crowd.
Mixed in with the classics was the recently released "Doom and Gloom," the band's first new song together in seven years. They recorded the track in Paris and shot a video with Swedish actress Noomi Rapace, Jagger tweeted Wednesday.
Closing their set with "Midnight Rambler," they returned for an encore playing both "Jumping Jack Flash" and "Brown Sugar."
The Rolling Stones are celebrating their 50th anniversary this year with four arena shows; they'll perform at London's O2 arena on November 25 and 29 before taking the stage at the Newark Prudential Center on December 13 and 15.
Here's the complete set list:
"Route 66" "It's Only Rock and Roll" "Shattered" "When The Whip Comes Down" "Champagne and Reefer" "Doom and Gloom" "Miss You" "Tumbling Dice" "Start Me Up" "Midnight Rambler" "Jumping Jack Flash" "Brown Sugar"
Click here to see a short clip of the Stones' live at La Trabendo.
Rolling Stones : Never-before-seen photos