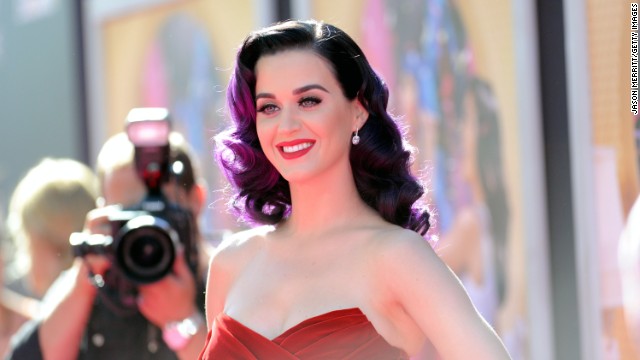 Katy Perry only recently debuted the song "Roar," off her just-released album, "Prism," but her fashion sense has always been fierce and untamed. As you crank up her latest record, check out some of her wildest ensembles to date:
Katy Perry visits "Late Night With Jimmy Fallon" on October 10 in New York City.
Katy Perry performs during the iHeartRadio Music Festival on September 20 in Las Vegas.
Katy Perry attends the 2013 MTV Video Music Awards on August 25 in New York City.
Perry gets political in a white latex ballot dress at a campaign rally for President Barack Obama on Wednesday, October 24, 2012, in Las Vegas.
The singer looks like a sexy disco ball in Paco Rabanne at the Echo Awards on March 22, 2012, in Berlin. She paired her mirrored frock with embellished Christian Louboutin pumps that spell "sex."
Katy Perry performs at the Echo Awards 2012 on March 22, 2012, in Berlin.
Perry wears a body-skimming costume to perform "Part of Me" at the Grammys in February.
Proving she's a fan of cubism, the singer picks up the award for video of the year at the MTV Video Music Awards in August 2011.
The voice of Smurfette rocks this mini-dress on the blue carpet at the New York film premiere of "The Smurfs" in July 2011.
There's a good chance Perry wasn't worried about her hips looking too big in the snowman dress she wore at KIIS-FM's Jingle Ball in December 2010.
No stranger to making a statement at the MTV Europe Awards, Perry wears a shiny red ticket dress in November 2010 in Madrid, Spain.
Perry's literally glowing on the red carpet at the Costume Institute Gala Benefit in May 2010 in New York.
Resembling a piece of Swiss cheese, Perry dons this gown when performing at the MTV Europe Music Awards in November 2009 in Berlin.
This "dicey" dress might make more sense in Sin City than the Big Apple, but the "Waking Up In Vegas" singer wears it to perform on NBC's "Today" in July 2009. Anchor Matt Lauer looks amused.
The singer emerges from a golden banana dressed in this fruity costume while performing "I Kissed a Girl" at the Grammys in February 2009.
Rather than deciding between a menswear-inspired ensemble and a frilly frock, Perry compromises with this two-sided look during the MTV Europe Music Awards in 2008.
Perry wears this unconventional number to her Los Angeles record release party in June 2008.
Katy Perry's craziest clothes
Katy Perry's craziest clothes
Katy Perry's craziest clothes
Katy Perry's craziest clothes
Katy Perry's craziest clothes
Katy Perry's craziest clothes
Katy Perry's craziest clothes
Katy Perry's craziest clothes
Katy Perry's craziest clothes
Katy Perry's craziest clothes
Katy Perry's craziest clothes
Katy Perry's craziest clothes
Katy Perry's craziest clothes
Katy Perry's craziest clothes
Katy Perry's craziest clothes
Katy Perry's craziest clothes
Katy Perry's craziest clothes
Katy Perry's craziest clothes