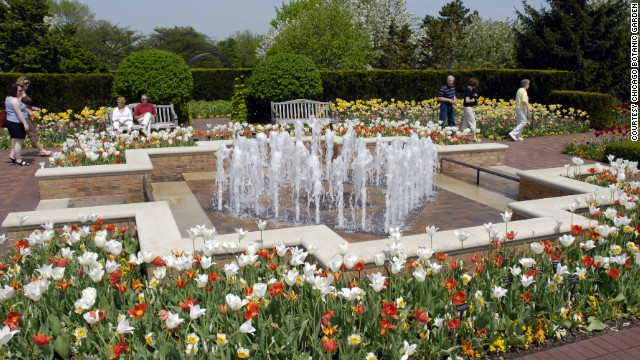 The Botanic Garden is known for its great size, thanks to its 26 gardens. "It's kind of monumental," said Kris Jarantoski, executive vice president.
The central lawn area in the 30-acre Tom McCall Waterfront Park is a main attraction alongside its fountains, sculptures and connecting paths.
Washington Park is used by more than 1 million visitors each year. Its two lakes are among its strongest features, said Jeff Green, the Denver parks system communications director.
Designated a public space since 1824, Bienville Square features live oaks and a central fountain dating to 1890 that honors physician Dr. George Ketchum, who brought potable water to Mobile.
Buffalo Bayou's history as a Houston park dates back to 1910. Today it is known as "Houston's Central Park" and is enjoyed by visitors as much from the water as it is from the land.
The APA had been looking to highlight Cesar Chavez Plaza before, but waited until it finished a recent renovation.
Ritter Park's nationally renowned rose garden was designed in 1934 and includes more than 3,500 plants.
Designed by architect Daniel Burnham, the station opened in 1925. One highlight is a 219-foot, barrel-vaulted skylight.
New Orleans' St. Louis Cathedral, on Chartres Street, is one of the biggest sights from Jackson Square.
The Green's 17th-century tiered Italian fountain, with 21 spigots, was restored in 1992 by sculptor Clark Fitz-Gerald.
Chicago Botanic Garden, Chicago
Waterfront Park, Portland, Oregon
Washington Park, Denver
Bienville Square, Mobile, Alabama
Buffalo Bayou, Houston
Cesar Chavez Plaza, Sacramento, California
Ritter Park, Huntington, West Virginia
Chicago Union Station, Chicago
Jackson Square, New Orleans
Village Green, Bar Harbor, Maine