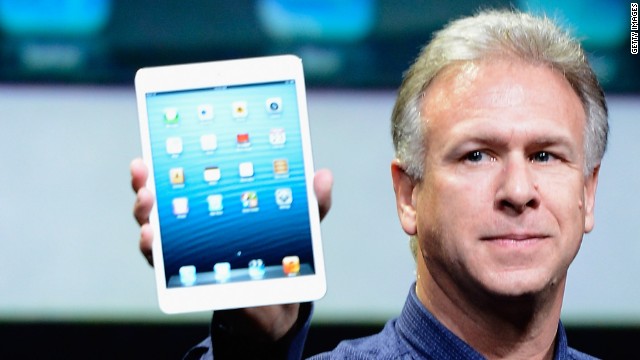 Apple marketing chief Phil Schiller holds up an iPad Mini, revealed during an announcement on Tuesday.
The iPad Mini sports a 7.9-inch inch screen, with a resolution of 1024 by 768 pixels, giving it the same screen resolution as the iPad 2, but in a more compact package.
Apple will have a complete line of covers for the iPad Mini as well.
Pre-orders for the iPad Mini begin Friday, and they will be available in stores November 2. Models with cellular data capability will ship a few weeks after the Wi-Fi versions.
Apple also anounced updates to several other products, including the full-size iPad. The iPad will feature the new A6 processor also found in the iPhone 5.
The 13-inch Macbook Pro has been updated with a "retina display" like the 15-inch version. The new version is three-quarters of an inch thick, weighs 3.5 pounds and will start at $1,699.
The iMac also received a makeover which trims the desktop's monitor down to a sleek 5mm at its edge.
The Mac Mini, Apple's smallest and cheapest desktop, gets a processor upgrade and starts at $599.
Apple unveils iPad Mini
Apple unveils iPad Mini
Apple unveils iPad Mini
Apple unveils iPad Mini
Apple unveils iPad Mini
Apple unveils iPad Mini
Apple unveils iPad Mini
Apple unveils iPad Mini
STORY HIGHLIGHTS
Apple unveils smaller iPad Mini tablet
Prices range from $329 to $659, depending on storage capacity.
Tuesday's Apple event also had MacBook, iMac updates
Just six months old, bigger iPad also gets a refresh
San Jose, California (CNN) -- Taking a cue from some of its competitors, Apple on Tuesday announced a smaller version of its popular iPad tablet -- the iPad Mini. And the company that introduced the concept of tablet computers to millions didn't waste any time bashing those competitor in the process.
"Others have tried to make tablets smaller than the iPad and they've failed miserably," said Apple senior vice president Phil Schiller. "These are not great experiences."
At a media event, he unveiled the 7.9-inch tablet, which is 7.2 millimeters wide (the width of a pencil, Schiller said) and weighs less than 7/10ths of a pound.
It will have the same display-resolution specs as last year's iPad 2, not the high-definition "retina display" of the newest iPad, which also got an update on Tuesday.
The iPad Mini's display will be nearly an inch bigger than those of competitors like Amazon's Kindle Fire and Google's Nexus 7. It will also be somewhat more expensive.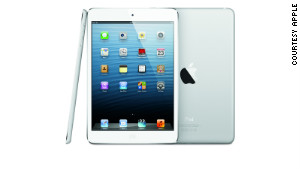 Apple reveals new iPad mini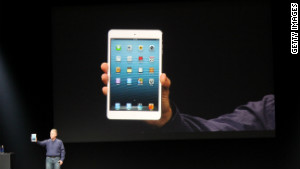 Apple iPad Mini unveiled: Will it sell?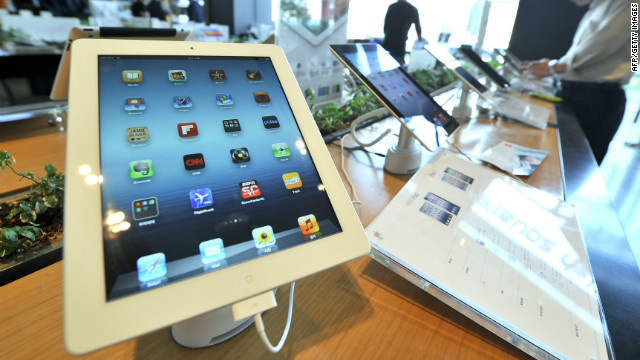 There were tablets before the iPad, but Apple's tab introduced the concept to millions who had never heard of one. More than 84 million have been sold, dwarfing the competition. With its high-definition "retina display" screen, dual cameras and extensive app catalogue, it's the standard by which other tablets are measured. They start at $499 and run up to $829 for a 64GB version with 3G connectivity.
Apple promises the Mini, unveiled on October 23, will offer the positives of its bigger tablet in a smaller, more portable package. At 7.9 inches when measured diagonally, its screen is bigger than its rivals in the "small tablet" category and has the same proportions as its bigger cousin. Its price begins at $329, which is more expensive than other similar tablets.
With the Kindle Fire, Amazon made a small dent in the iPad's dominance by going smaller and cheaper, with a $199 price tag for the 7-inch tablet. The second-generation HD bears the same price, adds a camera and high-resolution screen, and includes a bigger 8.9-inch model for an extra $100. The a souped-up version of the first-generation Fire can now be had for $159. Amazon CEO Jeff Bezos said the goal isn't to win by going cheap, but to make "the best tablet at any price." Most critics say they're not there yet, but celebrate the competition.
Computing giant Microsoft took its time getting into the tablet game. But the Microsoft Surface, announced in June, promises to take the space in a different direction. It comes with a "Touch Cover" keyboard and a display screen an inch bigger than the iPad's. It could be key in Microsoft's plans for a single operating system for all devices. The tablet starts at an iPad-like $499, with a more powerful Windows RT version for $599, or $699 with the touch cover.
Android tablets designed to compete feature-for-feature with the iPad have struggled. But critics have given mostly high marks to the Samsung Galaxy Tab 2 10.1. It's lighter and thinner than the iPad 2 and sports a fast, powerful processor. A 16-GB version now sells for $329, or a little less at some retailers.
Google's first tablet took a page from the Amazon playbook -- going small with a price that starts at $199. It features a Tegra 3 quad-core processor, runs the latest version of Google's Android operating system and has been greeted with largely positive reviews.
Amazon has expanded its line of industry-leading e-readers. They now range from the basic Kindle, which costs $69, to the new Kindle Paperwhite, which features 62% more pixels than the Kindle Touch and a fiber-optic lighting system that was four years in the works.
In April, Microsoft sank $300 million into a partnership with Barnes & Noble on the Nook line of e-readers and tablets. The line has a smaller market share than Amazon, but readers like the Nook Simple Touch with GlowLight (the first straight reader to solve the read-in-the-dark problem), which has been reviewed highly.
Kobo isn't as popular in the United States as it is in Canada and some other countries. But the Toronto-based company provides an alternative to the "big two" e-readers at comparable prices. Wired magazine's editors caled the Kobo Touch "the most natural e-ink reader we've ever used." The simpler Kobo Mini sells for $79, just $10 more than a basic Kindle with ads.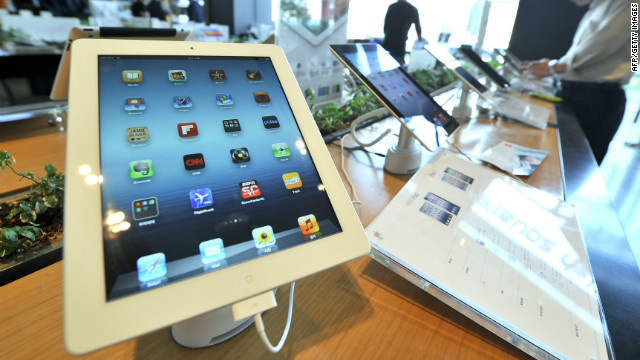 Gallery: Hottest tablets & e-readers
The smaller iPad will start at $329 for a 16GB, Wi-Fi only version, ranging up to $659 for a 64GB model with cellular capability. Those prices are at the high end of what analysts had predicted. The new Kindle Fire HD and the Nexus 7 sell for $199.
Microsoft Surface tablet goes on sale for $499
Pre-orders for the devices begin Friday, and the Wi-Fi only iPad Mini will go on sale in stores November 2. Models that have Wi-Fi and can connect over cellular networks will start shipping in a few weeks.
The device's screen has the same proportions as the larger iPads, meaning that apps designed for the tablet should also look good on the Mini. Apple promises 10 hours of battery life, and the Mini will have front- and rear-facing cameras like its bigger cousins. It also will have the "lightning" connector that came new on the iPhone 5 and new iPods.
"This isn't just a shrunken-down iPad," Schiller said. "It's an entirely new design."
As with other recent Apple events, today's main announcement wasn't much of a secret. Leaks ahead of the event sketched out most of the relevant details, from dimensions of the smaller iPad to what sizes it would come in.
The Apple event started off with upgrades to the Mac lineup, and a joke about expectations for the day.
"You knew there would be something called 'mini' in this presentation, didn't you?" said Schiller, while presenting an update of the company's smallest desktop computer, the Mac mini. It starts at $599 for 4 GB of RAM.
Schiller opened by unveiling the new version of Apple's top-selling MacBook, the 13-inch MacBook Pro.
The new version has a high-definition "retina display" screen for the first time and is 3/4 of an inch thick -- 20 percent thinner than the current 13-inch MacBook Pro. It weighs 3.5 pounds, making it the lightest MacBook Pro ever, Schiller said. Its price starts at $1,699.
Both the Mac Mini and the new MacBook Pro begin shipping today.
Schiller also showed off a sleeker and more powerful version of Apple's iconic desktop, the iMac. It starts at $1,299 and begins shipping in November.
Released only six months ago, Apple's newest full-sized iPad also got an update, getting a faster A6X processing chip, an improved camera and, like the iPhone 5, 4G LTE capabilities.
Apple's full-sized iPad has been a huge success and still dominates the overall tablet market, so why go small now?
The biggest demand for non-Apple tablets has been for less expensive 7-inch devices such as Amazon's Kindle Fire, Samsung's Galaxy Tab, Google's Nexus 7 and Barnes and Noble's Nook. A smaller iPad would challenge these competitors head on, combining their popular size with Apple's killer features: the iOS operating system, Apple's app and media ecosystem, and quality design.
The Kindle Fire is great for buying books, movies and shows from Amazon, and the Nexus 7 has Google's well-stocked Play store for media and apps. However, tablets have proven they can do more than just entertain, and customers might be drawn to the quality and quantity of Apple's App Store selection. Developers have been creating top-notch apps for the iPad for more than two years. The smaller iPad's screen is expected to have the same aspect ratio, so those apps would work the same on the new device.
When the iPad came out, it was intended to be a consumption device. Ads for the tablet showed people reclining in various environments, clutching the iPad like a book. The spacious 10-inch screen was ideal for watching movies and TV shows, playing games, surfing the Web and otherwise consuming content.
That's how most tablet owners use their devices. Tablets are homebodies, used most often in the living room (30% of the time according to Nielsen) followed by the bedroom (21% of the time).
"Fully half the time they're using tablets, they don't leave the couch or the bed," said Forrester analyst Sarah Rotman Epps. "If you can do everything on the smaller iPad you can on the larger iPad -- that plus the added convenience of being able to take it with you more places could take the wind out of the sales of Amazon."
A smaller, lighter device is more portable, and people might not be as afraid of taking a cheaper tablet out into the big bad world where it would be less protected. That would also be a boost for Apple in the education market, which it has been courting heavily.
Apple iPad Mini price gives rivals breathing room