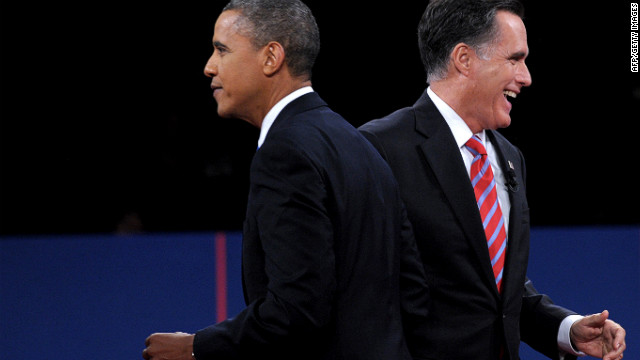 President Barack Obama and Republican presidential candidate Mitt Romney depart the stage after the debate at Lynn University in Boca Raton, Florida, on Monday, October 22. The third and final presidential debate focused on foreign policy.
See the best photos from the second presidential debate.
Romney and Obama greet each other at the end of the debate Monday night.
Obama and Romney hug their wives on stage after the debate.
President Obama greets first lady Michelle Obama.
Romney gestures beside his wife, Ann, on Monday.
Romney and Obama participate in the debate moderated by Bob Schieffer of CBS News.
Obama makes a point on Monday. He criticized his opponent on a host of foreign policy issues -- claiming Romney had favored positions that would have hurt the United States.
Romney gestures during the debate. The Republican nominee said Obama's foreign affairs policies have made the United States less respected and more vulnerable.
Obama listens during the final presidential debate.
Obama reacts to statements by Romney on Monday.
Romney emphasizes a point during the debate.
Obama and Romney face off while Schieffer looks on.
Obama answers a question Monday.
Romney speaks during the debate.
Monday's debate promised to be among the most-watched 90 minutes of the entire 2012 presidential campaign.
Schieffer listens to the candidates' responses during the debate.
Obama looks to Schieffer while debating Romney.
Romney and Obama debate on stage. The final face-to-face showdown took place 15 days before the election.
Romney listens as Schieffer speaks during Monday night's debate.
Obama makes a point during the debate.
Obama listens as Romney responds to a question Monday.
Obama and Romney greet each other as they join Schieffer on stage.
Ann Romney, center, and other members of the Romney family take their seats.
Schieffer appears on stage prior to the debate Monday. He is CBS News' chief Washington correspondent and has been the host of the Sunday morning discussion show "Face the Nation" since 1991.
Co-chairmen Frank Fahrenkopf, left, and Mike McCurry of the Commission on Presidential Debates address the audience at Lynn University.
First lady Michelle Obama arrives for the debate.
The final presidential debate
The final presidential debate
The final presidential debate
The final presidential debate
The final presidential debate
The final presidential debate
The final presidential debate
The final presidential debate
The final presidential debate
The final presidential debate
The final presidential debate
The final presidential debate
The final presidential debate
The final presidential debate
The final presidential debate
The final presidential debate
The final presidential debate
The final presidential debate
The final presidential debate
The final presidential debate
The final presidential debate
The final presidential debate
The final presidential debate
The final presidential debate
The final presidential debate
The final presidential debate
The final presidential debate