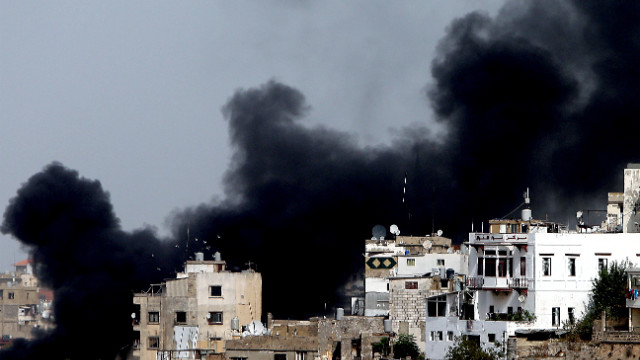 Smoke billows in Tripoli's Bab al-Tabanneh neighborhood during clashes between Alawites, an offshoot of Shiite Islam, and anti-government supporters on Monday, October 22. Fighting continued in Tripoli and Beirut, where a top police official was killed in a car bombing. At least two people were killed in Tripoli and several wounded in Beirut.
The coffin of intelligence chief Gen. Wissam al-Hassan arrives in downtown Beirut during his funeral procession on Sunday, October 21. Hassan, a prominent Lebanese figure opposed to Syrian President Bashar al-Assad, died when a powerful bomb exploded in an upmarket Beirut suburb on October 19, sparking calls for Prime Minister Najib Mikati and his government to quit.
An anti-government protester waves a pre-Baath Syrian flag at a demonstration outside the govermental palace in Beirut, Lebanon, after a funeral for al-Hassan and his bodyguard on Sunday. The two men and one other person were killed in a car bombing on Friday.
Demonstrators face off with Lebanese security forces on Sunday as they try to storm the palace.
Protesters climb a statue Sunday during the funeral of al-Hassan.
A demonstrator runs for cover from tear gas fired by Lebanese police on Sunday.
Anti-government protesters demonstrate outside the government palace on Sunday.
Protesters react to tear gas being fired at them by Lebanese police officers on Sunday.
Protesters hurled sticks, stones and flags on Sunday. A number of injuries were reported, Lebanon's National News Agency said.
Officers and mourners gather around al-Hassan's coffin during his funeral on Sunday.
The mother and wife of the slain intelligence officer mourn Sunday.
Lebanese officers of the Internal Security Forces carry the intelligence chief's coffin on Sunday.
Sunday's anti-government protests came after a series of political speeches given to the crowd gathered in Beirut's central square.
A Lebanese man holding the national flag watches the funeral procession on Sunday.
A woman with a cross and a rosary prays at a poster with an image of al-Hassan, during a protest Saturday, October 20, against his killing.
People set up tents and gather outside the headquarters of the Prime Minister of Lebanonon on Saturday night.
A damaged building is pictured in Beirut's predominantly Christian district of Ashrafiyeh on Saturday.
Smoke rises from burning tyres blocking the main northern entrance of Beirut on Saturday. Protesters blocked some roads in Beirut, Tripoli in the north, Sidon in the south, and the Bekaa Valley in the east.
Lebanese security forces inspect damage in Ashrafiyeh on Saturday.
A damaged building stands Saturday with windows knocked out and belongings from within strewn about.
A worker on Saturday sweeps shattered glass outside damaged shops.
Lebanese men block a road leading to the airport in Beirut to protest against the assassination of top intelligence official Wissam al-Hassan in a blast on Friday, October 19.
Lebanese light candles during a vigil near the site of the car bomb attack on Saturday.
Lebanese people take part in a candlelight vigil near the site of the car bomb blast.
A Lebanese firefighter douses cars at the site of an explosion in Beirut's Christian neighbourhood of Ashrafieh.
Lebanese firefighters douse burning vehicles.
A car burns after an explosion in Beirut's predominantly Christian district of Ashrafiyeh.
Lebanese Red Cross aid workers help a wounded man. Dozens were injured, some seriously, and others were slightly hurt, a senior hospital official said.
Lebanese security forces and rescue workers gather at the site of the explosion.
Lebanese men evacuate a wounded woman from the scene of the car bomb.
Lebanese police stand by a crater as they secure the site.
Civil defense members help a wounded man in the immediate aftermath.
A wounded woman is carried from the area. The attack did not target any political figure, the Lebanese National News Agency says.
A civil defense member helps a wounded man.
A wounded woman gets assistance.
A woman is helped by a Lebanese soldier after the explosion.
Lebanon on edge after officer's death
Lebanon on edge after officer's death
Lebanon on edge after officer's death
Lebanon on edge after officer's death
Lebanon on edge after officer's death
Lebanon on edge after officer's death
Lebanon on edge after officer's death
Lebanon on edge after officer's death
Lebanon on edge after officer's death
Lebanon on edge after officer's death
Lebanon on edge after officer's death
Lebanon on edge after officer's death
Lebanon on edge after officer's death
Lebanon on edge after officer's death
Lebanon on edge after officer's death
Lebanon on edge after officer's death
Lebanon on edge after officer's death
Lebanon on edge after officer's death
Lebanon on edge after officer's death
Lebanon on edge after officer's death
Lebanon on edge after officer's death
Lebanon on edge after officer's death
Lebanon on edge after officer's death
Lebanon on edge after officer's death
Lebanon on edge after officer's death
Lebanon on edge after officer's death
Lebanon on edge after officer's death
Lebanon on edge after officer's death
Lebanon on edge after officer's death
Lebanon on edge after officer's death
Lebanon on edge after officer's death
Lebanon on edge after officer's death
Lebanon on edge after officer's death
Lebanon on edge after officer's death
Lebanon on edge after officer's death
Lebanon on edge after officer's death